en español (PDF) | አማርኛ (PDF) | بالعربية (PDF)
Day 86 — Reopening Planning Update 
In a little over three weeks, on August 14, ACPS will send its reopening proposal to the Virginia Department of Education.
I know that everyone — families, students and staff — are waiting to know what September will bring for the school division. I also know that so much of your lives revolve around the academic year and that means a lot of uncertainty remains until we have answers. This makes planning ahead for both staff and families very difficult indeed. Please know that I hear you and understand.
That being said, I also know that expediting solutions can potentially cause unnecessary missteps and poor planning which is why we have been adamant about taking the methodical and informed approach to make our reopening plan the best for the health and safety of our families and staff, with the best information we have at this time. Our engaged community is encouraging us to do a number of things differently and in a more innovative way. Acting in haste while under pressure may lead to making choices without feedback and input from our students, families and staff, which may need to be reversed and which would find us back at square one. We want to implement a reopening approach with fidelity for the fall semester.
So today, I wanted to thank all of you for your continued patience in these trying circumstances. This past week, work around reopening continued diligently. The timeline we created for the process is being adhered to and our Cross-Functional Planning Teams are leaving no stone unturned as we search for the best plan possible for reopening our schools. On July 10, the School Board heard about the progress being made and reviewed our survey data which showed the split between those who want a hybrid option and those who prefer fully virtual at that moment. 
We know that data does not present the whole picture and encourage you to add your voice to the planning process. Community Chats for families and staff began on Monday and will run throughout the week. So far, I have been incredibly impressed with the level of participation. The questions we have received have been thought-provoking and greatly valued. Having a committed community means so much to the success of any school division.
Next Tuesday, there will be a chance for our students to participate in their own dedicated community chat. Please encourage your child(ren) to join.
Stay safe, stay healthy, stay informed.
Sincerely,
Dr. Gregory C. Hutchings, Jr.
Superintendent of Schools
Reopening Planning Update
On July 10, the Alexandria City School Board was updated about the continuation of work on the reopening of schools. If you did not see Friday's meeting, you can watch the recording. ACPS has until August 14 to submit comprehensive plans to the Virginia Department of Education. The next update for the School Board will be presented on August 7.
Here are some of the highlights:
Scheduling Work
Last week, our Cross-Functional Planning Teams focused on scheduling options that align to hybrid and virtual models with considerations given to financial, operational, staffing, and health and safety implications. ACPS is studying proposed models at the national, state and division level to build ideas on emerging best practices and trends. 
With this information and research completed, we are able to prepare a number of sample schedules for both a hybrid and virtual approach. Different variables, for example, number of days attending per week and at which grade level, asynchronous and synchronous learning, as well as multiple staff considerations, all factor into how schedules will be planned. Once designed, they need to be rigorously critiqued by our school and community experts.
View the presentation that includes scheduling considerations (PDF).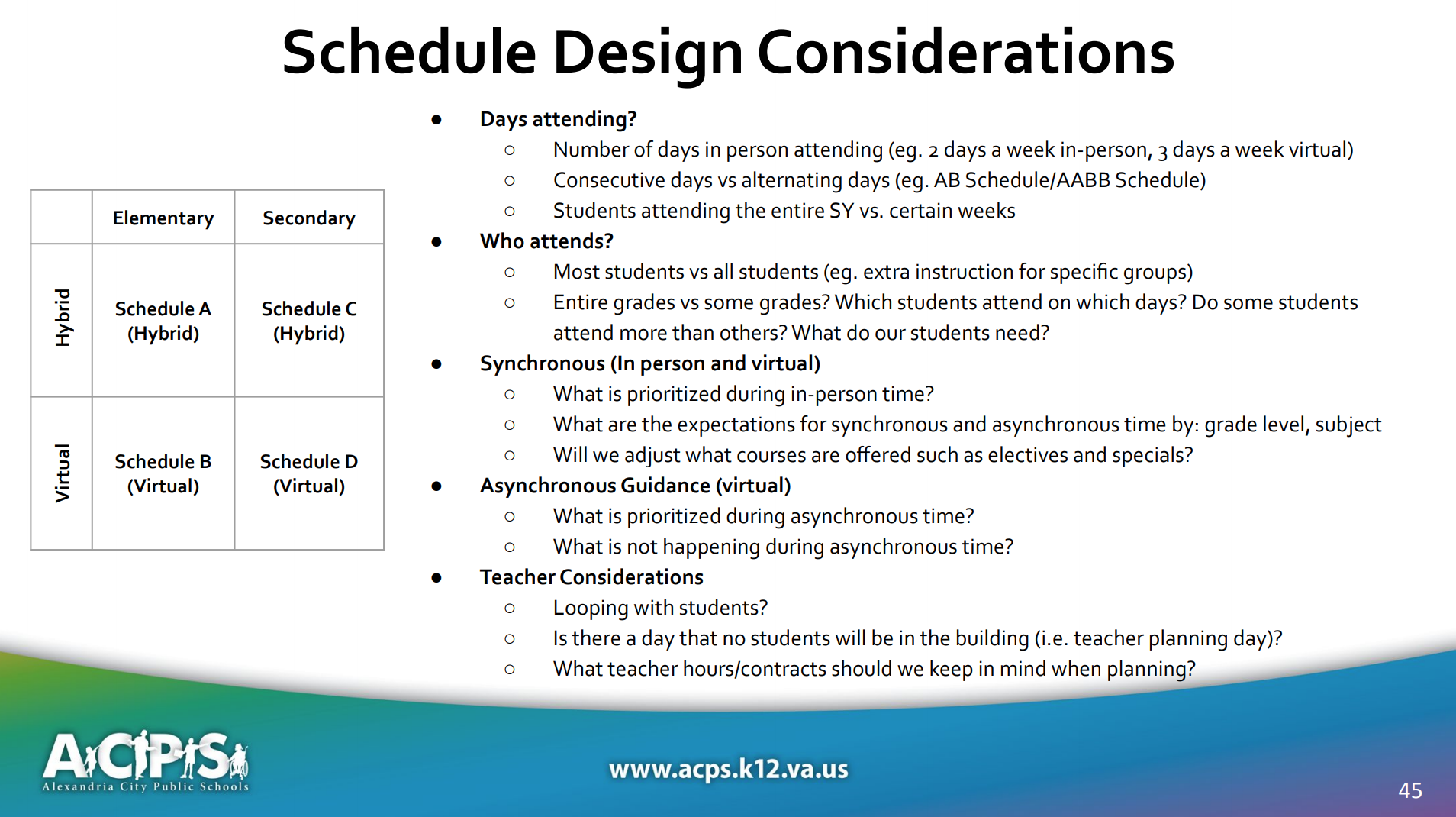 Survey Results
The reopening survey saw historic participation results with 11,852 family responses and more than 2,000 staff responses. Notably, our traditionally underrepresented family groups responded in relatively strong numbers. The data represents a snapshot in time and this survey represents just one data source.
What the responses revealed to us was a community fairly split with 60% of our families indicating they would prefer a hybrid approach for reopening school in the fall, while 40% preferring a fully-virtual approach. White families were most likely to choose the hybrid model (72%) compared with Hispanic/Latino (53%) and Black/African American families (48%).
Across grades levels, PreK-2 (65%) and grades 9-12 (63%) were more in favor of hybrid than those families of students in grades 3-5 (58%) and 6-8 (54%).
A total of 63% of our staff said they were "very likely" or "somewhat likely" to return to work on-site given a hybrid approach in the fall. No large differences were noticed across grade level bands among staff.
We learned that for both our families and our staff, the top priorities were ensuring the physical health and safety of students and employees and their immediate families.
A vast majority of families and staff strongly supported the safety measures that we asked about in the survey. For example, on-site temperature checks were supported by 93% of both staff and families, and regular hand washing was supported by 97%. Wearing a face covering was supported by 88% of families and 90% of staff, and 93% of both families and staff supported maintaining social distancing.
In terms of transportation, 37% of families said they would use ACPS buses, a useful statistic in terms of planning.
View the survey results (PDF).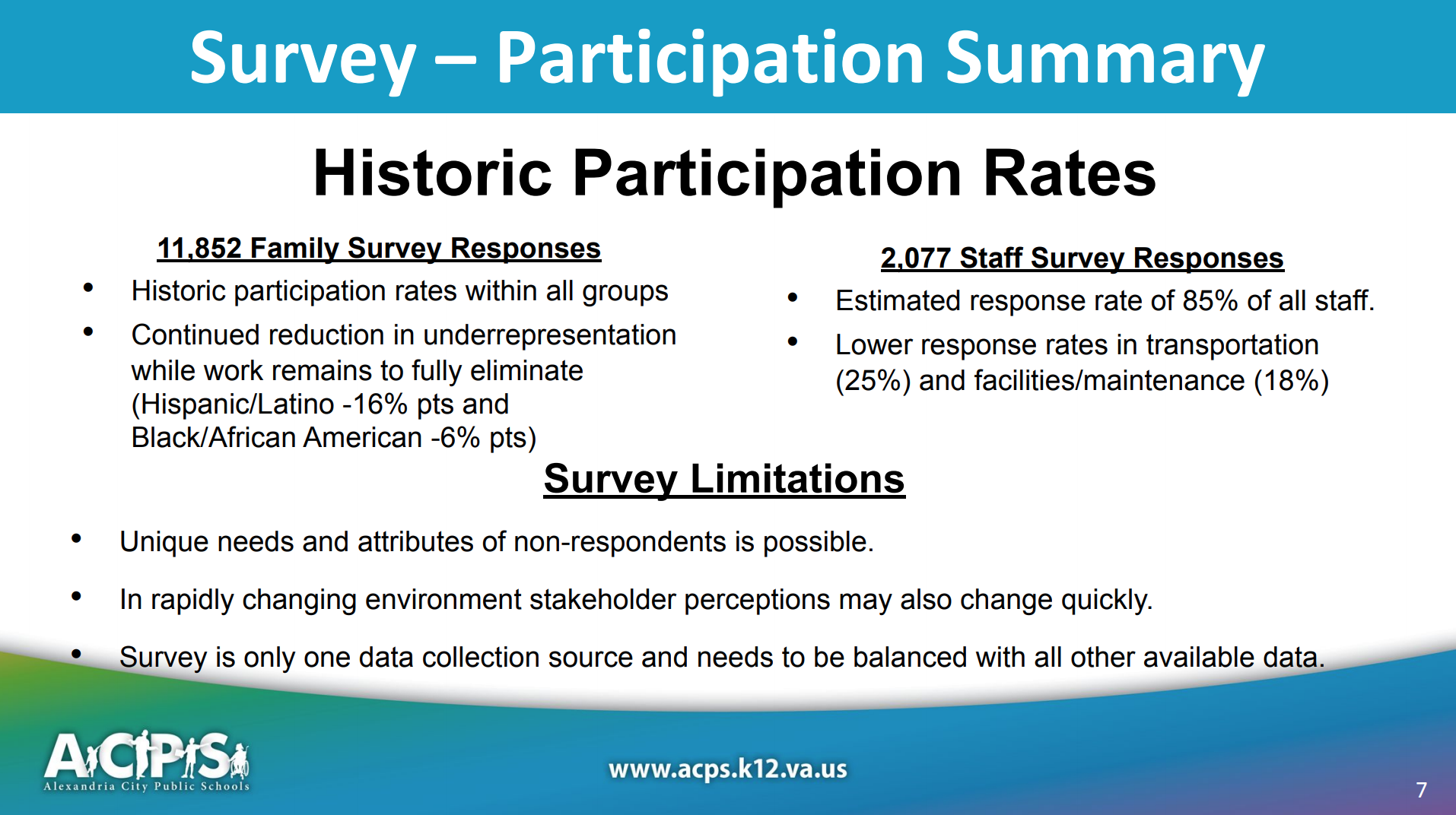 View the presentation that includes a summary of the survey results (PDF).
See the results from all of our pulse surveys.
Community Chats
We know that data does not tell the full story so please join our Community Chats this week. Next week, we also have scheduled Student Community Chats.

This week, Superintendent Dr. Gregory C. Hutchings, Jr., along with several community stakeholders, began hosting seven virtual community chats as ACPS continues to seek input in the reopening plan. Monday and Tuesday chats were extremely well attended and provided a forum for a full and frank discussion. If you missed those, please check the schedule below for the remaining chats.
ACPS will be using the information from these conversations to help inform our detailed plans around: Health and Safety; Delivery of Instruction; and Transportation, logistics and movement during the school day.
Join us during our remaining Community Chats:
Learn more about the Reopening Community Chats, including Zoom links to join in.
Student reopening chats for elementary, middle and high school will take place next Tuesday, July 28:
Please encourage your child to send us their questions in advance. We will also be answering questions live during the session.
Virginia Board of Education Public Meetings July 22-23
If you want to hear the state's latest thoughts and guidance on reopening Virginia schools, join the Virginia Board of Education (VBOE) virtual meetings today and tomorrow.
Today at 10 a.m., the VBOE will convene in a business session.

Today at 2 p.m. the Special Committee to Review the Standards of Accreditation will meet.

Tomorrow at 10 a.m., the VBOE will hold its monthly business meeting.
All meetings are open to the public for viewing and will be livestreamed on the VDOE YouTube channel.
You may also view the livestream from the VBOE public meeting webpage.
More than $500k in Scholarships Awarded to 181 Titans from the Class of 2020
The Scholarship Fund of Alexandria (SFA) has awarded more than half a million dollars to the Class of 2020 graduates of T.C. Williams High School.
Thanks to the generosity of donors, SFA helped 181 Titans secure their dream of attending college.
"In a year disrupted by the COVID pandemic and COVID economic impacts, the scholarships that we help provide are needed now more than ever by Alexandria students and their families," said Priscilla Goodwin, SFA Board chair.
Superintendent Hires Experienced ACPS Leader as New Principal of George Mason Elementary School
Superintendent of Schools Dr. Gregory C. Hutchings, Jr. has selected Dr. Seazante` Williams Oliver, an experienced ACPS leader, to be the new principal of George Mason Elementary School.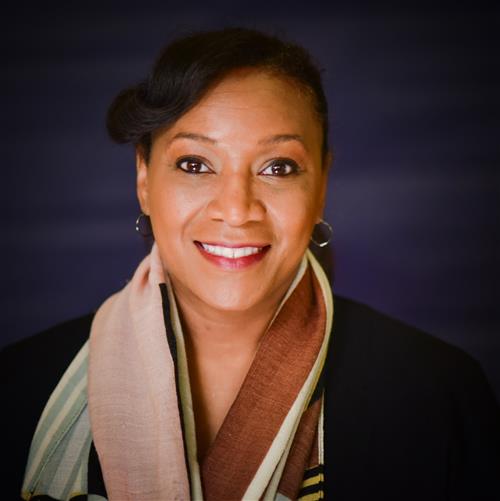 Dr. Williams has served as assistant principal at the school since 2012.
Summer Learning in the News
Have you seen Samuel W. Tucker Elementary School teacher Stacey Swickert, student Sydney Robasson, and our Summer Learning Program Coordinator Dr. Alicia Kingcade making headlines?
All were interviewed by local media about our summer school program, which is currently in its third week.
Sydney and her mother Miss talked last week with a reporter from ALXnow.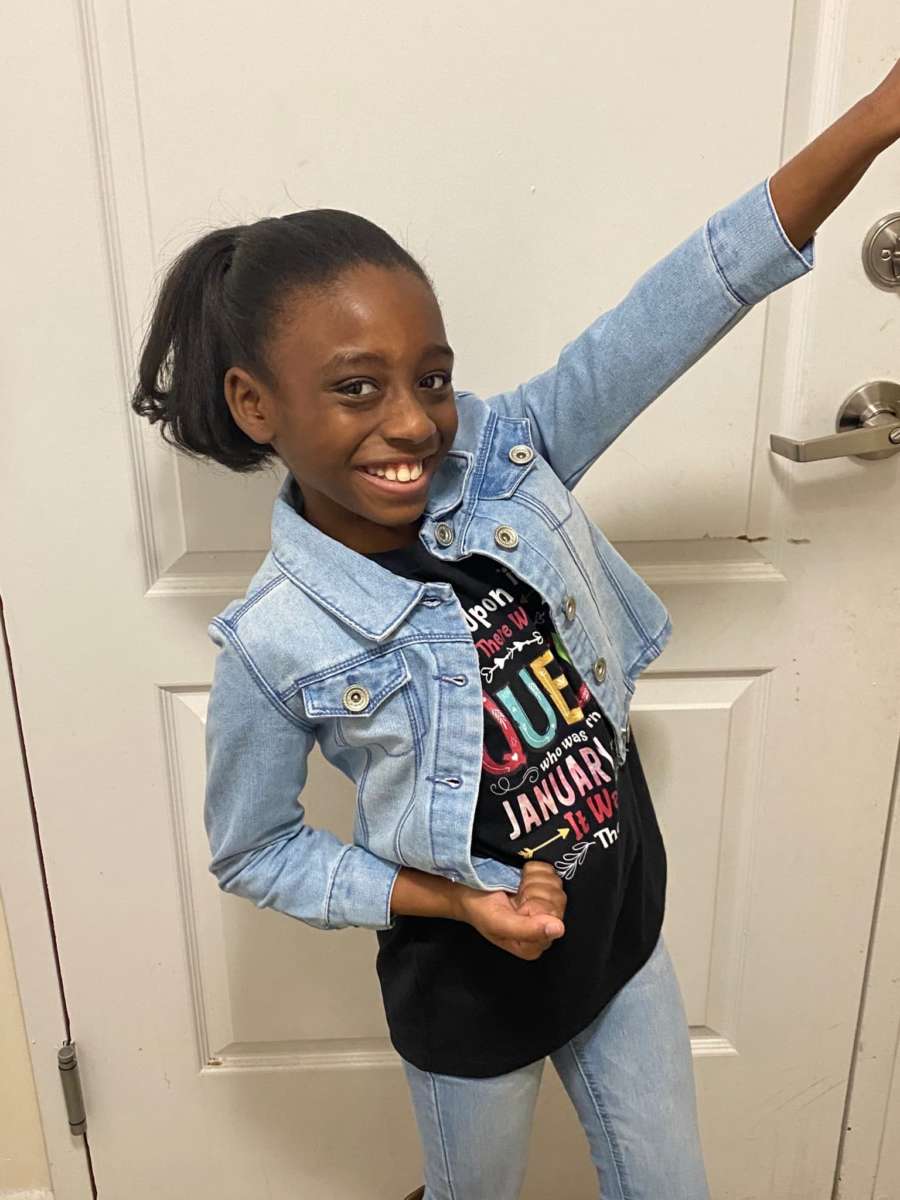 On Tuesday evening, Dr. Kingcade and Mrs. Swickert appeared on WDVM-25.
And, keep an eye out for Mrs. Swickert and Stacey's starring role on ABC7's Spotlight on Education, expected to air one evening this week.
T.C. Williams Parker-Gray Stadium Modernization Update
ACPS is about to begin work to prepare the site for the modernization of the Parker-Gray Stadium at T.C. Williams High School. It is likely that the demolition of the old stadium facilities will begin sometime in August. The community will be updated as soon as we have the required permits and a confirmed start date for this work. 
ACPS recently awarded a construction contract for the Parker-Gray Stadium project to Kadcon Corp. This week, Kadcon Corp will be installing a temporary construction fence around the site. The track and field will remain closed until the project is complete. We apologize for any inconvenience this may cause.
More details can be found on the Modernization webpage.
FOOD ACCESS
ACPS has multiple distribution meal site locations throughout Alexandria for all ACPS students and children over the age of two.
GRAB-AND-GO MEAL LOCATIONS:
Grab and Go breakfast and lunch meals are available Mondays, Wednesdays and Fridays between 9 a.m. and 12 p.m. at the following locations:
William Ramsay Elementary School
5700 Sanger Avenue, Alexandria, VA 22311
Francis C. Hammond Middle School
4646 Seminary Road, Alexandria, VA 22304
Cora Kelly School for Math, Science and Technology
3600 Commonwealth Avenue, Alexandria, VA 22305
Jefferson-Houston PreK-8 IB School
1501 Cameron Street, Alexandria, VA 22314
T.C. Williams High School
3330 King Street, Alexandria, VA 22304
And available at our "Pop-Up" sites located at:
Mason Apartments at South Reynolds Street, Alexandria, VA 22304
10:45 to 11:15 a.m. Mondays, Wednesdays and Fridays
Brent Place Apartments at 375 South Reynolds Street, Alexandria, VA 22304
11:20 to 11:50 a.m. Mondays, Wednesdays and Fridays
Ruby Tucker Family Center at 322 Tancil Court, Alexandria, VA 22314
10:45 to 11:15 a.m. Mondays, Wednesdays and Fridays
Community Lodgings at 607 Notabene Drive, Alexandria, VA 22305
10:45 to 11:15 a.m. Mondays, Wednesdays and Fridays
Old Towne West Apartments (parking lot) at 500 South Alfred Street, Alexandria, VA 22314
11:20 to 11:50 a.m. Mondays, Wednesdays and Fridays
Corner of Florence Drive and Four Mile Road, Alexandria, VA 22305
10:45 to 11:15 a.m. Mondays, Wednesdays and Fridays
The Fields at 4309 Duke Street, Alexandria, VA 22304
10:45 to 11:15 a.m. Mondays, Wednesdays and Fridays
Bennington Crossing Apartments at 441 North Armistead Street, Alexandria, VA 22312
11:30 a.m. to noon, Mondays, Wednesdays and Fridays
NO SIGN UP OR REGISTRATION IS REQUIRED TO RECEIVE MEALS. Meals consist of breakfast and lunch, and include, for example, fresh fruits and vegetables and sandwiches for multiple days.
NOTE: No food distribution will occur on Tuesdays or Thursdays. The limited days for distribution is to support the practice of social distancing and to limit social gatherings. Meals for two days will be provided on Mondays and Wednesdays, and meals for three days will be provided on Fridays.
Other Food Resources in the City of Alexandria
For food pantry locations and schedules in Alexandria, visit www.hungerfreealexandria.com or call ‪703-662-1067.
Questions? Or Need Translation?
Send us your question in Spanish, Arabic or Amharic:
Text ACPSMEALS to 797979 (English and Spanish)
Call or text 703-927-6866 (Amharic)
Call or text 703-927-7095 (Arabic)
OR
Call the FACE Center's Bilingual Parent Information Lines, available Monday-Friday, from 9 a.m. to 1 p.m.:
For Spanish/English, call 571-775-9719
For Amharic/English, call 703-927-6866
For Arabic/English, call 703-927-7095
SAFETY REMINDER: Please remember to observe social distancing practices while at the food distribution site by maintaining six feet of personal space between you and other families or individuals.
Anyone exhibiting symptoms of a respiratory illness like fever, runny nose, sore throat, coughing or difficulty breathing on the day of food distribution or in the previous 24 hours should not visit a food distribution site but call a health care provider instead. If you do not have a primary care physician and are not enrolled in a clinic, you may CALL an urgent care center or emergency room.
TEEN WELLNESS CENTER IS OPEN
The Teen Wellness Center at T.C. Williams is still open regular hours Monday through Friday for all Alexandrians ages 12-19. All services are provided in the clinic and if the teen is ill with an elevated temperature (100.0 or more) we will see them through our telehealth video format. Make an appointment over the phone by calling 703-746-4776.
UPDATES FROM THE ALEXANDRIA HEALTH DEPARTMENT
The City of Alexandria and the Alexandria Health Department strongly urge everyone to follow state orders to STAY HOME except for essential trips such as food purchases and medical care, and keep 6 feet apart from others when in public. Your neighbors and loved ones are counting on you to stop the spread of COVID-19. For other questions about COVID-19, call the Alexandria COVID-19 Hotline at 703-746-4988, weekdays from 9 a.m. to 6 p.m.
Additional updates can be found at www.alexandriava.gov/Coronavirus.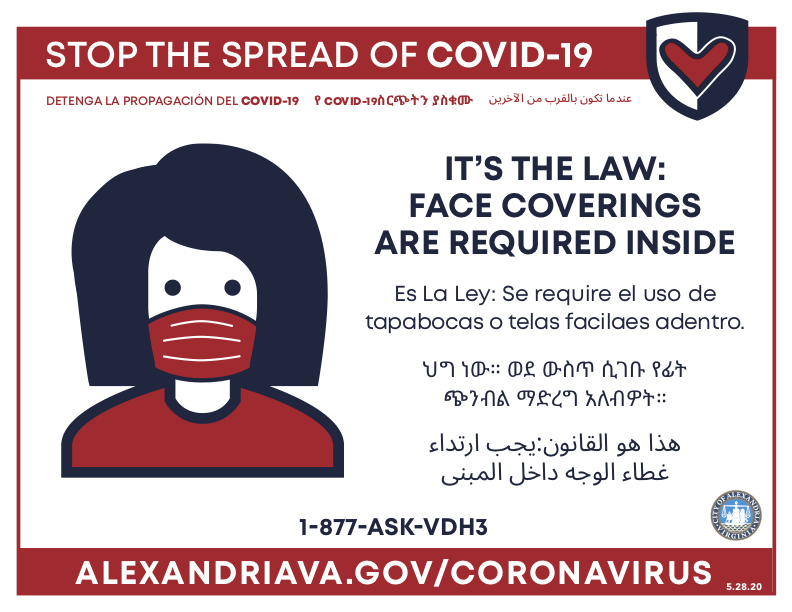 Coping with COVID-19 Fear and Uncertainty
Check out the City of Alexandria webpage Coping with COVID-19 Fear and Uncertainty which includes the COVID-19 Wellness Resource Guide.
WANT TO HELP?
Please consider donating through ACT For Alexandria and the COVID-19 Response Fund if you are able. 
Community members who would like to volunteer should reach out to www.volunteeralexandria.org or 703-836-2176 to register for any additional potential volunteer opportunities.
MENTAL HEALTH SUPPORT
Continuity of School Support and Academic Advisement
School Student Support Team staff, including school counselors, school nurses, school psychologists, and school social workers will be available during school hours throughout the closure. Monday — Friday between 8:30 a.m. and 3:30 p.m. staff will be connecting with students and their families. The Department of Student Services, Alternative Programs and Equity staff members are also available during this time and can be contacted by voicemail and at student_services@acps.k12.va.us.
Emergency Supports
If there is a crisis or emergency during the time of the closure, students and families can access the supports below:
Crisis Text and Crisis Link:

Text: CONNECT to 85511
Call: 703-527-4077
We know that this is a challenging time. ACPS will continue to share information through the ACPS website, social media, and email. Please don't hesitate to reach out to your student's school counselor or school social worker with any questions.
HEALTH REMINDERS
Don't Feel Well?
Contact your primary health care physician. Don't have insurance? Contact Neighborhood Health at 703-535-5568.
---
Have questions, concerns or feedback? Contact us.
Stay Healthy!
Wash your hands regularly. Regular soap is OK.