en español (PDF) | አማርኛ (PDF) | بالعربية (PDF)
Day 72 — Summer Learning
We are just a few days away from the beginning of our summer learning program and we are excited to see everything coming together smoothly. This has been a demanding and complex project for our curriculum experts to reconfigure and we have every confidence our students and families will find it truly beneficial. 
Several months ago, our staff was charged with creating an unprecedented summer learning experience that will continue to engage and enrich our children during the month of July. We are confident that at the end of the three weeks, our children will be better prepared to start the 2020-21 academic year. 
I would like to share a new and valuable academic partnership with Virginia Tech. We will be working collaboratively to strengthen our STEM curriculum across all grades and drawing on the expertise at this world class university. This partnership is grounded in our work to ensure our students have equitable access to opportunities and resources they need to succeed. 
On Friday, June 26, our School Board approved our Strategic Plan, "Equity for All 2025," which will remove barriers for our students to thrive and achieve their goals regardless of their circumstances. This strategic plan is bold and courageous with racial equity at the heart of our work. We will be sharing more about this significant milestone over the next few months. 
In the meantime, stay safe, stay healthy and take a few days to relax before the start of summer learning on Monday!
Sincerely,
Dr. Gregory C. Hutchings, Jr.
Superintendent of Schools
ACPS Announces Significant STEM Partnership with Virginia Tech
ACPS is proud to announce a new STEM partnership with Virginia Tech that will bring world-class experts into its teaching and learning planning.
ACPS will work alongside Virginia Tech teaching and learning experts to strengthen key areas of preK-12 academics. These areas were identified through a yearlong consulting process with the university.
Read more about the partnership.
Important Food Access Changes for July 4 Weekend 
Meal distribution locations and pop up sites will not operate on Friday, July 3, ahead of the Independence Day holiday. On Wednesday, July 1 we will be providing meals for Wednesday, Thursday and Friday. There will be no weekend meal provided over the holiday weekend. The normal meal distribution service will resume on Monday, July 6.  
NEW! ACPS has added an additional weekend meal to our program. Meals distributed on Fridays at all meal distribution locations and pop up sites will cover Friday, Saturday and now Sunday meals.
ACPS' current food distribution model will remain the same throughout the summer until August 21, 2020.
For all information on food distribution, see the Food Access page on the ACPS-at-Home website.
ACPS Adopts Five-Year Plan Focused on Ensuring Equity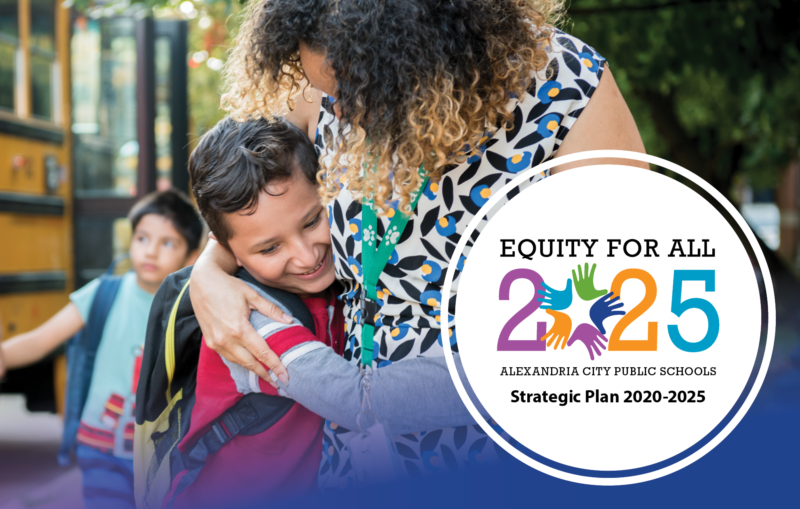 ACPS has pledged to provide an equitable, high quality education which is accessible and engaging to all students in a five-year strategic plan approved by the School Board last Friday.
Equity For All 2025 is being heralded as a bold and courageous roadmap that is timely and will position ACPS as a national leader in redefining preK-12 education as a deliberately inclusive and supportive experience where all succeed.
Going forward, racial equity will be at the center of every decision that the school division will make.
"This plan could not be more timely or critical as our nation grapples with the action needed for anti-racism. It is time to say enough is enough. We have to act now to end the historical inequities within our public schools. This plan is bold, courageous, and aims to tackle our equity issues head-on," said Superintendent of Schools Dr. Gregory C. Hutchings, Jr.
Read more about the ACPS Strategic Plan: Equity for All 2025.
Planning Process for the Reopening of Schools
ACPS is working to develop our plans to reopen schools safely in the fall. As ACPS works to reopen schools, it is critical that we seek feedback from our leaders, staff, students, families, and community so that we can collectively put forth our very best ideas and actions for what is possible, achievable and essential when reopening. Please be assured that ACPS is committed to seeking input and feedback at every stage of this process.
On June 26, ACPS staff shared with the School Board an outline of the process that ACPS is using to develop plans for the reopening of schools in the fall. The purpose of the presentation was to provide all stakeholders with an overview of the planning efforts to date as well as the next steps essential for reopening schools in response to the COVID-19 pandemic. 

For more information, see the Planning for the Reopening of Schools section on the ACPS-at-Home website.
Watch video of the presentation to the School Board on June 26.
See the presentation: Enhanced Continuity of Learning Plan 4.0: Reimagining Schools (PDF).
Have questions? See the Frequently Asked Questions.
Get Ready for Summer Learning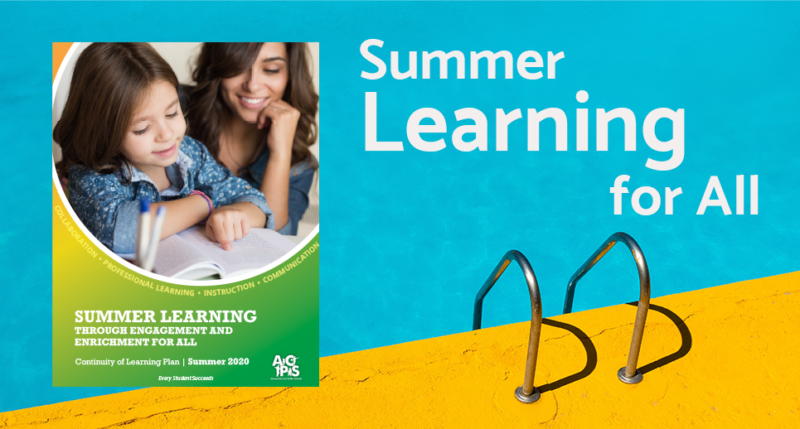 During this unprecedented time, ACPS is offering every student the opportunity to expand or refine their learning by providing summer learning through engagement and enrichment. 
Learning loss due to COVID-19 is real. To tackle this learning loss, ACPS is offering summer opportunities that will include virtual asynchronous and synchronous learning, learning kits, and enrichment in the arts. The educational programming will include the necessary support for students with disabilities, English learners, and talented and gifted students.
Summer Learning will be offered Monday through Thursday from July 6, 2020 through July 31, 2020. We are encouraging all students to participate. The majority of summer learning programs are free and open to all. Find more information on the Summer Learning section on the ACPS-at-Home website.
Look out for a letter in the mail this week about how to access summer learning. It will include your teacher's name and how to access the class through Clever.
See our "Summer Learning for All, Explained!" video for more information: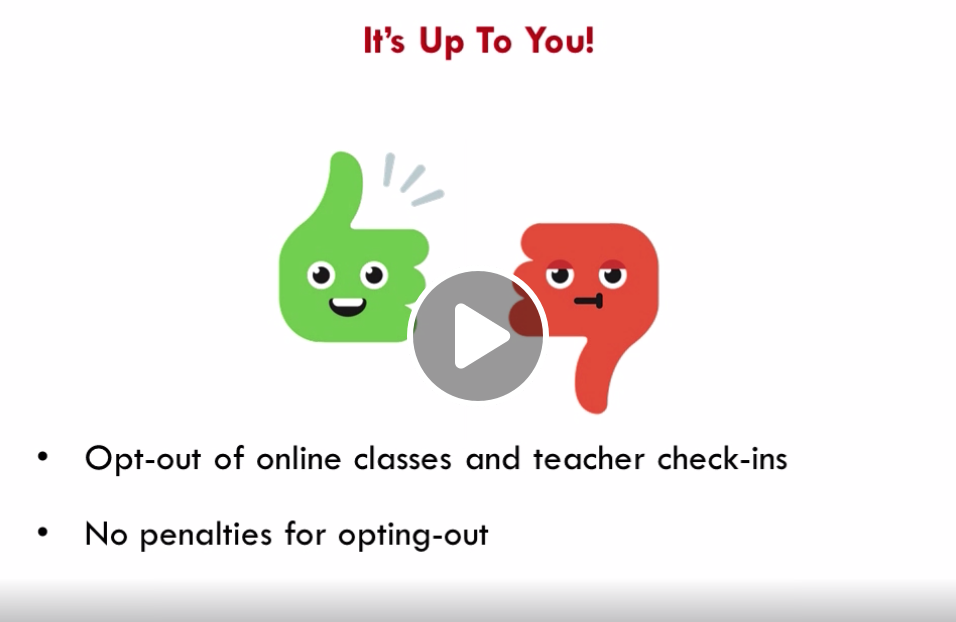 Watch Friday's Board Meeting 
During the School Board meeting on Friday, June 26, the Alexandria City School Board discussed:
2020-2021 Samuel W. Tucker Elementary School Academic Calendar Revision

Equity for All 2025: Revised Strategic Plan

Continuity of Learning Plan 4.0: Reopening schools planning
If you missed it live, you can still watch it. Watch the School Board meeting and see the agenda.
Information on how to give feedback to the School Board can be found on the School Board Meetings webpage.
TEEN WELLNESS CENTER IS OPEN
The Teen Wellness Center at T.C. Williams is still open regular hours Monday through Friday for all Alexandrians ages 12-19. All services are provided in the clinic and if the teen is ill with an elevated temperature (100.0 or more) we will see them through our telehealth video format. Make an appointment over the phone by calling 703-746-4776.
UPDATES FROM THE ALEXANDRIA HEALTH DEPARTMENT
The City of Alexandria and the Alexandria Health Department strongly urge everyone to follow state orders to STAY HOME except for essential trips such as food purchases and medical care, and keep 6 feet apart from others when in public. Your neighbors and loved ones are counting on you to stop the spread of COVID-19. For other questions about COVID-19, call the Alexandria COVID-19 Hotline at 703-746-4988, weekdays from 9 a.m. to 6 p.m.
Additional updates can be found at www.alexandriava.gov/Coronavirus.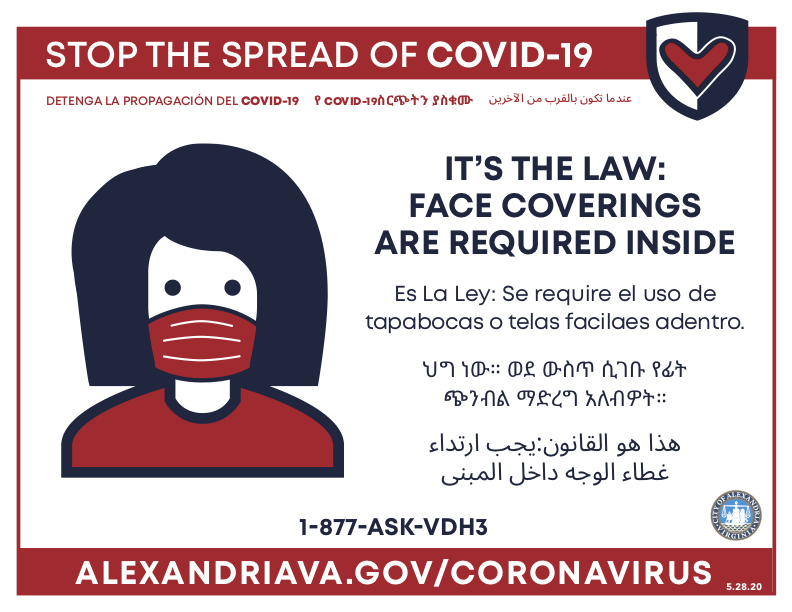 Coping with COVID-19 Fear and Uncertainty
Check out the City of Alexandria webpage Coping with COVID-19 Fear and Uncertainty which includes the COVID-19 Wellness Resource Guide.
WANT TO HELP?
Please consider donating through ACT For Alexandria and the COVID-19 Response Fund if you are able. 
Community members who would like to volunteer should reach out to www.volunteeralexandria.org or 703-836-2176 to register for any additional potential volunteer opportunities.
MENTAL HEALTH SUPPORT
Continuity of School Support and Academic Advisement
School Student Support Team staff, including school counselors, school nurses, school psychologists, and school social workers will be available during school hours throughout the closure. Monday — Friday between 8:30 a.m. and 3:30 p.m. staff will be connecting with students and their families. The Department of Student Services, Alternative Programs and Equity staff members are also available during this time and can be contacted by voicemail and at student_services@acps.k12.va.us.
Emergency Supports
If there is a crisis or emergency during the time of the closure, students and families can access the supports below:
Crisis Text and Crisis Link:

Text: CONNECT to 85511
Call: 703-527-4077
We know that this is a challenging time. ACPS will continue to share information through the ACPS website, social media, and email. Please don't hesitate to reach out to your student's school counselor or school social worker with any questions.
HEALTH REMINDERS
Don't Feel Well?
Contact your primary health care physician. Don't have insurance? Contact Neighborhood Health at 703-535-5568.
---
Have questions, concerns or feedback? Contact us.
Stay Healthy!
Wash your hands regularly. Regular soap is OK.