en español (PDF) | አማርኛ (PDF) | بالعربية (PDF)
Day 35 — Learning from home experience
As we finish another week teaching, learning and working from home, I am constantly reminded of the dedication of our ACPS staff and, with this, the importance that we recognize their efforts and service.
Today, as we publish the nominees for ACPS Support Staff of the Year, I'd like to give a special shout out to those who work behind the scenes to ensure our school division remains an effective and innovative place to teach, work and learn. Your hard work and dedication is so appreciated. In ACPS, we are so fortunate to have support staff that make a difference every single day for our young people. Please do not miss the behind-the-scenes video of our food distribution produced by Byron Moraga of Volunteer Alexandria.  
Also, we could not let this week conclude without sharing some of the wonderful photographs of our children paying tribute to our teachers during Teacher Appreciation Week. Their smiling faces and kind messages mean so much to us all.
Finally, I would like to wish all of our students taking AP exams including my daughter the best of luck. These exams begin on Monday and are being administered in a very non-traditional way; however, I know that our young people are so resilient and will do their very best!
Stay safe, stay healthy and stay informed — and don't forget to take the family survey:
Sincerely,
Dr. Gregory C. Hutchings, Jr.
Superintendent of Schools
Support Staff of the Year Nominees
We all know it takes a village to keep ACPS running smoothly and some of the most critical members of our staff can be those working behind the scenes in supporting roles.
So it's important we recognize those efforts and say thank you to all those who contribute to making our school division a happy and successful place to work and learn.
From the employee who selects the food our students eat, to the person who switches off the last light at night, every person contributes. Don't miss the behind-the scenes video of our food distribution produced by Byron Moraga of Volunteer Alexandria. Each week our team from School Nutrition Services distribute in excess of 30,000 meals.

Below is our list of finalists. Good luck to all our nominees. We will announce the winner later this month.

William Sharpe, T.C. Williams High School Minnie Howard Campus — Building Engineer
Andrae Jones, Cora Kelly School for Math, Science and Technology — K-2 Citywide Autism Paraprofessional
Kadysia Gibson, Patrick Henry K-8 School — School Registrar

Laura Purdy, Lyles-Crouch Traditional Academy — School Nutrition Manager

Kellye Thompson, Charles Barrett Elementary School — School Registrar
Sandra Torres, George Mason Elementary School — School Secretary/Treasurer
Casonja Lee, T.C. Williams High School — Administrative Assistant
Linda Rodriguez, Office of School, Business and Community Partnerships — Administrative Assistant
Appreciating Our Teachers
We couldn't let Teacher Appreciation Week go by without sharing these photos of our students expressing their gratitude: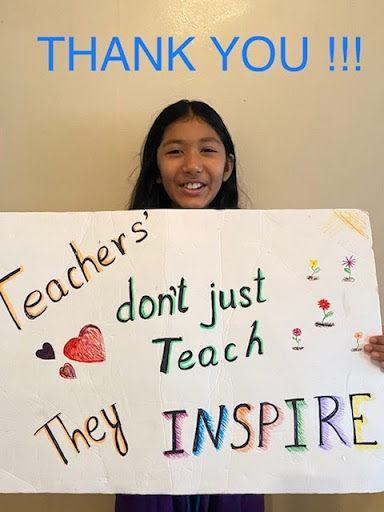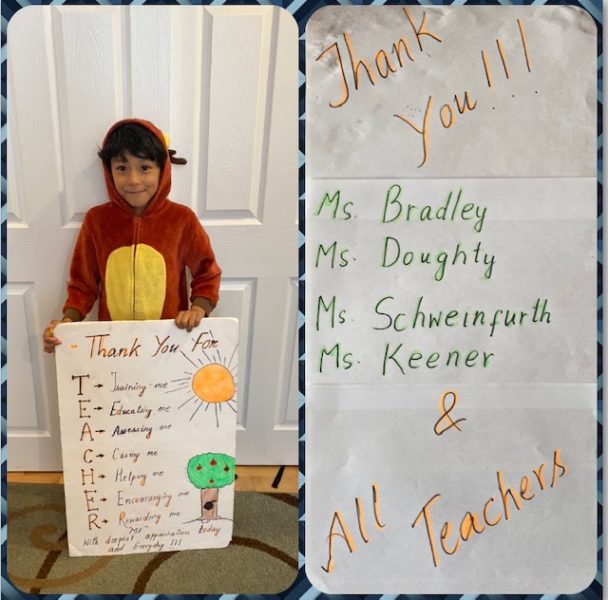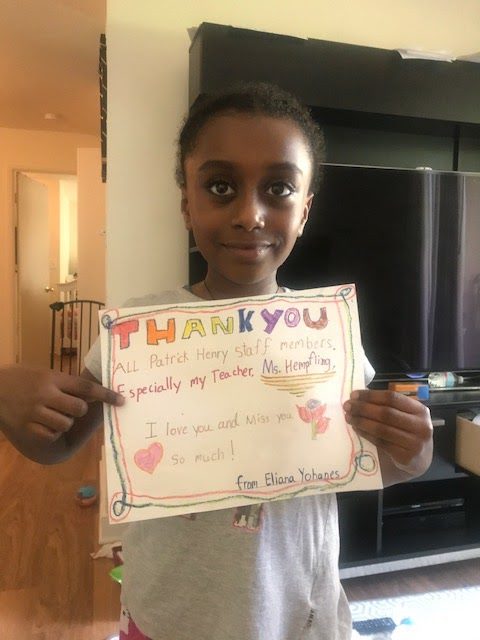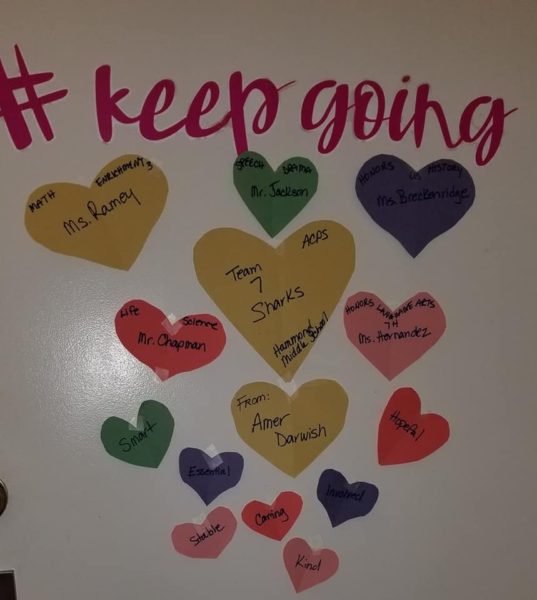 Don't Forget to Fill Out Our Survey
You have until tomorrow to fill out our feedback survey. Your opinion is important and will help shape our future plans.
Helping Your Senior Prepare for College
If you have a senior heading for college in the Fall, you may be interested in a webinar taking place on Monday aimed at Alexandria and Arlington families.
Join Northern Virginia Community College's president, Dr. Anne Kress, as she speaks about how you can help prepare your soon-to-be high school graduate for college. Also hear what NOVA has to offer.
Please register in advance for this webinar on May 11 at 5 p.m.
RunningBrooke Fitness Cube Giveaway
If there's one thing you've probably learned by now, it's that our children need to keep moving to stay healthy in mind and body. Here's a second chance for our families to grab a free RunningBrooke fitness cube, clock and exercise poster, which will come in useful for those crucial brain breaks.
"Being stuck inside is hard. Now that the classrooms are our living rooms, RunningBrooke wants to help keep kids active at home," said founder Brooke Sydnor Curran.
To receive your free fitness kit, complete this form.

Follow the cues on the clock poster or roll the fitness cube a couple of times in the morning and afternoon. Any time is good, but especially when kids are restless or need to focus on schoolwork and learning. Find out more about the RunningBrooke Move2Learn program that we use in our schools.
YOUR QUESTIONS ANSWERED 
In the last video Q&A, Superintendent Dr. Gregory C. Hutchings, Jr. answered questions about the census and why it matters to schools.

How often is the census taken and why is it important?

Why is the census count important for schools?

What parts of the Alexandria community have been underrepresented in the past?

What resources would be impacted that the child and family may need?

How does the demographic information gleaned from the census help the schools plan?
Read the answers to these questions in our daily video transcripts, available in English, Spanish, Amharic and Arabic.
Watch the Q&A video or see answers to these questions in the updated FAQ.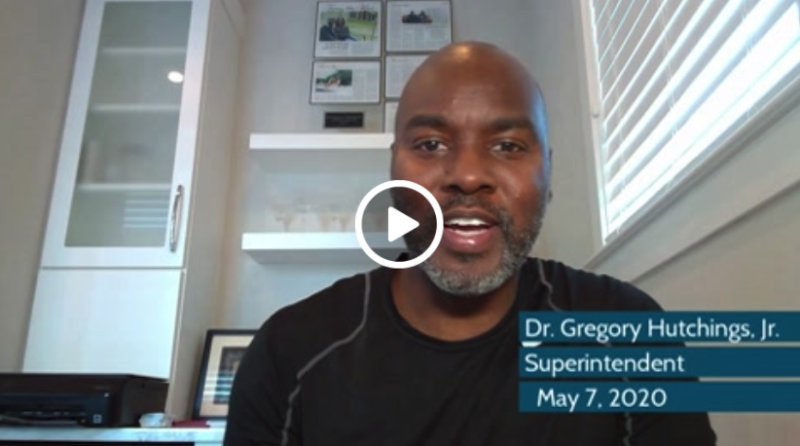 SECOND CHANCE: T.C. Seniors, You're Making a Documentary Film!
We have received hundreds of videos for the Class of 2020 documentary. But, we would love even more so we can include as many Titans as possible. 
For your submission, we want you to still answer the questions, "What do you love? What do you fear? What do you hope for?" but this time we want you to SHOW us! What does this mean? When you are answering the questions, please include any footage possible of what you love, fear and hope for. For example, if you love your pets, include them in the video. Or, if you hope for a clean environment, include the blue sky in your video. If you love your mom's cooking give her a hug and show her to us.
So, even if you already submitted a video, you can submit new ones and SHOW US this time!
3 videos per 2020 Titan. One for each question. Please NO MUSIC, NO TEXT.
What do you love? And show us!

What do you fear? And show us!

What do you hope for? And show us!
********* DUE Wednesday, May 13 *********
Seniors, please submit your videos.
CONNECT WITH US
We want to hear from you! Send us a photo, video or story about your experiences while school is closed. Email us at news@acps.k12.va.us.
SHARE YOUR LEARNING!
Learning Together: At-Home Tips from One ACPS Family to Another
Have a learning tip that works well for your child, or a particularly interesting project or story you think others would enjoy? We invite you to share it with the entire ACPS learning community!
Upload your video or audio story or post it to the ACPS Facebook page.
See this great example from one parent and her son.
TEEN WELLNESS CENTER IS OPEN
The Teen Wellness Center at T.C. Williams is still open regular hours Monday through Friday for all Alexandrians ages 12-19. All services are provided in the clinic and if the teen is ill with an elevated temperature (100.0 or more) we will see them through our telehealth video format. Make an appointment over the phone by calling 703-746-4776.
Food Distribution
ACPS has multiple distribution meal site locations throughout Alexandria for all ACPS students and children over the age of two.
GRAB-AND-GO MEAL LOCATIONS:
Grab and Go breakfast, lunch and snack meals are available Mondays, Wednesdays and Fridays between 9 a.m. and 12 p.m. at the following locations:
William Ramsay Elementary School
5700 Sanger Avenue, Alexandria, VA 22311
Francis C. Hammond Middle School
4646 Seminary Road, Alexandria, VA 22304
Cora Kelly School for Math, Science and Technology
3600 Commonwealth Avenue, Alexandria, VA 22305
Jefferson-Houston PreK-8 IB School
1501 Cameron Street, Alexandria, VA 22314
T.C. Williams High School
3330 King Street, Alexandria, VA 22304
And available at our "Pop-Up" sites located at:
Mason Apartments at South Reynolds Street, Alexandria, VA 22304
10:45 to 11:15 a.m. Mondays, Wednesdays and Fridays
Brent Place Apartments at 375 South Reynolds Street, Alexandria, VA 22304
11:20 to 11:50 a.m. Mondays, Wednesdays and Fridays
Ruby Tucker Family Center at 322 Tancil Court, Alexandria, VA 22314
10:45 to 11:15 a.m. Mondays, Wednesdays and Fridays
Community Lodgings at 607 Notabene Drive, Alexandria, VA 22305
10:45 to 11:15 a.m. Mondays, Wednesdays and Fridays
Old Towne West Apartments (parking lot) at 500 South Alfred Street, Alexandria, VA 22314
11:20 to 11:50 a.m. Mondays, Wednesdays and Fridays
Corner of Florence Drive and Four Mile Road, Alexandria, VA 22305
10:45 to 11:15 a.m. Mondays, Wednesdays and Fridays
The Fields at 4309 Duke Street, Alexandria, VA 22304
10:45 to 11:15 a.m. Mondays, Wednesdays and Fridays
Bennington Crossing Apartments at 441 North Armistead Street, Alexandria, VA 22312
11:30 a.m. to noon, Mondays, Wednesdays and Fridays
NO SIGN UP OR REGISTRATION IS REQUIRED TO RECEIVE MEALS. Meals consist of breakfast, lunch and snack and include, for example, fresh fruits and vegetables and sandwiches for multiple days.
NOTE: No food distribution will occur on Tuesdays or Thursdays. The limited days for distribution is to support the practice of social distancing and to limit social gatherings. Meals for two days will be provided on the pick-up days, (Monday/Wednesday/Friday).
Other Food Resources in the City of Alexandria
For food pantry locations and schedules in Alexandria, visit www.hungerfreealexandria.com or call ‪703-662-1067.
Questions? Or Need Translation?
Send us your question in Spanish, Arabic or Amharic:
Text ACPSMEALS to 797979 (English and Spanish)
Call or text 703-927-6866 (Amharic)
Call or text 703-927-7095 (Arabic)
OR
Call the FACE Center's Bilingual Parent Information Lines:
For Spanish, call 571-775-9719, Monday-Friday (9 a.m. — 5 p.m.)
For Amharic, call 703-927-6866, Monday-Friday (9 a.m. — 1 p.m.)
For Arabic, call 703-927-7095, Tuesday-Thursday (9 a.m. — 3:30 p.m.)
SAFETY REMINDER: Please remember to observe social distancing practices while at the food distribution site by maintaining six feet of personal space between you and other families or individuals.
Anyone exhibiting symptoms of a respiratory illness like fever, runny nose, sore throat, coughing or difficulty breathing on the day of food distribution or in the previous 24 hours should not visit a food distribution site but call a health care provider instead. If you do not have a primary care physician and are not enrolled in a clinic, you may CALL an urgent care center or emergency room.
UPDATES FROM THE ALEXANDRIA HEALTH DEPARTMENT
The City of Alexandria and the Alexandria Health Department strongly urge everyone to follow state orders to STAY HOME except for essential trips such as food purchases and medical care, and keep 6 feet apart from others when in public. Your neighbors and loved ones are counting on you to stop the spread of COVID-19. For other questions about COVID-19, call the Alexandria COVID-19 Hotline at 703-746-4988, weekdays from 9 a.m. to 6 p.m.
Additional updates can be found at www.alexandriava.gov/Coronavirus.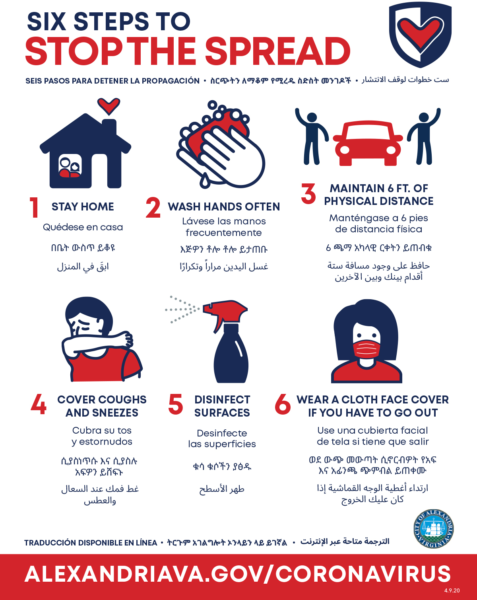 Coping with COVID-19 Fear and Uncertainty
Check out the City of Alexandria webpage Coping with COVID-19 Fear and Uncertainty which includes the COVID-19 Wellness Resource Guide.
WANT TO HELP?
Please consider donating through ACT For Alexandria and the COVID-19 Response Fund if you are able. 
Community members who would like to volunteer should reach out to www.volunteeralexandria.org or 703-836-2176 to register for any additional potential volunteer opportunities.
MENTAL HEALTH SUPPORT
Continuity of School Support and Academic Advisement
School Student Support Team staff, including school counselors, school nurses, school psychologists, and school social workers will be available during school hours throughout the closure. Monday — Friday between 8:30 a.m. and 3:30 p.m. staff will be connecting with students and their families. The Department of Student Services, Alternative Programs and Equity staff members are also available during this time and can be contacted by voicemail and at student_services@acps.k12.va.us.
Emergency Supports
If there is a crisis or emergency during the time of the closure, students and families can access the supports below:
Crisis Text and Crisis Link:

Text: CONNECT to 85511
Call: 703-527-4077
We know that this is a challenging time. ACPS will continue to share information through the ACPS website, social media, and email. Please don't hesitate to reach out to your student's school counselor or school social worker with any questions.
HEALTH REMINDERS
Don't Feel Well?
Contact your primary health care physician. Don't have insurance? Contact Neighborhood Health at 703-535-5568.
---
Have questions, concerns or feedback? Contact us.
Stay Healthy!
Wash your hands regularly. Regular soap is OK.