Six thousand miles from the snowy Altai Mountains, in classroom B310 of T.C. Williams High School, student Anna Dugan offered around a plate of Boortsog, a type of fried cookie traditionally found in homes across Mongolia.
The 16 year-old spoke effusively about The Hu, a folk metal band with almost cult-like status in the far eastern country, that could definitely not be confused with The Who, she pointed out.
And then the singing began: a low, primal sound of overtones coming from the back of the throat. It is peculiar to Western ears, to say the least.
Welcome to the Mongolian Throat Singing Club, which has to win the prize for T.C.'s most intriguing after school gathering.
Anna, the president and founder, first heard the ancient music when someone played it to her ninth grade class to calm students before an exam.
When I first heard it, I was just very curious," she said. "I thought it was a weird instrument, not a voice. It was quite shocking. But the more I listened, the better it seemed."
A year later and her interest was piqued further as she learned about The Silk Road, Genghis Khan and the role Mongolia played in shaping the modern world in her AP World History class taught by Molly Freitag.
Anna, now a junior, said, "I love the fact that the music draws so much from nature, the sounds mimic waterfalls, the wind through grasses…"
The songs tell stories of warriors going off to battle, of life as nomads living in yurts. It is so ancient and primal and that really appeals to me."
Months of watching YouTube followed as she worked on the tricky technique of layering multiple pitches — or overtones — at once.
She practiced in robotics class and at home, she recalls. It took "about a month" before she started to make headway.
And while Anna plays the cello, she says singing has never been her musical strength.
My voice has a range of about one octave," laughed the 16 year-old who said she listened to "nothing but Bach" before developing a love of throat singing music.
Last September, she convinced a couple of friends to join her as she established the T.C. Mongolian Throat Singing after school club.
No one was quite sure what to expect but to drum up interest, they DJed in the library one Friday morning, distributed fliers and put up posters.
Now, the group has attracted upwards of ten members and meets twice a month. Anna does her best to research and then teach the members as authentically as she can.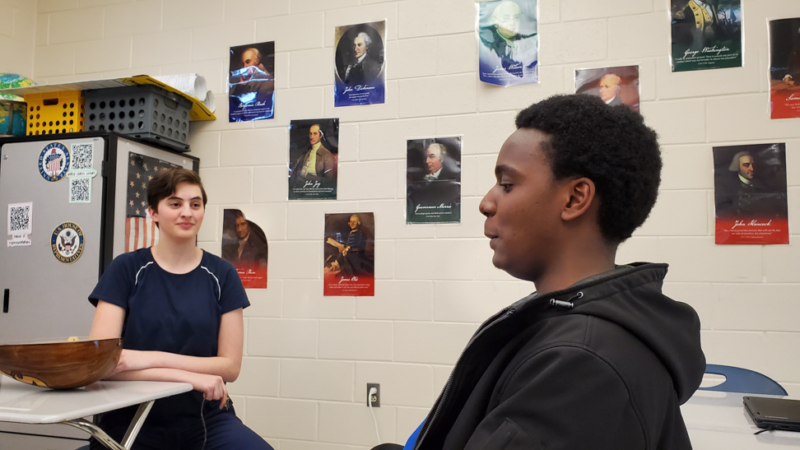 They hope their existence will help preserve the art form which has perilously survived the centuries but is now gaining something of a following.
Mongolian rock bands such as The Hu, which draw heavily from the genre, are fast gaining popularity outside the region.
And more girls and women in the country are taking it up, busting the baseless historical myth that it causes infertility.
Freitag is the club's teacher sponsor, a necessary requirement when establishing an after school club at our high school.
"At first I was kind of surprised when Anna approached me," she said, "but it sounded so interesting that I didn't hesitate and I said 'let's do this."
I couldn't believe there was so much interest and students were fascinated by it."
One Sunday last month the club attended the Natural History Museum's Family Day event, Mongolia's Past and Present.
Encouraged by Freitag, the students introduced themselves to Sumiyabazriin Zagd-Ochir, a renowned Mongolian throat singer who had flown in for the event.
So surprised was he to learn of the T.C. club that the very next day he came to the school with an interpreter and held a two-hour masterclass for them in the orchestra room.
He taught them techniques and skills they could never have picked up from YouTube.
Anna and her members were understandably delighted to have coaching from a bonafide Mongolian throat singer.
We've had our wildest dreams surpassed by just being in existence," she said. "And then to be mentored by a real Mongolian throat singer was beyond anything we could have imagined."
"We learned in two hours what it would have taken me months to teach."
Freitag, who comes to each meeting with smiles and encouragement, is proud of what the group has achieved.
The musical style is not exactly to her taste, however. She prefers Motown, 1980s pop and a bit of hip hop.
"But," she said, "I've grown an appreciation of it…shall we say."