By her own admission, nine-year-old Sakina Butt, a fourth grade student at Ferdinand T. Day Elementary School struggled a little with socializing. It was sometimes hard for her to make those connections that lead to close friendships.
But joining the LEGO Robotics Club at her school has led to more than the development of impressive coding skills. She has also found like-minded children that share her interests.
Sakina is one of a team of four students who made it through to the state finals of the First LEGO League championship last December. That's no small feat for a group in its inaugural year that entered the competition as true rookies.
"I'm not so good at socializing but being a part of this club has really helped me and now I've found a best friend," she said of her fellow team mate, Grace Florence.
The two girls were joined by fifth graders Dominic Kamara and Jayden Anderson, who were selected from the school's popular club to make up the upper team that entered the national competition.
It wasn't always easy to work together, said Sakina, but learning the ability to problem solve with compromise and by listening to others were key skills to their success.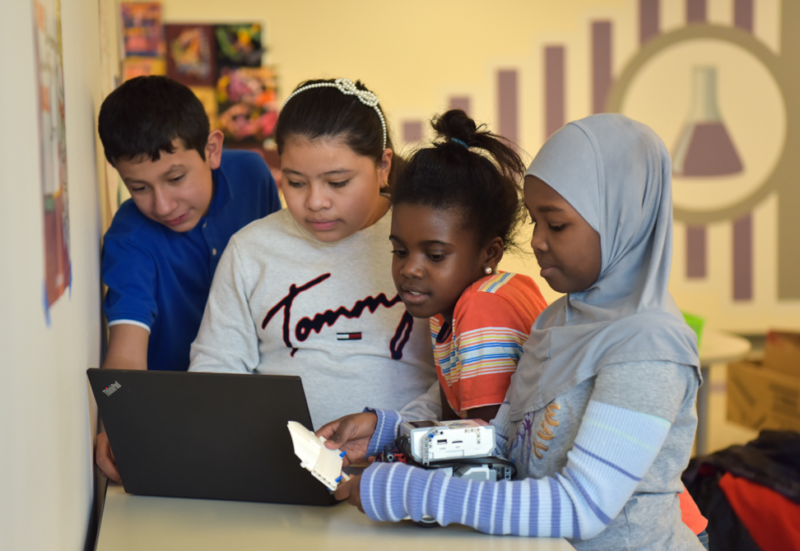 "We disagreed a lot," she said. "We argued about the best way to do things. It could be really frustrating. But we worked through our problems and in the end we figured it out."
"It was so exciting when we heard we made it to the final. Everyone clapped and cheered. It was a great experience and we didn't expect to do so well."
Throughout the competition the students were tasked with completing a variety of programming challenges using the school's only robot, which they designed and built. They were also quizzed by panels and were expected to succinctly explain the processes and challenges involved in taking on the tasks, and also on the core values of the First LEGO League.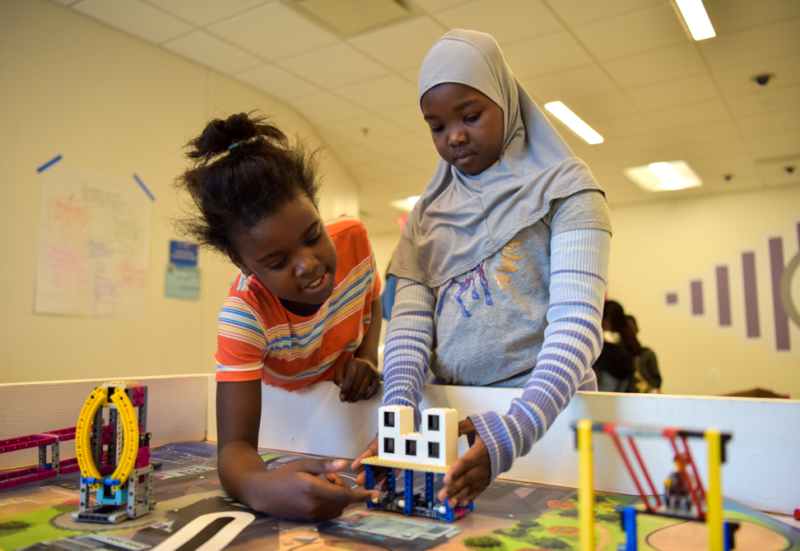 One other component was to research a community issue and find ways to solve it. They focused on the issue of littering and reached out to city departments to learn more.
The talented quartet sailed through the first round of the competition held at the United States Patent and Trademark Office in Alexandria in November where they placed in the top three.
And the following month they traveled to James Madison University in Harrisonburg with parents and teachers for the two-day event which drew some 150 teams from schools and community groups across the state. They didn't win but impressed all with their dedication.
"For us it was just about gaining experience," said Francis Altamirano, an art teacher at the STEM-focused school, who helped establish and coach the team.
"Typically a veteran LEGO robotics team would have started preparing for the competition by May for a November competition, and the team would've had experience building in programming from the previous years challenge."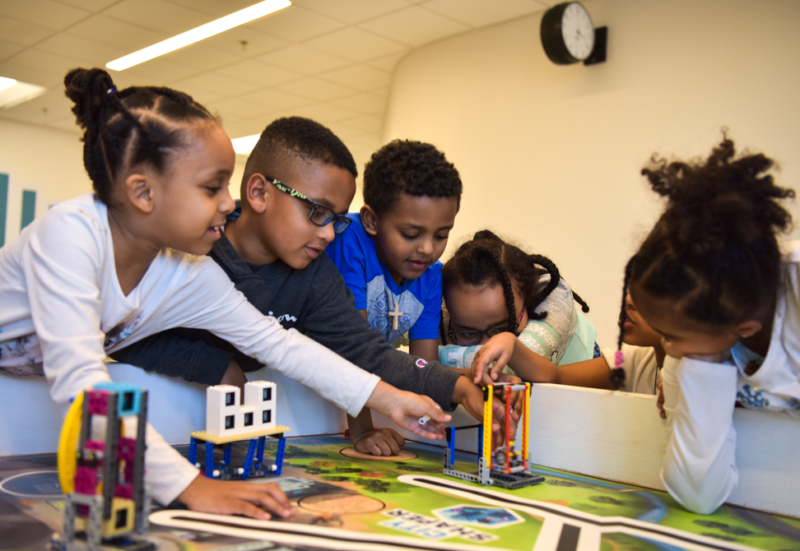 "The team that made it to the state championship from Ferdinand T. Day was able to do all of the challenges and work in just over a month meeting on average twice a week for one hour. The team has worked incredibly hard to get to where they are."
The after school program has attracted upwards of thirty students across all grades.
Currently, they share just one robot funded by Amazon's Future Engineer program and now another $10,000 is coming their way. That money will hopefully add an additional four robots to the school.
They are confident they will be in great shape for this year's LEGO League championship.
Barbara Watkins, a fifth grade teacher, co-coaches the team with Altamirano.
She said, "To be successful in robotics it takes someone who, when they make mistakes, have the perseverance and the focus to go back time and time again until the problem is solved. And I've seen that develop with our team."
"I'm really proud of how they worked and the level of commitment they have shown and how they have learned how to put the needs of the team first."