ACPS is excited to unveil the list of academic courses for the 2020-21 school year. The Program of Studies is now published and the process of academic advisement and course selection is beginning in all ACPS schools.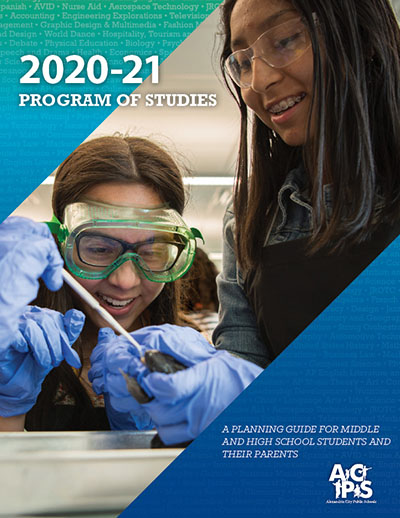 For the first time ever, students and their parents can access the list of courses through a fully online and searchable Program of Studies website. The fully online Program of Studies can be viewed on computers, tablets, and smartphones, allowing students and families the ability to access information wherever and whenever it is needed. The traditional catalog is also available in print at schools or online in PDF format.
ACPS offers a wide range of courses that offer students the chance to earn college credits and a guaranteed place at college through the Governor's Health Science Academy, workforce certification programs to equip students immediately for the workplace, STEM and science courses that allow students to develop their own passions, as well as a myriad of college level Dual Enrollment and Advanced Placement course options. In addition, ACPS offers students the option to enroll in the T.C. Williams Satellite Campus to take classes online in their own time, in a supported setting.
Academic Advising and Curriculum Nights
School counselors will begin providing information and individual academic advisement in early February through the end of March. School counselors work with students, families, and school staff to support course selections that challenge students, allow exploration of areas of interest and passion, support post-secondary goals, and provide healthy life balance. See the dates of curriculum nights and information about academic advising on the Academic Advising web page, or reach out to your individual school.
Once students have met with their school counselor, selected their courses, and the courses have been entered into PowerSchool, families will be able to view the courses through their Parent Access (PowerSchool) account and can contact their child's school counselor with questions.
ACPS is enthusiastic about the opportunities available in the coming school year for students to grow, learn, and maximize their potential for academic success.