When T.C.Williams High School teacher Kimberley Wilson stepped on stage on Wednesday to collect the Association for Career and Technical Education (ACTE) National Teacher of the Year award, her first thought was for her students.
"This is for them," she said, speaking on Thursday morning where the previous night she received her award at ACTE's CareerTech VISION 2019 gala dinner in Anaheim, California.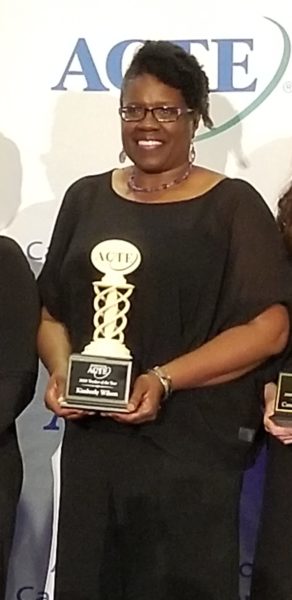 "It was a complete surprise to win. I just stood there when my name was called out. I was numb. I'm still coming down from the shock."
Wilson, who has been with ACPS for 28 years, received the coveted award, in part, for inspiring others to love the work of education.
She teaches Early Childhood Education and Virginia Teachers for Tomorrow in the Family and Consumer Sciences (FACS) Department to students at T.C. who are interested in pursuing a career in the profession of education.
Wilson has inspired T.C. graduates to become long-term teachers with ACPS and has set up more than a hundred placements in internships and field assignments, and full-time jobs for others who have earned their Childhood Development Associate Credential through her class.
In addition to teaching, Wilson is also a mentor coordinator for new recruits. She understands the importance of modeling and supporting new staff.
She said she does not take the recognition lightly.
"This award means I'm able to share with my students that anything you put your mind to, you can do. I come from a single parent home and my mom really sacrificed for me. It wasn't easy. But this shows that it doesn't matter how humble a beginning you come from, with perseverance and determination, anything is possible"
She added, "I want to be an inspiration to my students. Perhaps in ten or twenty years, I will be able to see one of my children – my students – walking across that stage."
This award recognizes the finest career and technical education (CTE) teachers at the middle/secondary school level in the U.S. who have demonstrated innovation in the classroom, commitment to their students and dedication to the improvement of CTE in their institutions and communities.
Wilson has served students and families of ACPS, first at the middle school level and, most recently, for nine years at the high school level.
During her tenure she has been nominated for the Washington Post Agnes Meyer Outstanding Teacher Award, voted by her colleagues in 2014. In 2018, she was selected as the Outstanding Family and Consumer Sciences Teacher of the Year by the Virginia Association for Teachers of FACS, and recognized as the 2019 Virginia Association for Career and Technical Education Teacher of the Year.
Since news broke of her success, her phone has "blown up" with messages of congratulations from her students, she said. "I have replied to every single student's message by saying 'this award is for you.'"
T.C. Williams High School Principal Peter Balas was quick to pay tribute.
"This is an incredible achievement. Ms. Wilson represents the high quality of teaching we see at T.C. Williams High School, and commitment and passion of our teachers as a whole. We are incredibly proud that her work has been recognized nationally."
Wilson is returning to Alexandria this weekend and when asked where she will display her award, there was only ever going to be one answer. "In the classroom," she said. "It just wouldn't be right to hide it away at home."