As ACPS resident astronomy expert, Dr. Melissa Hamilton welcomes not just our students to the planetarium but one Tuesday each month she also opens her doors to members of the public, too.
This month, she figured she'd like to do something a little different.
On October 29 all are welcome to find a seat for Spooktacular Stars, a Halloween-themed event on the mysteries of the universe.
I do enjoy Halloween," said Hamilton, who is in her second year at the helm.
"And what better place to spend it than in a planetarium – because, well, the planetarium is out of this world."
She added, "There are some really interesting things we can see and talk about. We have the Orion Nebula where stars are born – what I call the star nursery – and the mystery of black holes."
"There are zombie stars that look like they are dying and then they suddenly suck in energy from nearby stars and come back to life."
"And any Harry Potter fans will be familiar with Draco the Dragon."
Guests will be treated to a 45 minute show beginning with some simple hands-on science experiments in light and sound.
Then comes the guided tour of Alexandria's city skies projected onto the school's 1967, 20ft dome. The $180,000 projector, a Spitz A-3-P, was donated to the school by the U.S. Army in 1986.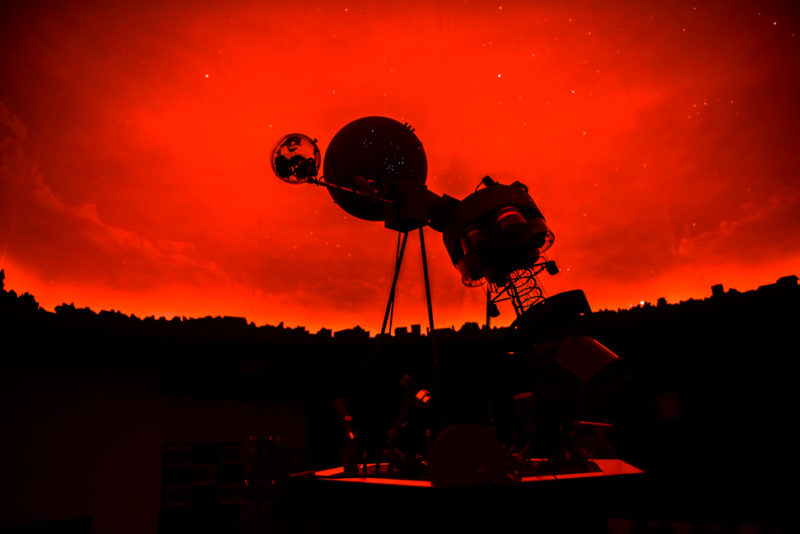 It can show stars of magnitude 5 or less.
Brightness of stars is assigned a number. The larger the number, the dimmer the star. The sun is a magnitude 27.
At the event Hamilton will be dressed as Mrs. Frizzle, the time traveling teacher from The Magic School Bus, and is encouraging participants to come along in costume. But please leave any masks at home for security reasons.
Two 45 minute shows of Spooktacular Stars, suitable for ages five-years-old and up, will be held at 6 p.m. and 7:15 p.m. on October 29. Shows are free but booking is essential as seating is limited.
For questions and to secure your spot, please email planetarium@acps.k12.va.us.