Charles Barrett Elementary School pre-K student Whitaker Weinburger has never had a birthday when he has not been sick – until this past week.
Little Whitaker, a cancer survivor, has long had a fascination with yellow vehicles and the yellow Autobot Transformer, Bumblebee. His mom, Erin, said she wanted her son to have an extra special birthday celebration this year, the first one he will really get to appreciate.
So, on Wednesday morning, for his fourth birthday ACPS sent a yellow bus to join the fleet of yellow taxis, cars, trucks and scooters lining the street outside Whitaker's home to surprise him as he came out to walk to school.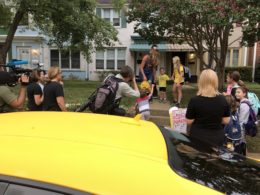 His parents reached out to the media to help bring in the yellow vehicles needed for the surprise. But they were short of a school bus. After a couple of calls, ACPS Office of Transportation were happy to step in and provide a bus and a driver for the very special occasion.
The voice of Bumblebee on the Cartoon Network's Transformers show also offered to reach out to Whitaker who was diagnosed with stage 4 neuroblastoma at just 13 months old. After years of treatment, six rounds of chemotherapy, 20 rounds of radiation and a double stem cell transplant, his scans have come back clear.
We hope you had a GREAT birthday Whitaker!