Walk through the doors of Ferdinand T. Day Elementary School on any given morning and chances are high you will see children engrossed in a book while riding bikes — albeit stationary ones.
Head over to our Chance for Change Academy or Cora Kelly School for Math, Science and Technology and you will find similar scenes as students study and cycle at the same time. And soon, Mount Vernon Community School will be excitedly welcoming their own fleet.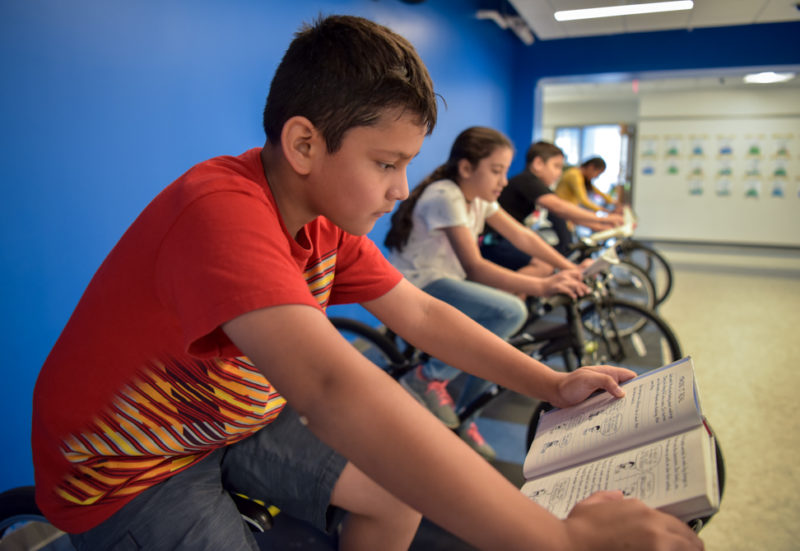 If Mike Humphreys, ACPS's Instructional Specialist for Health, Physical Education and Family Life Education, achieves his goal, every elementary school in our division will have its own set of stationary bikes within two years.
Multiple academic studies have shown that movement and health keep students involved and invested on their path to academic success," said Humphreys, a former pro baseball player.

"Exercising prepares the brain to learn more efficiently and science tells us that active minutes on bikes enhances learning, it increases attention spans and the ability to focus."
He added, "I'm delighted to say ACPS is firmly committed to teaching the whole child and that the pendulum is very much swinging back towards healthy lifestyles in society. It's such an exciting time to be working in the division."
For April Rodgers, physical education teacher and founding staff member at Ferdinand T. Day, the value of the bikes is immeasurable.
From helping children with autism to focus, to physical well-being to boosting brain power, the possibilities are endless.
Learning to incorporate movement into their day gives our students a strategy for life. They are empowered by learning that movement is so important," said Rodgers, who was named ACPS teacher of the year in April.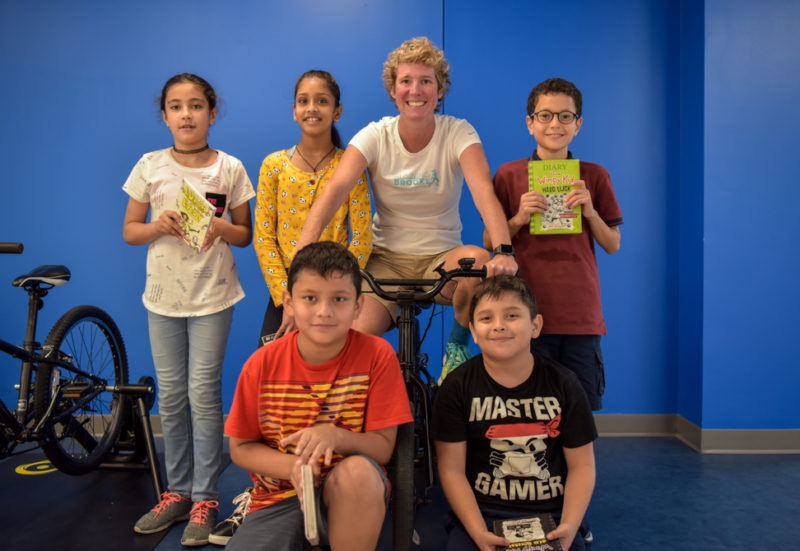 Dr. Rene Cadogan is the principal at Chance For Change Academy, an alternative high school classroom environment that caters to students who need a different setting to the traditional school setting.
He took delivery of seven stationary bikes last year and he can vouch for the benefits.
When we have students who come here stressed or angry we find spending five to ten minutes on the bikes gets the frustration out and we often use them to prepare for the day," he explained.

"We've noticed a big difference — the students go into class engaged and levels of concentration have improved."
In recent years ACPS has introduced a number of complementary initiatives (PDF) which include a mandatory 30 minute recess for all elementary school students. Also now commonplace are brain breaks, where lessons are suspended for two minutes to stretch, hold a pose and re-focus.
Rather than seeing students sit still at a desk for 90 minutes, you will now see movement as children walk around classrooms and become actively involved in lessons.
Humphreys and ACPS are extremely thankful for support from community partners including RunningBrooke, an Alexandrian non profit which has awarded hundreds of thousands of dollars in grants over the years to fund active endeavors.
In August, our school division received news that $45,000 in RunningBrooke Move2Learn grants had been won for a variety of projects.
James K. Polk Elementary School will be purchasing a set of flexible active learning seating, and a sensory educational hallway at John Adams Elementary School will be created.
Humphreys will be using a $7,000 grant to fund a trailer to transport our fleet of 250 traditional bicycles around our schools so all our third and fourth grade students can benefit from our learn to ride program.
"RunningBrooke is all about getting kids active and we do it because it sparks happier, healthier learning ready students," said founder Brooke Sydnor Curran.
One of the most important ways is to do it in schools and that is why it is so important for us to work with as many people as we can. What we do adds a level of equity to allow all kids to learn. We have had principals sharing that they have fewer kids coming to their office because of lack of focus. The benefits of exercise on learning is backed by science and powered by teachers and administrators."
She added, "It is so fabulous to go into schools and see first hand the children smiling. I feel driven to do something for the community I love."
And we, at ACPS, are extremely grateful for that.