This summer marks the tenth anniversary of ACPS' collaboration with George Mason University's Early Identification Program (EIP), a year-round partnership designed to help prepare middle and high school students become the first in their families to attend college in the US.
Our team traveled out to the campus by bus for a day to see our students in action.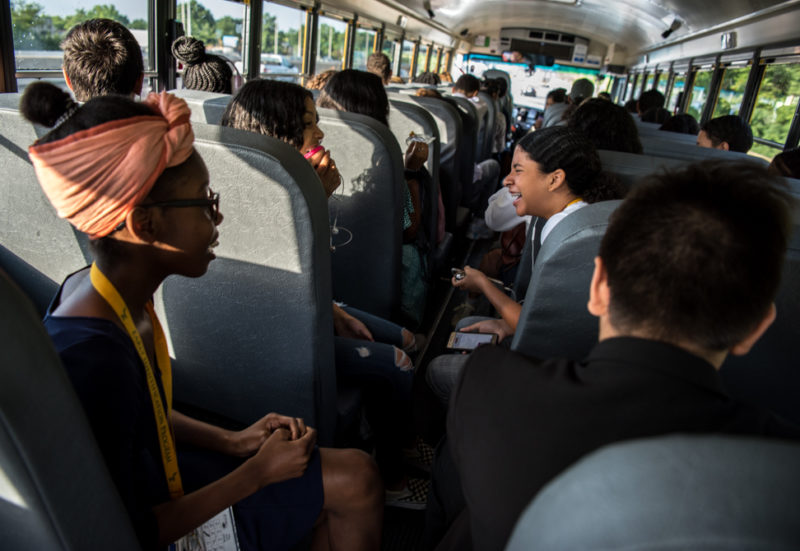 It's 7:15 a.m. on a Wednesday morning in July and the sun is still rising. Outside T.C. Williams High School, sleepy-eyed students are gathering to take a bus heading the 16 miles to George Mason University at an hour when most of their peers are still asleep.
Some huddle under blankets, others hurriedly eat their breakfast from a paper bag, but as they enthusiastically greet Jodie Peters, T.C.'s cheerful EIP coordinator, it is clear this is where these teenagers want to be.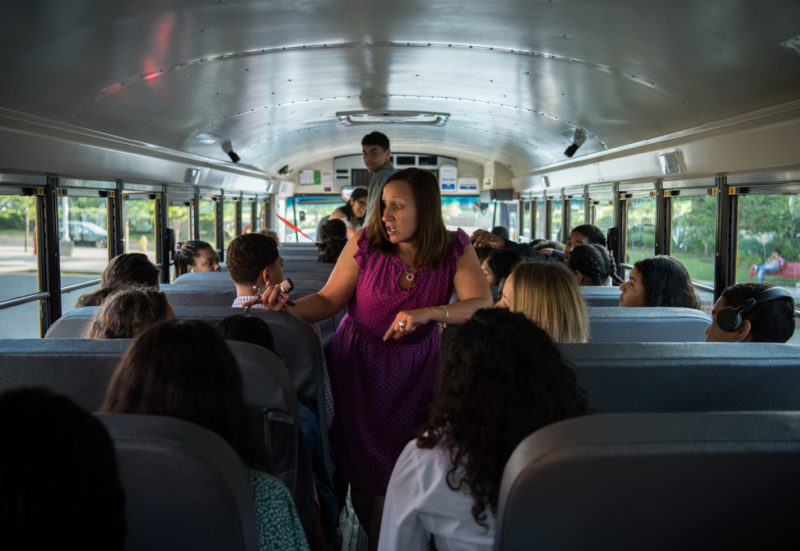 Handpicked for what is a rigorous five-year, wrap-around commitment outside of school hours, no one here is in any doubt what is expected of them.
"What you put into it is what you get out," said Daviana Robles, a 15-year-old rising sophomore who hopes one day to be a pediatric surgeon.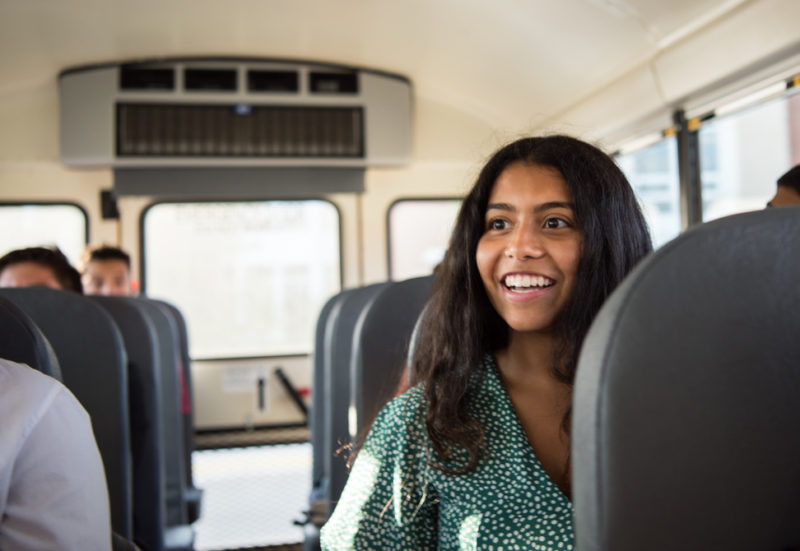 It's tough, it's a commitment. But I know it will be well worth it in the long run."
What she says about commitment is true. Each week throughout the year, the students are mentored by GMU undergraduates or graduates. They are also expected to attend workshops — often held on weekends — covering areas such as college entrance test preparation and additional hands-on education in STEAM (science, technology, engineering, the arts and math).
The focus is not just on academic enrichment but also personal and social development, civic engagement and leadership opportunities.
The families play a big role, too, with parents or guardians also expected to attend workshops in areas such as relationship and communication development so they know how to best support their children.
Every summer the young scholars attend class on campus each day for three weeks to prepare them for the academic year ahead. This helps them stay on top of the rigorous course loads: honors classes, dual enrollment (DE) classes or AP (Advanced Placement) which could result in college level course credits.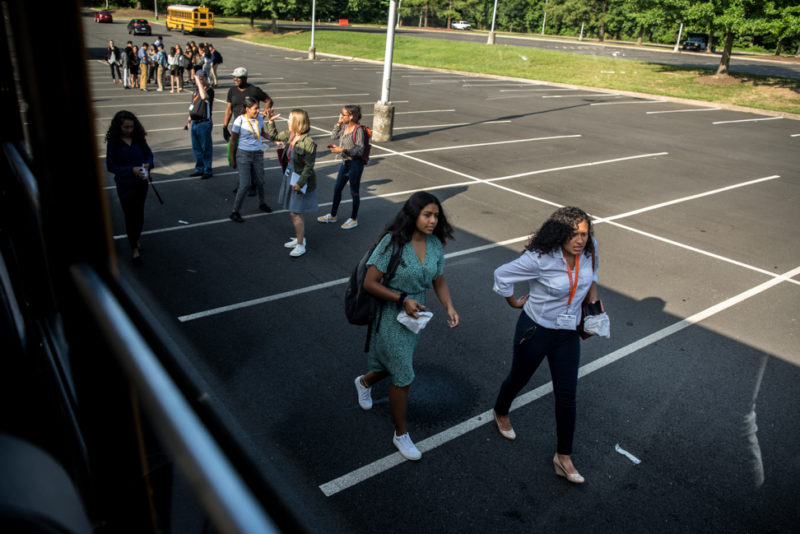 In biology class, Jessica Quispehuaman, 15, a rising freshman, is ready to dissect a frog — something slated for her 9th grade biology class at Minnie Howard this fall.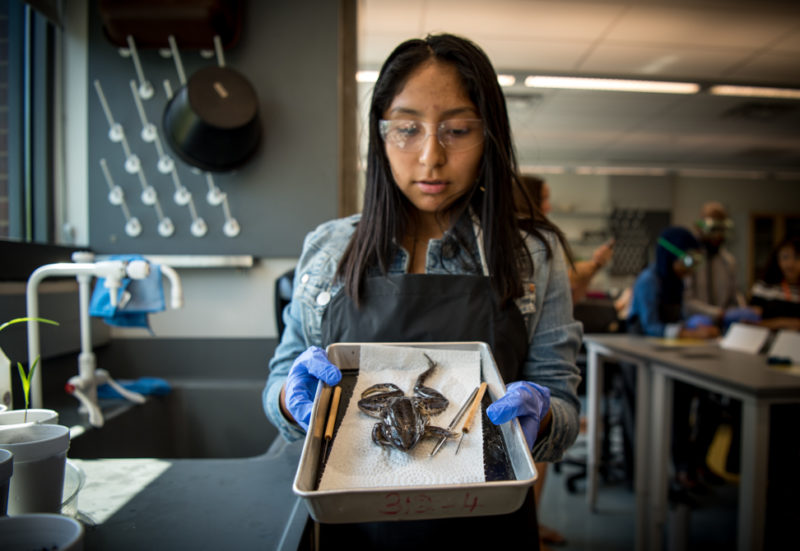 She hopes to go into the medical profession but admits she is afraid of needles. "If I can't get over that and I can't become a doctor, I want to be an engineer," she said.
"My parents came here to the US from Peru because they wanted me to have a better life. They work every day. I barely see them.
"But when I get to college, the first generation to do that, and then get a good job, I will show them everything paid off."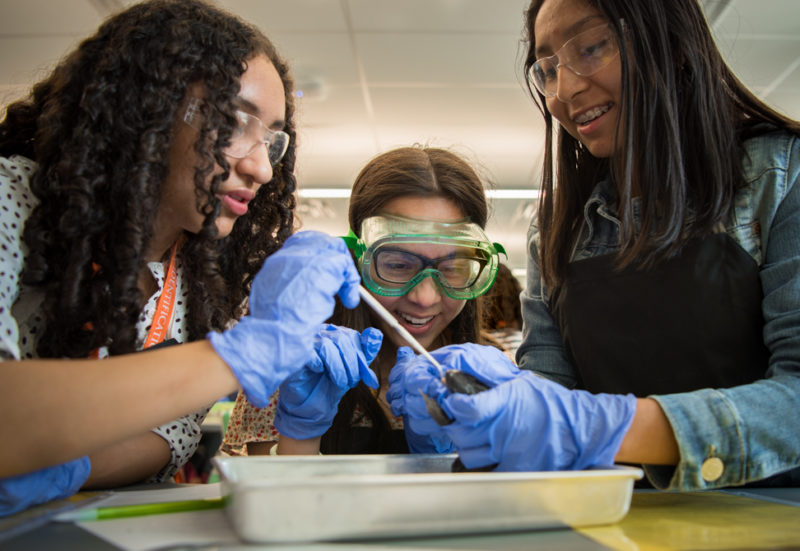 Take a quick look at the 11th grade cohort's 4th quarter achievement this year and you can see an impressive collection of data.
Between the ten students, they handle ten honors courses, eight DE courses and 21 AP courses. The average GPA is 3.87.
And this success is mirrored in the other year groups, too.
"Each and every student is taking on a series of courses that are not only rigorous for them personally but also has mapped out a progressively demanding transcript that's going to prepare them for higher education," said Jodie Peters.
"Colleges want to see that students are willing to challenge themselves each year, and these EIP students have been given the tools and are poised to persist and be academically successful."
"The rising senior cohort has an average GPA of 3.8 and more than 25 courses of rigor under their belt up to now. They are not allowing any stereotype or circumstance hold them back from dreaming big and making college a reality."
One aim of the program is to level the playing field between those students who know how to access higher education and those who — because no other family members have gone before them — do not necessarily have the skills to navigate the US education system.
Armed with information she would not have had, Karina Martinez, a rising senior, makes a habit of applying for two scholarships a month.
"Without being in this program, would I have even known how to apply for college? There is a lot of support here."
Now she regularly sits down with her family to discuss her progress.
"My family is really close, they are really behind me," said the 17-year-old who hopes to get into GMU with a view to working in education one day.
Like the sixty others pulled from our district's high school and middle schools — Francis C. Hammond, George Washington and Jefferson-Houston — Jean Paul Corrales was identified as a good fit for the program in 7th grade.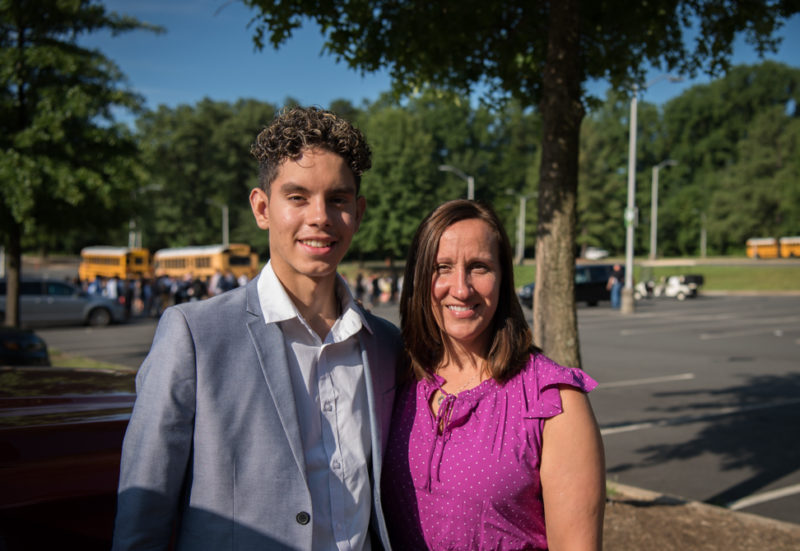 Smart, determined and from a supportive family, his interest was piqued after learning about the program from a school counselor
The application process involves a series of mini essays to gauge motivation, aptitude and background. Two letters of recommendation must also be submitted and grades need to remain average to above average to stay in the course.
"Being first generation, I kind of thought about how my mother would have wanted to take advantage of something like this," said the 17-year-old who hopes to study computer science.
"She had the opportunity in Colombia but my grandmother didn't have the money. And it's a regret of hers that she didn't go. That's why she's always on top of me now."
"Now I get the guidance on how to get into college. I think it would have been hard had I not had these resources."
Ten years ago when the program began, ACPS had just ten students representing the district. A decade later and thanks to a commitment from the school district to expand the budget along with a generous grant from Alexandria City's Fund for Human Services, those numbers swelled this year to sixty.
And the odds are in their favor that all sixty will go on to college.
Out of 550 students chosen from the school districts of Alexandria, Arlington County, Falls Church, Prince William County, Manassas, Manassas Park, Fairfax County and Prince William County, 95% go on to pursue college degrees.
Currently, 150 EIP alumni are enrolled at George Mason.
Angelica Felder, a T.C alumus, felt like she had won the jackpot when she was awarded one of the four full GMU scholarships dished out to EIP participants each year.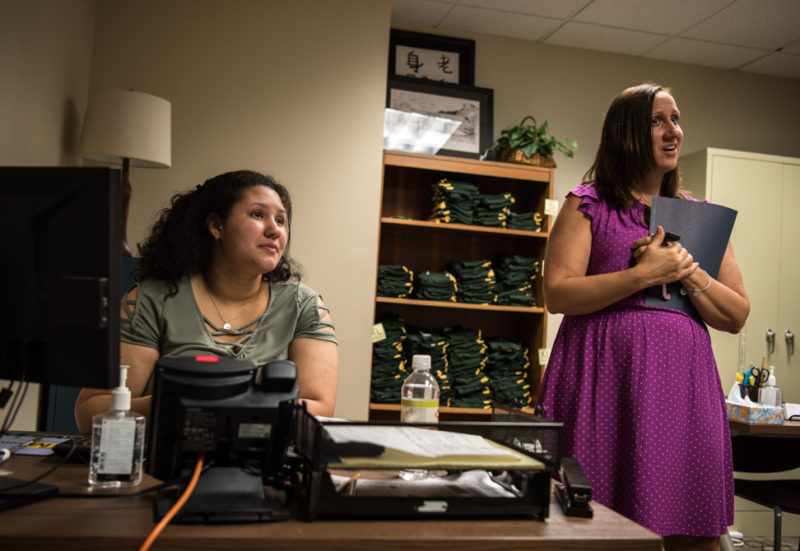 "For me the EIP was life changing, I'm really thankful." said the 20-year-old who was raised by her mother, a single parent who attended college for less than a year after circumstances forced her to drop out.
"If I hadn't won the scholarship I don't know how I would have gone to college. I don't want to say that I couldn't have done it because I worked really hard and I always loved school, but it would have been a lot harder."
"When we got the call, my mom started crying."
"I've watched her over the years work so hard but because she doesn't have a degree, she doesn't get paid as much as she should."
Now Angelica, who is studying Community Health and hopes to become a public health nurse, returns to T.C. weekly to mentor Alexandria's EIP students.
"It's nice to be able to help and give back."
The man who gave her the call that changed the course of her life is Khaseem Davis, the Director of the EIP at GMU.
"I think these students are phenomenal, they understand the importance of sacrifice. While their friends are at the beach or at the pool, here they are learning."
"Our goal as a program is to open up opportunities, to build familiarity with a college environment which in turn gives them confidence."
"We see it is important to fill the gaps, those little pieces they are not able to grasp because they haven't had family members go before them to help them understand what college is."
When asked what made the students from ACPS unique, he said, "They have a sense of community; they are generally proactive kids who know how to overcome challenges. And they are close knit, they support each other."