T.C. Williams High School 2018 valedictorian Jackson du Pont has been recognized by the College Board for being one of 111 students in the world to earn every point possible on the AP Research Exam he took last spring.

The Yale University sophomore received a letter this week commending him for his outstanding performance on the test.
Jackson's research project, for which he scored the maximum 5, was titled "Reaching Rapprochement: The Future of Cooperation between the United States and Iran," a subject quite relevant today.
His love for foreign policy and history began as an exceptional middle schooler plowing through declassified government documents obtained through the National Security Archive (his "treasure chest") for a National History Day project.
Jackson's unquenchable curiosity had him digging into American foreign policy and the Cuban Missile Crisis, the Iran-Contra Affair, and the Rwandan genocide. During his middle school days, he created award-winning documentaries for his National History Day projects which can be found on his Jackson du Pont Documentaries website. Listen closely and you'll hear with each narration his metamorphosis from an excited young boy to a reflective young man.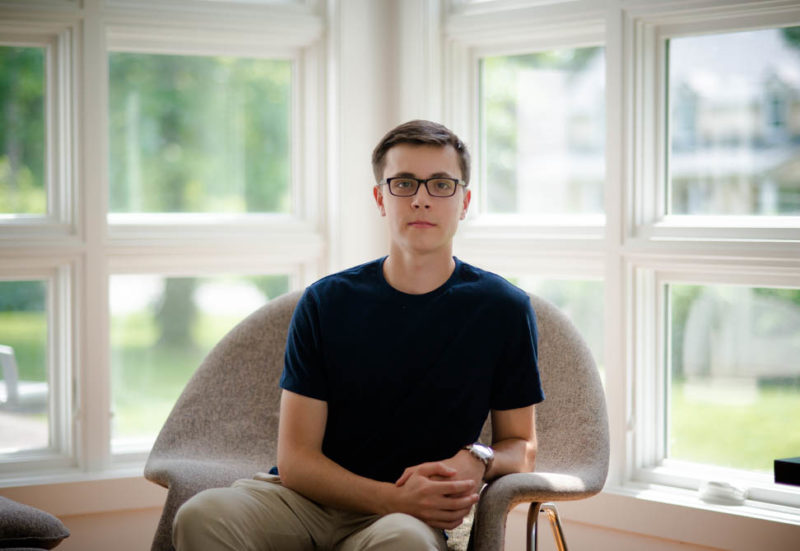 While a student at T.C. Williams, the National Security Archive saw the potential in du Pont and offered him an internship working on their own documentation project looking at declassified documents surrounding the relationship between the U.S. and Iran.
His interest in the subject turned into his world-class project with his AP Research teacher, Sarah Kiyak.
She was great at fostering a community where kids were free to pursue their interests. It was a year-long research project and she created a space for that," Jackson said.
Thinking back on his time in her class at T.C., Kiyak saw Jackson as a self-motivated student who put forth maximum effort in everything he pursued.
In AP Research, I happily supported him as he explored the U.S.' relationship with Iran in the past and present in order to make recommendations for future diplomacy. Jackson was even able to secure an interview with Trita Parsi, current president of the National Iranian American Council. Parsi, at the end of the interview, commended Jackson for his knowledge, insight, and maturity regarding the U.S. and Iran. During Jackson's first year at Yale University, he studied Farsi and took classes that will help him better understand foreign policy," Kiyak said.
Jackson feels as though many in power don't understand the history of Iran.
I'm still struggling to understand that history now because it's so rich and complex but I think so vital to our understanding of the region and our understanding of how to work within diplomacy as a whole."
Jackson's research focused on windows of opportunity for Iran and the United States, describing the two countries as being tied to different pendulums.
Every ten years of so they line up and there's a window of opportunity where you can move towards cooperation and that happened in 2015 with the nuclear deal and it happened over a decade earlier after 9/11."
What Jackson wants to know is: why do these opportunities arise, how can we create these opportunities, what has squandered these opportunities in the past, and why did the period from 2015 up until last year succeed for that period of time?
His takeaway on his research:
Often times in diplomacy you always try to go for the touchdown. You're kind of racing, racing to get the whole thing in one agreement and I think once in a blue moon you'll get that but sometimes that doesn't really create an opportunity when you're on different sides of the spectrum. You have to move toward the little things. I'm a big fan of the little things."
In early 2015 during intense nuclear negotiations in Geneva, U.S. Secretary of State John Kerry took a stroll with Iranian Foreign Minister Mohammad Javad Zarif.
They just talked. Those are the moments we should strive for. It's in those moments you can see we're human and we're moving toward some common goal. Those are more valuable than the big agreements that take decades to create," Jackson said.
What does the future hold for Jackson du Pont? Ask his teacher, Sarah Kiyak.
Believe me when I tell you that Jackson du Pont will one day be Secretary of State!" said Kiyak.