This is the first in a series capturing the stories of T.C. Williams High School students working in our community through internship programs. Through internships, students gain valuable workplace experience and develop communication and leadership skills that will help them succeed in the workplace. And, they gain valuable knowledge about various college and career paths that can help lead them towards a particular field or career or steer them in a different direction.
This week, ACPS features T.C. Williams High School senior Shafiqa Omarkhail.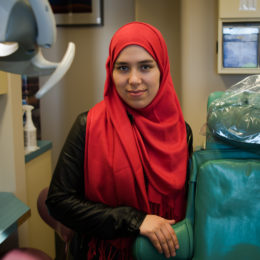 Shafiqa Omarkhail
T.C. Williams High School Senior — International Academy
Back in her home country of Afghanistan, T.C. Williams senior Shafiqa would watch with envy as her younger brothers trailed off to elementary school — an opportunity not available to her or her sisters. It was not until she moved to the U.S. three years ago at age 16 that she was finally able to begin a formal education. Today, Shafiqa is winding down her senior year, having just completed her third internship through the T.C. Williams International Academy and is on her way to becoming a nurse.
Last week, Shafiqa completed her final internship, the second of two at dental practices. Not only did she learn how a dental office is run, she was also able to observe dental procedures, clean dental instruments and learn how to take X-rays. Her experience has confirmed her attraction to the medical field and helped her realize her desire to become a nurse.
Shafiqa is a hard worker and a big help. Although she is so young, she is very mature and is willing to work hard. Everyone sent to us by T.C. Williams has been that way. We even hired a student intern from last year to work part-time on Saturdays," said her mentor, Bradlee Dental Care Office Manager Sechelle Cause.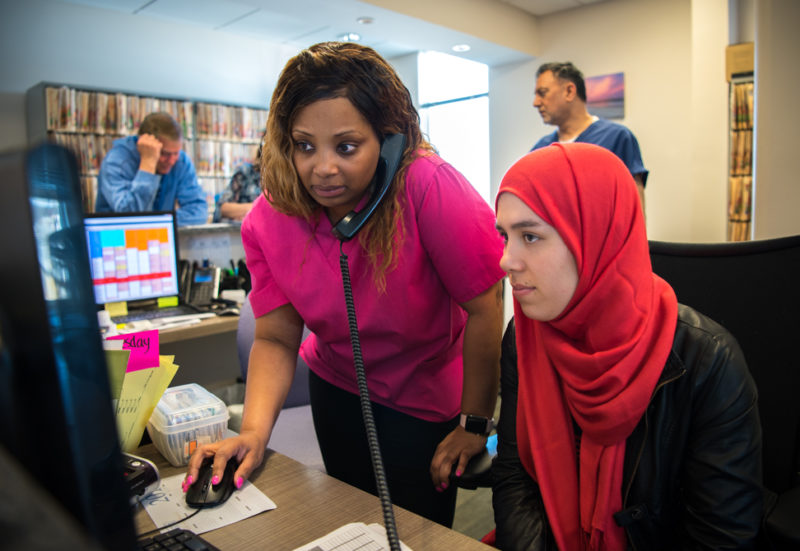 Having access to the opportunities she has had at T.C. Williams, Shafiqa sees her future very differently.
I'm so thankful for my father for all that he sacrificed to make it possible for us to get an education. Being able to get an education, learn a new language, a new culture and try so many new things has opened up so many opportunities. My teachers and counselors have been so supportive and have really helped me to grow. I now have a chance at a future as a nurse — something that I could not have even imagined as a kid, desperate for the chance to go to school and learn," said Shafiqa, who also worked at Advanced Dental Care.
The oldest of five children, Shafiqa and her sisters had only attended two days of school in her homeland. It was not safe for girls traveling to and from school and even being in school at times. At an age where many students are looking towards their graduation and planning for college or career, Shafiqa was beginning her formal education as a ninth-grader at the age of sixteen.
She arrived in southern Virginia, unable to read and write in her native language, let alone English. She didn't pass any of her classes that year. By the time she landed in the International Academy at T.C. Williams in tenth grade, she knew how to say some words and phrases in English, thanks to a peer who helped every day throughout ninth grade and American cartoons. She also credits her internships — the work forced her to talk with people on the phone and in person.
People who don't know what they want to be in the future, I would tell them to do internships and try different things to help you figure out what you want to do. You might find something you like, or you might find that you don't like something you were planning to do for a career. Internships give you an opportunity to try things that will help you decide your future goals," said Shafiqa.