A Message from Superintendent of Schools Dr. Gregory C. Hutchings, Jr.:
This month I have been laying out my vision to collaboratively work with our entire community to make ACPS the best it has ever been.
A vision is essential. It is a guiding path forward; however, it is nothing without implementation. Implementation is what makes a vision come to fruition.
Our goal is for our community to be an integral part of ACPS. We want our community to have pride in our schools, feel that they are a part of something great when they walk into our buildings and know that our students are engaged in the best education they possibly could have to prepare them for the world.
Along with passion and commitment to this cause, there is also a sense of urgency. I have been using a phrase that resonates with this sense of urgency: "Your future is today." This does not mean that we advocate impulsive decision making or knee jerk reactions; it simply means that there are several opportunities of growth for us in ACPS — which child would you tell to wait? Every day that our children walk into a school is another day that we have to make a difference in their lives. We need to ensure that we do not allow that opportunity to slip away. This means that we have to do everything within our power today to make sure that we're making a better future for our young people tomorrow.
Equity
Equity is not equality. We need to make sure we are serving every one of our students and meeting them where they are, and not necessarily where we want them to be. In ACPS, not everyone speaks English as a first language or makes the same family income or learns the same way or even understands the jargon that we use to describe educational practices in our classrooms. We have to make sure that we are serving every single one of our students, their families and their communities. We have to ensure that all voices are at the table and make intentional efforts to collaborate with our families who have not had a voice at the table in the past. We have to provide the necessary supports and remove barriers for all families to be a part of their child's education in multiple ways.
Community Collaboration
We need to collaborate. We cannot do this alone. It will take a community to get us to where we want to be and this means staying connected with the City so that we are operating with the same goals in mind, especially with our financial stewardship and efficiency. Future residents looking to move to the City of Alexandria are going to ask themselves first and foremost about our public schools. It is important for us to ensure that we continue to strive for excellence and focus on a high-quality learning environment for all students. Our city will only be as appealing as our schools and we need to keep that in mind. Community collaboration will assist us with rebranding our schools and ensuring that accurate information about our schools is being shared. There is no school division that is perfect; however, it should not prevent us from striving for excellence and having high expectations for all involved. Community collaboration will afford our stakeholders to join our efforts to meet the needs of all students.
Transparency
Transparency builds trust. We need to be consistent with our messaging and transparent in sharing the information we have. But transparency is also about owning our problems and being honest. We cannot pretend everything is great, or that every student is learning in the way they should be in our schools. We have to own the fact that some students are not getting what they need. Only when we own it can we do something to change it. We are committed to sharing all the information that we have, especially if it's about our students. First and foremost, we must accept that with transparency comes agitation and anxiety. The old expression, "can you handle the truth?" is a question that we must remind ourselves about each day we strive for transparency. As we become more and more transparent with our community, we ask that the community allow us the necessary time to develop action plans to address some of the obstacles and areas of growth.
Alignment
We have 18 different schools, some with additional campuses. Each one has been used to operating under a different system with their own processes, which makes it challenging to work towards division goals on which we all agree. If we don't have alignment in schools we are never going to have cohesion. We are never going to be able to sit in a room and have discussions around true student data or have discussions around how a child moved from point A to point B. While we don't have all the answers today, we are creating a framework and have made a start. We will begin equity audits with every single building to determine the inequities in ACPS. The lack of equity is the number one reason why we are not meeting the needs of every student in ACPS. Building equity takes honesty and is hard work with which will bring uncomfortable moments as well as require us to have the courage to do something about the inequities we identify. Fortunately some of this work is already underway; however, as we embark on our next ACPS strategic plan, equity will need to be the lens used to determine our future and outcomes we are seeking.
Streamlining Services
Our goal is to ensure consistency across all schools. We must streamline all operations within ACPS to ensure that we establish an "ACPS Standard of Excellence," where regardless of ZIP code, family background, family income, learning ability level or school boundary in which you are zoned, all students are engaged in a high-quality education. Streamlining of these services ranges from instructional coaching to best inclusive practices in the classroom to social and emotional learning strategies for students to accountability systems for academic excellence to facilities and custodial services. ACPS deserves to be a school division with a high level of organizational efficiency and accountability.
How are we going to make sure we are implementing these things with fidelity?
This spring, we will begin work on a new strategic plan to take us through 2025. Our strategic plan will be based on the Building Equity Taxonomy that we are already using with principals to identify our inequities in our schools. The Building Equity Taxonomy will be the framework to guide our work towards more equitable learning environments in ACPS for at least the next five years.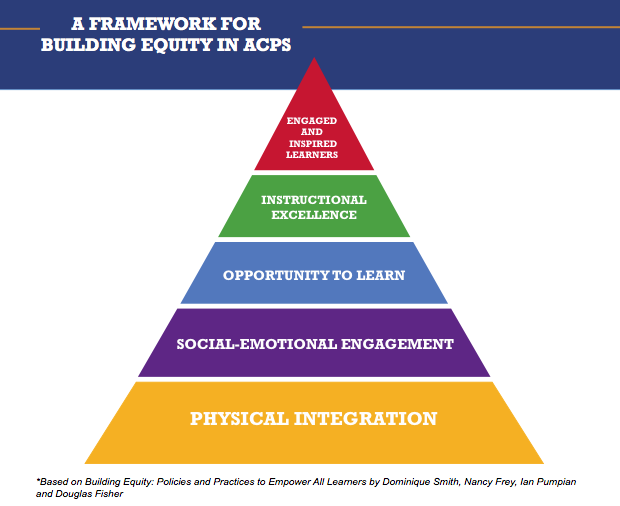 In the coming weeks, I will be sharing more about each of these areas, what they mean for our children and the impact they will have on our community and our city as a whole. This is not a quick-fix solution. This is deep and meaningful work that will take time, effort and dedication. If we do it right, it will positively change our division — and our city — forever.
What are we asking from you?
It will take a community. Whether you are committed to ensuring your child does their homework, mentoring a student, keeping up-to-date with ACPS by attending PTA or community meetings, or by joining a School Board advisory group, we need your support. We are in this together. And with your help, I know we can make ACPS the best place to learn, teach and work.
---
Read about the superintendent's first 100 days.
Watch the video from the event, A Conversation with the Superintendent: Shaping the Future of Alexandria City Public Schools.
Join the superintendent at an upcoming Superintendent Chat.