This week, rising middle and high school students will be presented with one of the best choices of academic programming offered in the state.
Students can select individual courses or specific pathways from more than 400 face-to-face and online courses offered in a variety of settings that suit their learning styles, all outlined in more than 111 pages in the 2019-20 Program of Studies course catalog.
ACPS offers a wide range of courses that offer students the chance to earn as many as 18 college credits and a guaranteed place at college through the Governor's Health Science Academy, workforce certification programs to equip students immediately for the workplace, STEM and science courses that allow students to develop their own passions, as well as a myriad of college level Dual Enrollment and Advanced Placement course options. In addition, ACPS offers students the option to enroll in the T.C. Williams Satellite Campus to take classes online in their own time, in a supported setting.
The course selection process for students who are or will be entering middle or high school this fall is now open and students can learn about courses and the variety of pathways available in the Program of Studies course catalog. You can pick up a print copy of the catalog in the office of any secondary school, or view it online.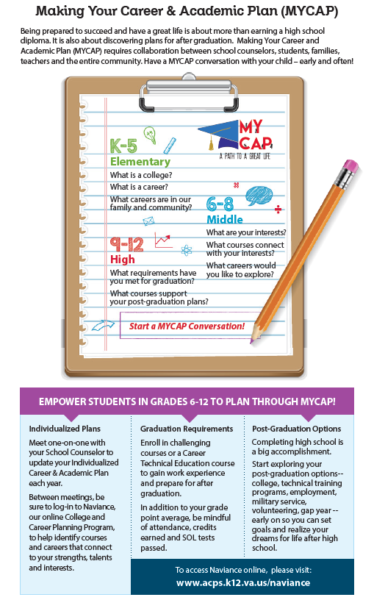 On Tuesday, February 5 from 5:30 to 7:30 p.m., T.C. Williams will host heir annual Academic Orientation and Curriculum Night at the King Street campus, where students and their families can talk directly with teachers and student representatives to learn more about course offerings.
The academic advisement and course selection runs process through March 22 and is framed around the MYCAP (Making Your Career and Academic Plan) that students use to plan their academic and career development pathways. The MYCAP framework supports every student as they progress towards graduation, career interests and post-secondary plans in taking challenging and engaging courses and pursuing the career of their choice.
Overwhelmed by the choice? Don't worry.
Rising and current middle and high school students will be meeting with their counselors and engage in activities in their schools and in their classes to learn more about the course selection process, how to use tools in Naviance to gain a better understanding of their interests and about possible college and career pathways. Students and their families will also have opportunities to tour their new schools and attend their elective fairs.
All will be learning about how school counselors and other program staff can support them and about opportunities available to them through the Career and Technical Education (CTE) program and AVID (Advancement Via Individual Determination) college readiness system. Additionally, students currently enrolled in AVID will develop long-term course plans by partnering with counselors and through the use of a variety of college and career planning tools through the AVID curriculum.