Julius Campbell, a key member of the 1971 Virginia High School League State Championship team whose win and collaboration inspired Disney to immortalize Alexandria's story of desegregation, has died — 48 years after he took the actions that created heroes out of T.C. Williams' football team.
Campbell, who graduated from T.C. Williams in 1973, had been in the hospital for many months, where he received regular visits from other '71 players on the team. He died of organ failure on Friday. He was often seen around Parker-Gray Memorial Stadium signing items to raise funds for the team.
Julius was very, very instrumental on that team at simply getting kids to just talk to one another, kids who never talked to kids from another race their entire lives. By doing so, they learned many things about each other that were not passed down to them, and for that, the world owes Julius a debt of gratitude," said Herman Boone, who was brought in to coach the Titans in 1971.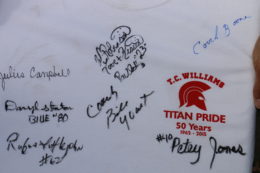 The continuing issues at football games in the late 1960s and early 1970s were so bad that the school division moved all Friday night games to afternoons. In the summer of 1971, Superintendent John C. Albohm presented and implemented his 6-2-2-2 grade plan that fully integrated Alexandria's three high schools aimed at meeting the standards set by the federal government to ensure Alexandria continued to receive federal funding. By the fall of 1971, T.C. Williams was fully integrated for grades 11 and 12.
While the decision to appoint an interracial coaching team in the form of Head Coach Herman Boone and Assistant Coach Bill Yoast fostered an atmosphere of racial respect on the team, it was the players' willingness to actively promote their new-found friendships that made the difference at T.C. Williams. That was largely created at the Gettysburg pre-season training camp and continued throughout the fall when members of the football team patrolled the hallways wearing team jerseys to help minimize conflict at the school.
When the school year started my dad did not sit next to Julius' dad. By the time the season progressed, the next thing I knew my dad was sitting on Julius' dad's lap. That's what made this story — not that we were good football players," said '71 Titan team player Mike Lynch.
The success of the T.C. Williams football team in the Virginia state championship made the reorganization of the school system easier to accept all around. John Stubbins, ACPS director of secondary education in 1971, told the Washington Post, "It's pretty obvious there's been a tremendous spillover into the entire system because of that team. The parents were thrilled to death to see these kids getting along and it's really helped. A lot of minds have been changed at the dinner table."
Over the years, members of the '71 team have helped keep the legacy alive by reaching out to talk to the community about that time.
Mike Lynch shared a favorite story of his teammate. Julius, who went on to work in animal control, described one of his favorite "appearances." He was dispatched to a home to deal with an animal in the attic. As he went back and forth dealing with the problem, he saw that a young boy was watching the movie Remember the Titans on television. After he finished his work, he introduced himself as the character on the screen.
Like that movie. son?"
Well, yeah! It's my favorite! Seen it a hundred times!"
Well… I'm Julius Campbell. It's nice to meet you."
Julius signed the boy's football and left him a picture, and then went back to his work.
That was just like Julius. He was just so humble," said Lynch.
ACPS is currently running a series of posts to mark the 65th anniversary of Brown v. Board of Education and the subsequent slow path towards the desegregation of Alexandria's schools. You can read the posts that also contain video content of the '71 Titans talking about their part in Brown v. Board: What Does it Mean for Alexandria? and Brown v. Board and Football: Both a Problem and a Solution.
The funeral service for Campbell is Saturday, February 8 at Alfred Street Baptist Church, 301 S. Alfred Street, Alexandria. The viewing is at 10 a.m. followed by a service at 11 a.m. The family has requested donations to the '71 Original Titans Scholarship Fund in lieu of flowers.