Smashing through team records and setting personal bests, Titan swimmers have claimed the coveted Mayor's Trophy for T.C. Williams High School for the first time in the history of Alexandria's All-City Swim Meet.
A wave of energy was building at the championship meet Tuesday night when Titans took to the starting blocks for the much anticipated championship meet between Bishop Ireton High School, St. Stephen's & St. Agnes School and T.C. Williams High School.
It was palpable. You could feel the vibes. They really wanted it and they were very focused," Head Coach John Gullickson said.
The night began with some blazing swims with Emil Lasida (backstroke), Ronan Lauinger (breaststroke), Brendan Huber-Wilker (butterfly), and Quinn Hardimon (freestyle) delivering a state-qualifying Men's 200 Medley A Relay performance of 1:39.51, crushing the school record they set just a week earlier.
As the night progressed, a contagious energy overtook the pool deck and fed the T.C. swimmers.
Whenever you're in a meet like that and it's so close and we know what's at stake, everyone was stepping up for one another … people were invested in the team and in each other. And, I think that's a big difference maker," Gullickson said.
With his teammates shouting their support, T.C. Williams senior Lutfi Lasida muscled through his race, breaking the T.C. Men's 100 fly record and shaving two seconds off his personal best, delivering a 54.60 at the wall.
When everybody is in it together, you're going to see a lot of magic. Whether it's time drops, meet records, new team records, which all happened, and then to do something that they've never done before," Gullickson said.
With a talented pool of freshmen and sophomores poised to set school records of their own, the team has depth. Upperclassmen see this as the first of many city championships to come.
Senior Lydia Greenwood wasn't surprised at all by the big win.
I was totally expecting it. We have so much talent on this team and it's only going to get better," Greenwood said.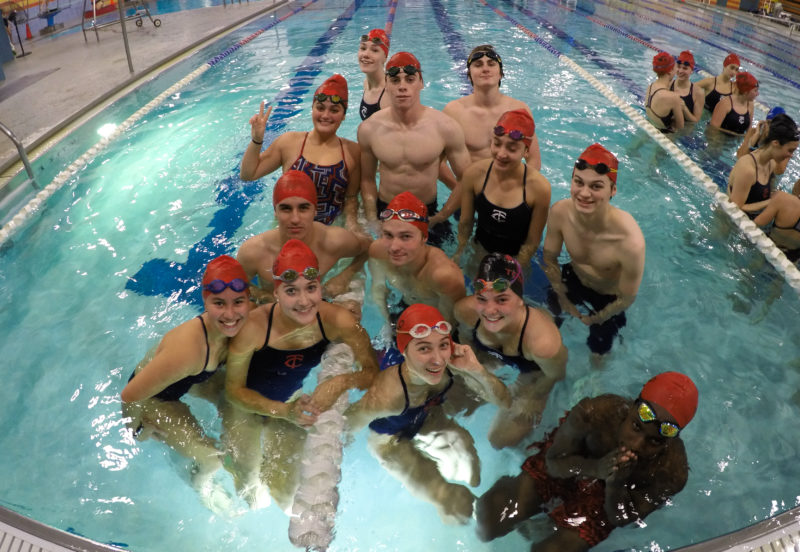 The T.C. men's swim & dive teams took first place while the women's swim & dive teams took second. Overall team scores had the Titans claiming the highest team ranking with the Saints and Cardinals finishing second and third, respectively at the meet, which took place in Springfield at the St. James Sports and Active Entertainment Center, due to the fact that Alexandria's Chinquapin pool is not a competition-sized pool.
I can't understate how special this is, because they've never accomplished this before, and they knew that it was in reach. They've had the confidence in the water in their training and they believed in one another. That's what's special with this roster and this team," Gullickson said.