As a sixteen-year-old in Louisiana, when most teenagers are hanging out with their friends, Jasmine Wood found herself helping to care for her younger sister and brother during her last two years of high school. It was just what was expected of her with young siblings in the house, but it was also an experience that shaped her life.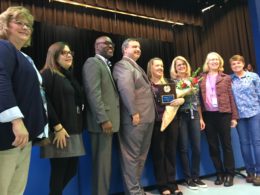 Last week, Wood, now the school nurse at Lyles-Crouch Traditional Academy, found out she has been named Virginia School Nurse of the Year. It is an award that goes to someone who is truly dedicated to their nursing career and goes above and beyond in relating to students and their care. But the award has a deeper meaning for the Wood family, as it comes at a painful time for Nurse Wood. She can possibly relate to her students with serious conditions in an even more personal way, because she is now also required to be a nurse among her family at home.
A few weeks ago her lacrosse-loving husband and high school sweetheart was diagnosed with brain cancer and in a matter of weeks the family went from neighborhood cookouts to cancer treatment sessions at the hospital.
It is a change in circumstances that only makes her work matter that much more.
I really do love this place. I'm spoiled. I really am. After my first year, I decided, I'm not going anywhere else. This is my home now," Wood said. "Children benefit academically from being in a healthy and well environment, but it's not only about making sure they are taken care of and that they are healthy and well, but that the staff is, too."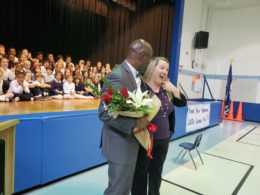 When Nurse Wood is not handing out medications, tending to sick students, bandaging up scraped knees, and helping students manage difficult conditions such as diabetes, she plants herself in the hallway where she can keep an eye on the wellbeing of her students while collecting a dose of smiles and hugs. She will pop in to see a counselor or social worker to see if there are any children who are struggling or who have issues on which the team might need to collaborate. Or she offers an ear to a colleague who's having a rough time and coaches them on ways to de-stress.
Known for her creativity in finding ways to strengthen her community, she often slips into the back of a classroom to snap precious moments of students as they write their name for the first time or try out an instrument.
ACPS is at the forefront of school health in northern Virginia with a Registered Nurse in every building. Typically a one-of-a-kind role in a school, nurses sometimes miss the kinship felt by teachers, support staff and others, who might share a role, a curriculum or a team of students. Doing as she has her entire life in conjuring up what she needs, Nurse Wood, now in her seventh year at the school, has crafted a role for herself that's integral to the school environment.
She is also eager to soak up opportunities to connect and collaborate with school nursing peers from across the division and uses social media and professional associations to connect with school nurses throughout the state and across the country. She likes to keep a pulse on what issues are out there and what other school nurses are dealing with. She was tapped to join the Johnson & Johnson School Health Leadership Team and was asked to return the following year as a mentor. She also mentors students from the nursing school at The George Washington University who do an internship at Lyles-Crouch as part of their program.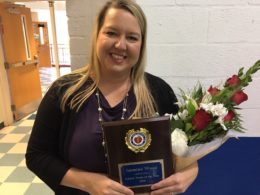 Slipping away last weekend to receive the award was a welcome distraction from the uncertainty of her own family situation and the path that may lie ahead. In her new role as a caregiver for her husband, she is finding herself needing to use all the skills she has honed at work to their max. She has learned to take things day by day — managing medications, appointments, updates for family and friends on Facebook — at the same time as struggling to understand the science behind what they are going through. She is just grateful that she has been able to embrace the huge network of support and has not had to cook a meal in weeks.
In the meantime, she is trying to keep everything as normal as possible, for her students at school, of course, but especially for her two sons. Last week, they spent a full day at a lacrosse tournament in Delaware and her eldest took his driver's ed test. It is the normal things that are appreciated and seem to be really worth fighting for.
Watch video of Nurse Wood receiving the award from Superintendent of Schools Dr. Gregory C. Hutchings, Jr. and Lyles-Crouch Principal Dr. Pat Zissios.