Virginia Governor Ralph Northam joined 100 students at T.C. Williams High School on Friday to celebrate the launch of the Governor's Health Sciences Academy — the first public-private partnership of its kind in Virginia.
The Academy, which was endorsed as a Governor's Health Sciences Academy by the Commonwealth of Virginia through the Virginia Department of Education this summer, enables students to earn up to 18 college credits from The George Washington University School of Medicine and Health Sciences before they graduate. The program is aligned with workforce needs in the health care industry in Virginia and can significantly reduce the time and money needed to graduate from college.
This partnership builds up our health and science workforce and improves our educational opportunities, while it gives students an early opportunity to start work toward a health care career. This is a win for everyone as we work to ensure our students get an education that prepares them for success," said Governor Northam.
The Governor met teachers from ACPS and GW who helped establish the partnership and develop the curriculum. He addressed the students about the relevancy of their chosen pathway before cutting a ribbon to celebrate the opening of the new program at T.C. Williams.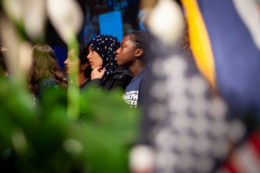 The first cohort of 100 students can choose from seven in-demand career pathways: biomedical informatics, emergency medical services, medical laboratory sciences, nursing, pharmacy, sports medicine and surgical technology. Following graduation, students can move into entry-level health careers; matriculate into a community college and attain an associate's degree; transfer to the GW School of Medicine and Health Sciences through a guaranteed admissions agreement with college credits toward earning a bachelor's degree; enter a bachelor-completion program at GW in partnership with select community colleges in Virginia and Maryland; or transfer credits to other four-year universities.
The Academy puts our students a few steps ahead, enabling them to essentially graduate at the same credit level as college freshmen and sophomores. Our young people are talented, passionate, resilient and hardworking and will graduate ready to make a difference in our community," said Superintendent of Schools Dr. Gregory C. Hutchings, Jr.
This innovative partnership will create a robust pipeline of students on a pathway to address the health care workforce shortage in Virginia. According to the Virginia Labor Market Information projections, health care practitioners and technical occupations will increase by more than 18 percent by 2024, while regional workforce data shows an expected 30 percent growth by 2020. The U.S. Bureau of Labor Statistics estimates an 18 percent growth in health care careers through 2026, resulting in 2.3 million new jobs in the United States. Through this program, our students will be equipped with the necessary background education and training to address these workforce needs.
It is clear that this region is a hub for innovation, problem solving, and addressing society's most complex issues. Today, with the start of this important and first-of-its-kind public-private partnership, we are beginning the process of tackling a health care workforce challenge," said GW President Thomas LeBlanc.
The event was attended by parents and guardians of enrolled students, city officials along with others and featured remarks from Governor Northam, Superintendent of Schools Dr. Gregory C. Hutchings, Jr., George Washington University President Thomas LeBlanc and Dean of the GW School of Medicine and Health Sciences and Vice President for Health Affairs Jeffrey S. Akman, MD.
Learn more about the Governor's Health Sciences Academy at T.C. Williams High School and the partnership between ACPS and the GW School of Medicine and Health Sciences at www.acps.k12.va.us/healthsciences.