Do you want to know what's on the lunch menu at your child's school? Do you need to know the date for Back-to-School night? We have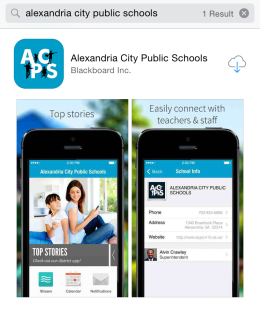 an app for that! The new ACPS mobile app has valuable tools and resources you may need to stay connected with your child's school.
The app can be downloaded on an Apple or Android device, by going to the app store and searching "Alexandria City Public Schools".
Once the app is downloaded, you can select which Alexandria City Public School you would like to receive information about.
On the home screen, the app provides you with ACPS' top social media story, the 2015-16 school year calendar, school breakfast and lunch menus and contact information for your child's school.
The calendar lists all of your child's school events invents including back to school activities, PTA meetings and Picture Day.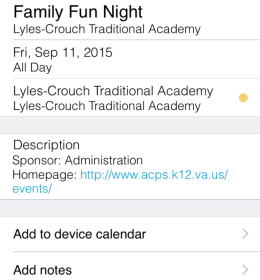 If you click on a specific event, you will be able to add the event to your personal calendar on the device you are using.
Within the app you are also able to view your child's breakfast and lunch menu, along with the nutritional value in each meal.
From the home screen, with a swipe of the screen to the left, you'l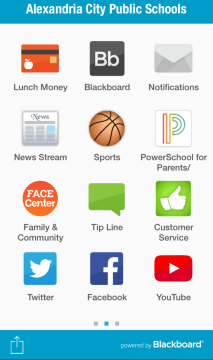 l be able to:
View and upload funds to your child's cafeteria account using Lunch Money
Keep up with ACPS' social media accounts, such as Twitter, Face
book and YouTube
Login to your parent Blackboard and PowerSchool account to keep track of your child's day and grades
Read about ACPS' latest news in News Stream
Send feedback about your ACPS experience using the Customer Service Icon
Stay up-to-date with our Family and Community Engagement Center and sports
The app also provides you with useful quick links for families, students, Staff and the community at the touch of a button.