This Week's Headlines:
---
Dear ACPS Staff,
This week has brought both hope and disappointment. While I am sure that many of you were as disappointed as I was that the community health metrics were not in a position to allow us to transition the first cohort of students back to school buildings on Jan. 19, there was promising news that this week we have been able to start to offer the COVID vaccination to all ACPS staff.
Many of you have already been receiving the first of two doses this week. This is a huge step forward and it allows us to alleviate one major hurdle in the transition to reopening our school buildings. Within six weeks, we hope all employees will be vaccinated. I want to say thank you to the Alexandria Health Department for being true collaborative partners and ensuring ACPS staff were at the front of the line as soon as the vaccine became available. I also want to thank Virginia Governor Ralph Northam who visited one of the Alexandria City vaccination PODS to support our vaccination program. We appreciate that this is a collaborative effort.
Also, I wanted to ask that you help us in the renaming process of T.C. Williams High School and Matthew Maury Elementary School by indicating your favorite name in the community poll we are launching today. The shortlist of names has come from our students who have put forward more than 52 different suggestions via 119 separate submissions over the last few weeks.
Finally, I am delighted to be able to congratulate two very worthy recipients of the Posse Scholarship, a prestigious and highly competitive national award. Well done to our Titans, Maria Stakem and Leonora Rodriguez. In these challenging times, you have both displayed the kind of resilience and determination that will keep you in good stead through college and beyond.
Reminder: schools will be closed next Monday in observance of Martin Luther King Jr. Day. Inauguration Day on Wednesday, Jan. 20 will be an asynchronous day for all students.
Enjoy the long weekend!
Dr. Gregory C. Hutchings, Jr.
Superintendent of Schools
Vaccinations Begin for ACPS Staff This Week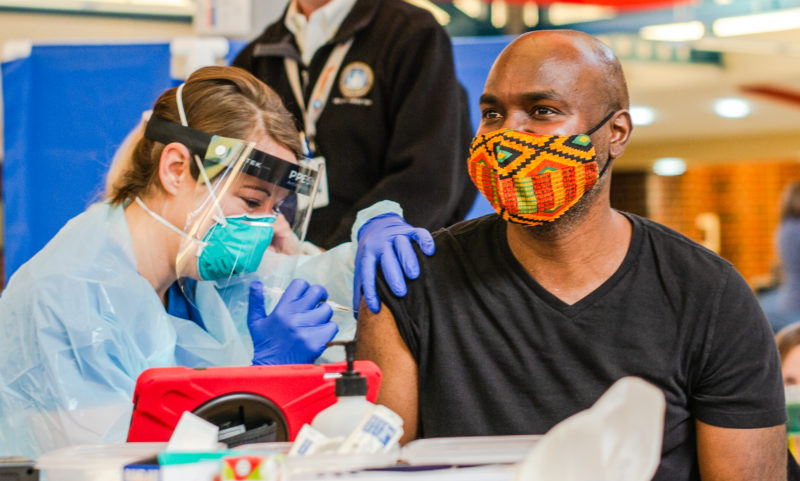 Our staff COVID-19 vaccination program began on Tuesday with a clinic held at T.C. Williams High School. Virginia Governor Ralph Northam visited to help kick off our vaccination program.
Teachers, bus drivers, nutrition workers and central office staff were among those who have been receiving the first dose of the Moderna vaccine. 
Dr. Hutchings received his shot yesterday along with T.C. Williams High School teacher, Danielle Thorne. Douglas MacArthur Elementary School nurse Leanne Desmond administered their shots.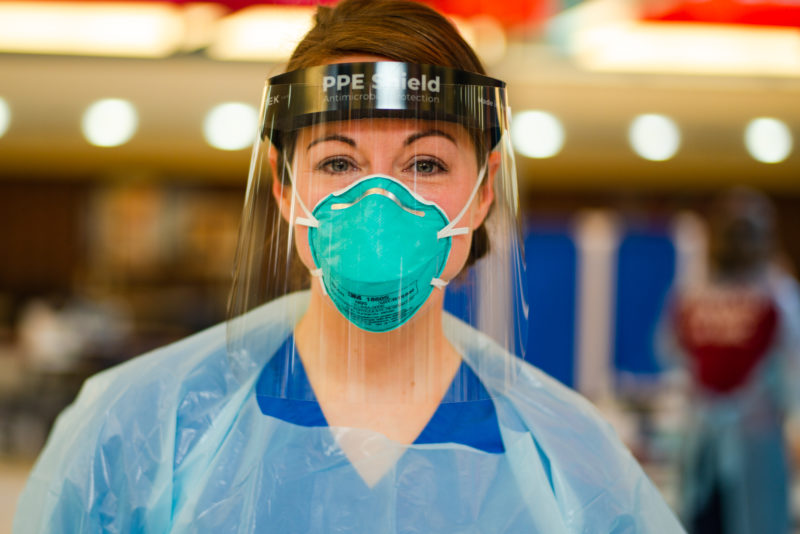 "I have one word to express how I am feeling at this moment — grateful," Dr. Hutchings said. "It was imperative for me to be among the first to take this opportunity and get the vaccine as soon as it became available, to encourage staff to join me in this next step to seeing our school doors open to welcome back ALL students and staff. Thanks to our partners in the Alexandria Health Department for their strong advocacy to include educators in the 1b phase. Their efforts made this a reality."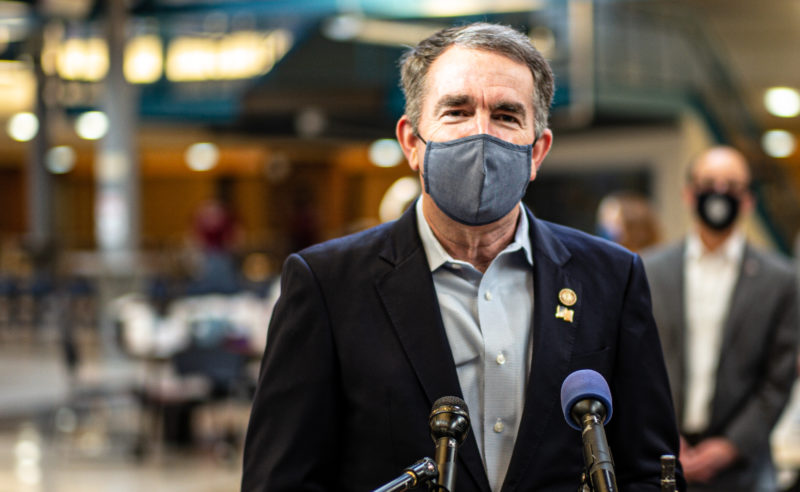 Over the next few weeks, many more of our employees will take the first step in protecting themselves from this virus that forced the closure of our school buildings. Once the second dose has been administered 28 days later, a major hurdle to reopening our schools will have been overcome with the protection of our staff.
ACPS is the first school division in the region to benefit from a vaccination program thanks to the Alexandria Health Department's proactive approach to immunizing school employees.
Some of you have taken to social media to express your excitement at taking this step to getting life back on track.
T.C. Physics Teacher Laura Simons tweeted, "Our school just sent an email for staff to sign up for vaccinations. I'm getting mine in a week. I'm crying in relief. Colleagues I haven't seen or talked to in six months are texting me in celebration. I needed that bit of joy and hope after this week."
And T.C. Culinary Arts Teacher Craig Scheuerman wrote, "Very excited to see the email from the CDC. Teachers are part of the next group to be vaccinated and I'm scheduled for next Thursday. I miss my students! I look forward to getting back in school."
See more photos from the vaccination kickoff.
Watch the full vaccination kickoff event.
VIDEO: Watch remarks from the vaccination kickoff: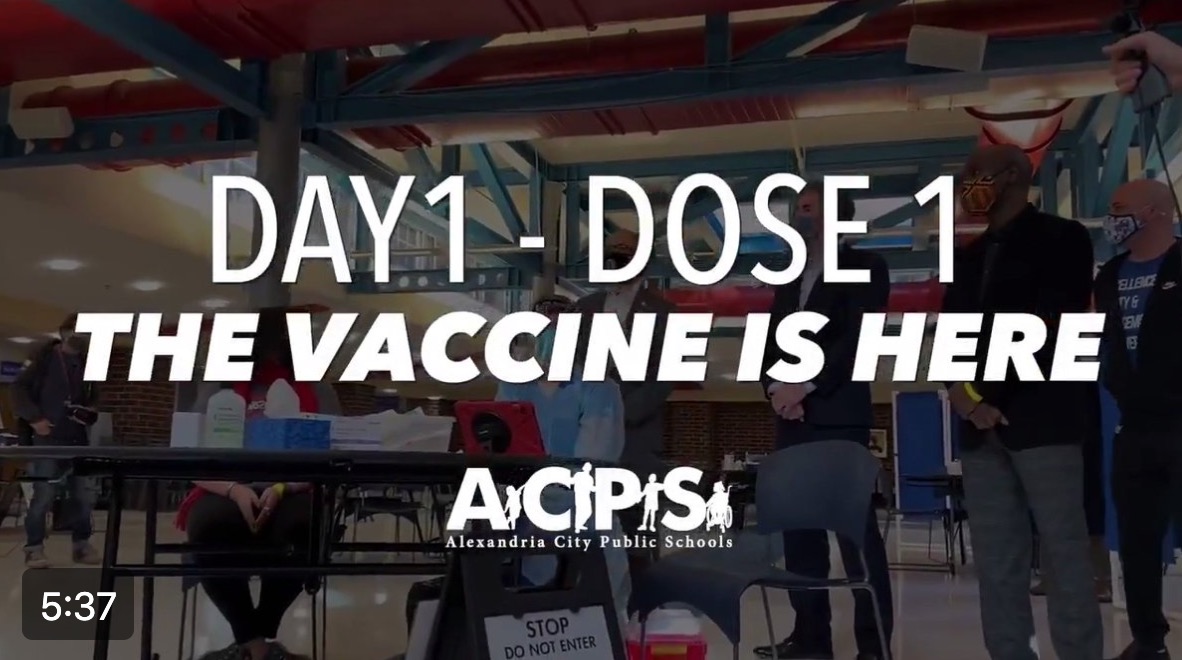 Staff Vaccine Clinics: What You Need to Know
Please be sure to schedule your appointment for your first COVID-19 vaccine at T.C. Williams High School.
We are aware that many of you have been busy registering for COVID-19 vaccination appointments at T.C. Williams High School since the CDC sent its email on Saturday evening.
If you have not received your personal email invitation from the CDC to receive the COVID-19 vaccination, please check your spam/junk mail and if you still cannot find the email from the CDC, send an email explaining your situation directly to Elizabeth Hoover in Tech Services. All ACPS staff are entitled to receive the vaccination in Phase 1b of the Virginia Department of Health's COVID Vaccination Response plan.
If you have tried to register for an appointment to receive the vaccination at T.C. Williams over the weekend and have found there are no appointment slots left, please do not panic! More times will be added shortly. We will let you know when the registration portal has been updated.
Weekly Reopening Decision Update: Schools to remain 100% virtual for week of Jan. 19
Each Monday morning we will be reassessing the situation regarding the coronavirus pandemic and communicating our decision around transitioning to school building reopening for the following week.
The decision is based on real-time information, which is then analyzed using our school building reopening decision matrix. The decision matrix is based on community health metrics as well as staffing and capacity levels that impact our ability to operate efficiently and implement health and safety mitigation measures. The decision will always be made one week ahead so our families and staff have time to plan ahead for any changes.
View the matrix and decision from Monday, Jan. 11, 2021.
VIDEO: Watch the superintendent's message regarding this decision: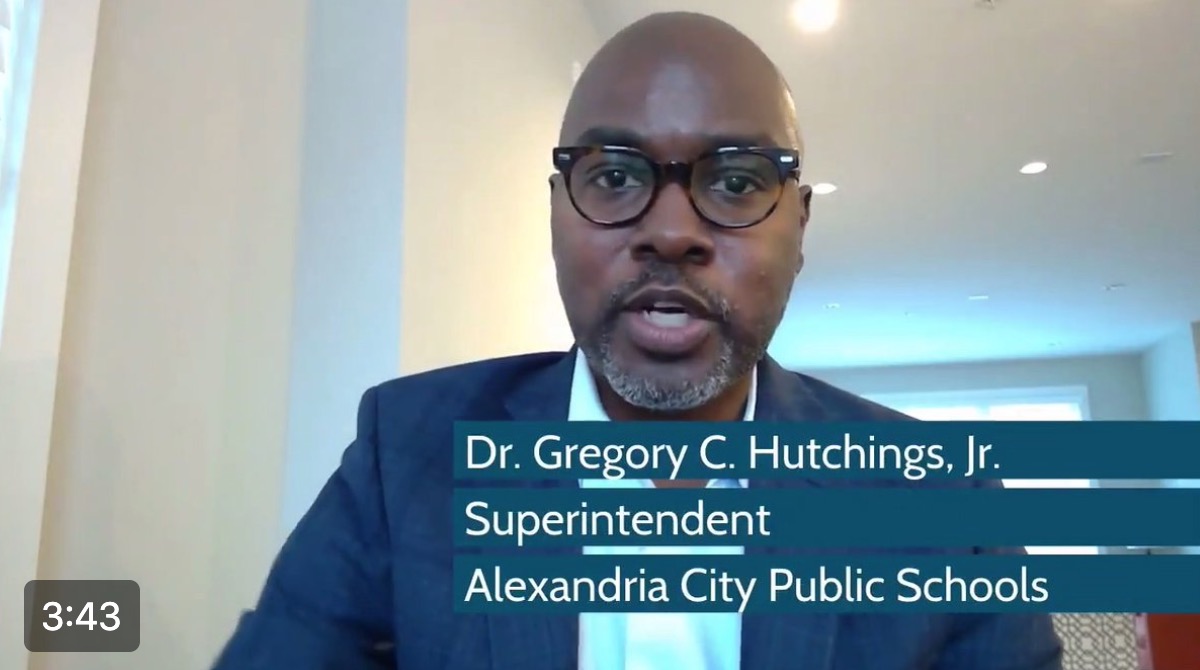 The Identity Project: Poll to Select New Names for T.C. and Maury Opens Today

Today we open up the first community poll on a selection of potential new names for T.C. Williams High School and Matthew Maury Elementary School.
Between now and Jan. 27, we are asking everyone to help us narrow down names that have been suggested by our students over the last month. Don't like any of the options you see? Add your choice of a name to the list. Anyone in the community can make suggestions at this time.
Take the T.C. Williams High School Poll
Take the Matthew Maury Elementary School Poll
Following this process, a second community-wide poll will open in February, with top-performing entries. After both polls have concluded, the community will have one more opportunity to voice their opinion at an Alexandria City School Board Public Hearing in March 2021. The Board will then vote and make a final naming decision that will be announced in April 2021. The new names will become the official names of the schools on July 1, 2021.
In November last year, the Board voted to change the names of both schools following a lengthy community engagement process. Learn more about The Identity Project.
School Closed on Monday, Jan. 18 for MLK Day; Asynchronous Learning for Wednesday, Jan. 20 Inauguration Day
In observance of Martin Luther King Jr. Day, there will be no school on Monday, Jan. 18. There will be no asynchronous work.
Inauguration Day on Wednesday, Jan. 20 will be an asynchronous day for all students.
ACPS Celebrates Two Posse Scholars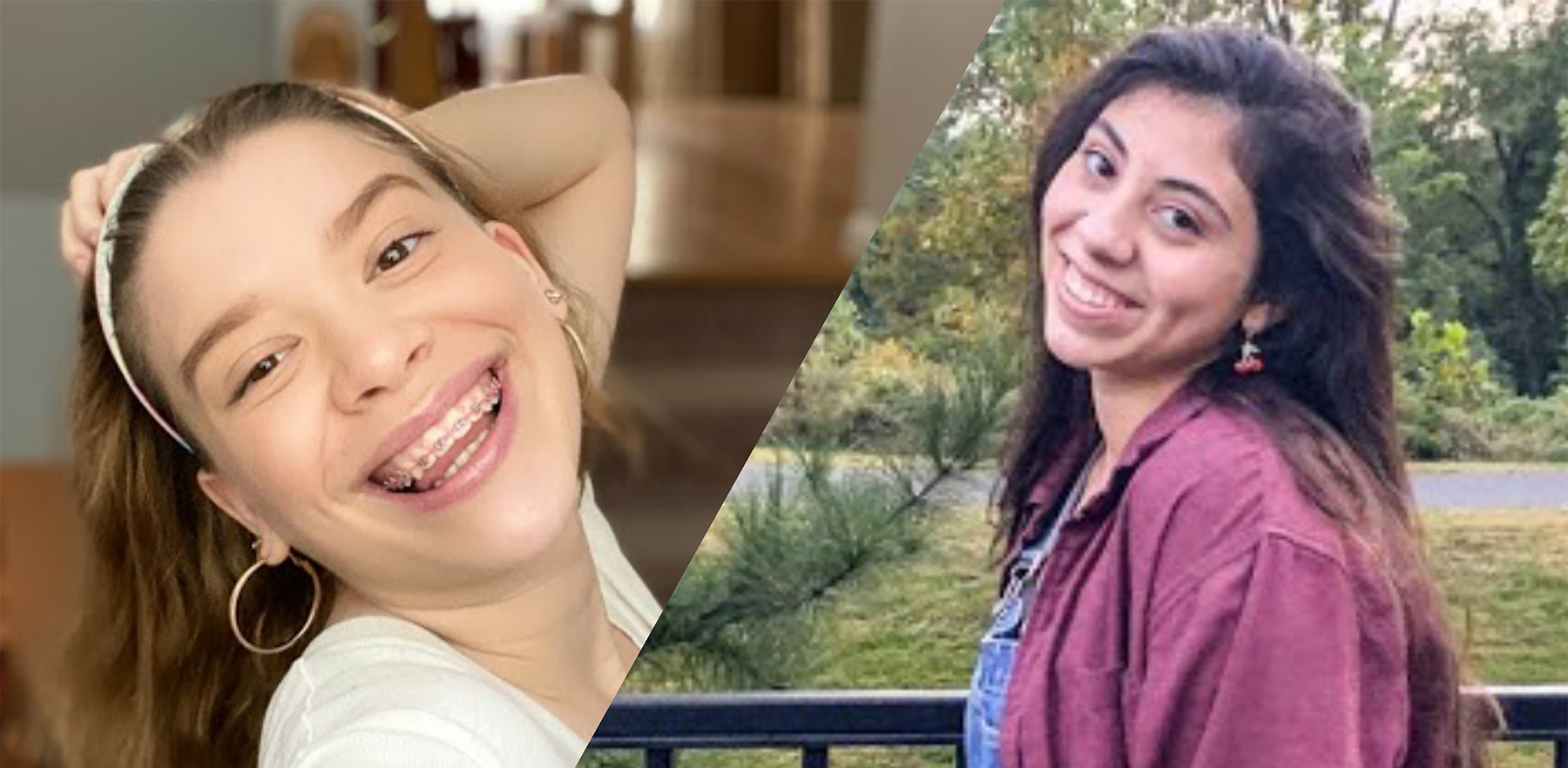 When Titan senior Maria Stakem (pictured above, right) opened her laptop one day last year to begin the lengthy application process for the prestigious Posse scholarship, she quickly got disheartened and walked away.
"I just didn't think I stood a chance when I read about the type of person they were looking for. I just didn't think I would stand out," she said. "I gave up and forgot about it."
Two weeks later a phone call from Oceanography Teacher Trisha Christopher put her back on track. With Christopher's encouragement, Maria began a process that ended last month with a life changing Zoom to say, "Congratulations, you made it."
Now, the 17-year-old, along with fellow Titan Leonora Rodriguez, can look forward to a $250,000 scholarship to attend college later this year. The pair celebrated with a virtual ceremony last week.
Read more about our Posse scholars.
January Finding Fit Newsletter
Stay safe, stay healthy, stay informed! The monthly ACPS Finding Fit newsletter for January is available for employees. Read the monthly health tips and check out the wellness resources available! 
In this issue, you will find tips for starting off a bright 2021 with a nutritional check and can learn more about managing stress. Find the January newsletter on the ACPS Finding Fit webpage or through the Wellness Champion at your school/location.
Coming Soon! New Clock-in System to Replace TimeClock Plus 
Starting in February, ACPS is replacing TimeClock Plus with a new clock-in system called ExecuTime. This new system works directly with our financial platform, MUNIS, and will provide for a more efficient process of employee timekeeping.
What does this mean for you?
For most employees, this just means you will log in to ExecuTime instead of TimeClock Plus to clock in/out each day and to request leave.
For those who are supervisors or who review and edit other employees' time in TimeClock Plus, you will receive training and support over the next few weeks to learn how to use ExecuTime.
When will we start to use ExecuTime instead of TimeClock Plus?
Feb. 1 for Exempt employees (staff who do NOT qualify for overtime)
Feb. 16 for Non-Exempt employees (staff who DO qualify for overtime)
Get a sneak peek at ExecuTime now!
Want to see what ExecuTime looks like and give it a trial run? From now until Jan. 25, you can log in to ExecuTime during our 'testing' period:
To log in, go to: www.acps.k12.va.us/executime
Username: Your ACPS employee ID number
Password: First three letters of your first name and first three letters of your last name, in all caps
For example, an employee JOHN SMITH with ID number 12345:
Username: 12345
Password: JOHSMI
IMPORTANT: Any actions you make in ExecuTime during this trial period (now until Jan. 25) are for testing purposes only and will NOT be recorded. You must continue to use TimeClock Plus for all official clock-ins and leave requests until the switch to ExecuTime begins (Feb. 1 for exempt staff and Feb. 16 for non-exempt staff). Please also continue to follow your request for leave protocols. 
Want to learn more?
All supervisors any time editors will receive additional instructions for training and transitioning to ExecuTime over the next few weeks. However, if you want to take a deep dive into ExecuTime and learn more about how to use it, take a look at our training videos:
VIDEO: ExecuTime for Exempt Employees and Supervisors
VIDEO: ExecuTime for Non-Exempt Employees and Supervisors
Have questions? Contact ExecuTime@acps.k12.va.us.
Stay tuned to Insider for more information about this transition over the next few weeks!
COVID Vaccine Dispensing Support Needed
Volunteers are needed to support the City and Alexandria Health Department (AHD) in staffing Community Vaccination Point of Dispensing (POD) events. AHD is currently vaccinating health care workers employed within the city limits of Alexandria who are unaffiliated with a hospital, regardless of residency. 
Vaccination POD events are expected to occur several times per week, eventually expanding to up to four per week, based upon vaccine availability (doses) and number of confirmed patients/clients.
Staff committing to support may be assigned to a variety of roles and tasks, including greeters, flow control, registration, vaccination assistants, translators, and resource support. All support staff will receive appropriate PPE based on their assigned role. For assigned roles that require an N95 mask, a fit test is required and a medical clearance form has to be completed and uploaded for evaluation by a City doctor.
If interested, please complete the Vaccine POD Support Form.
George Mason University to Partner with Amazon to Offer Computer Science Teaching Externships
George Mason University and the Maryland Chamber Foundation are teaming up with Amazon to provide a unique teaching externship to current and potential computer science teachers in D.C., Maryland and Virginia. 
The new collaboration will provide selected public middle school and high school teachers with an externship at Amazon during the summer of 2021 to showcase potential careers in computer science for their students. The chosen teachers will also complete an eight-week companion, graduate-level project-based learning course at George Mason University.
Equity Forum Opportunity
Join The Bond Educational Group on Feb. 2-4 as they host The Equity Summit: Designing an Antiracist Future, a virtual conference where you will join top media executives, politicians, academics, athletes and policy experts to discuss how to create a more equitable society.
Register online. For more information, email info@theequitysummit.com.
HEALTH REMINDERS
Don't Feel Well?
Contact your primary health care physician.
---
Have questions, concerns or feedback? Contact us or contact your direct supervisor.
HR Questions? Contact hr@acps.k12.va.us.