The power of social media is in its ability to directly and immediately reach your families and community where they already are. Further, social media creates opportunities for dialogue with and among your community.
Social media is now an essential and expected part of communicating in today's world, and it should go hand-in-hand with all the other ways we already communicate: fliers, letters, email, phone calls, etc.
Twitter is one of the most popularly used social media sites, for both our families and staff, so it is a natural choice as the first social media platform to use for communicating on behalf of your school, department, program or group.
Dipping your toe in: sign up, follow and observe
If you're not familiar with how Twitter works, one of the best ways to learn is to sign up for an account, follow a few key people and observe. This goes for other social media platforms as well.
Please note that social media sites may be filtered on school networks, and therefore you will need to use a smartphone to access these sites at schools.
1. Signing up and optimizing your profile
Visit the Twitter website or download the Twitter app for your phone.
Choose a good username — As best you can within the character limit, choose a username that clearly communicates who you are. For example, @ACPSsupt for the ACPS superintendent or @TCSTEM10 for the 10th grade STEM Academy at T.C. Williams. If you want to experiment first, create a personal Twitter account in your own name.
Complete your profile — So that others know who you are, make sure to submit a clear description of your account in the bio area. For example, @GMasonPrincipal's profile reads: "Official Tweets from Brian Orrenmaa, Principal of George Mason Elementary School in Alexandria, VA." Also add the URL to your school or program's web page, if you have one, and your location.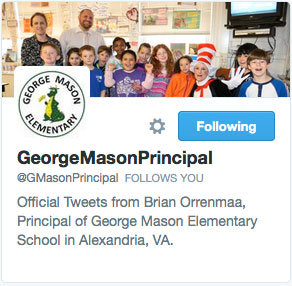 Upload a profile photo — Choose an image for your profile photo — something that fits within a square and is recognizable when shrunk down to very small sizes. Logos, symbols and headshots work well.
Photos with a lot of detail probably won't work well. And definitely don't leave your profile photo as the default image! This communicates to others that you have not finished signing up yet, and you're not ready to be on Twitter.
Take a look at this page showing who @ACPSk12 is following, and you'll see why completing your profile with a profile photo and bio (at minimum) is important.
Register your account with the ACPS Social Media Registry. — If your account represents an ACPS entity, such as a school, department or program, you are required to register your account. This is NOT required for an individual staff member's account.
2. Choose people to follow
The ACPS Office of Communications has curated lists of ACPS schools, groups and staff to follow. Try following @ACPSk12 to start with. Also see the list of ACPS Schools and Groups, ACPS Teachers and Staff, Alexandria PTAs and ACPS School Board. Please be aware that these lists are for informational and organization purposes only. Not all accounts listed are "official" and being listed does not imply endorsement or oversight by ACPS.
You'll also see recommendations from Twitter on who to follow, based on who you already follow.
3. Observe and learn
See how others in ACPS tweet, what they tweet about, and how often. Take note of the tweets that catch your eye, and ask yourself why they stood out. Also think about who your audience will be, and what would resonate with them.
As always, if you would like one-on-one help on social media matters, feel free to email the Office of Communications at news@acps.k12.va.us.