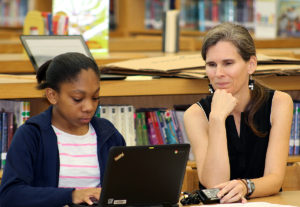 Digital Citizenship Plan
ACPS partners with Common Sense Media Education to provide lessons and resources students, staff, and families. This plan outlines the division's plan for teaching students the rights, roles, and responsibilities of being digital citizens.
Digital Toolkit 
Software programs and apps listed in this toolkit for use by employees and students. Each digital resource in this toolkit is fully supported by ACPS Technology Services.
Online Learning Program
ACPS' online learning program provides coursework and 24/7 online tutoring (Tutor.com) with licensed teachers for all students in grades 6-12.
Responsible Use Policy
This policy sets forth guidelines for acceptable and responsible use of technology in ACPS.
School Technology Resources
This document outlines technology resources available for students and teachers by grade level. This includes hardware, instructional support and technical support.
Student Helpdesk Blog
This blog serves as a resource for students in 6-12. In addition, GW, Hammond, TC-Minnie Howard and TC-King St all have physical student helpdesks for troubleshooting and repairs.
Students without Home Internet Access
Students without home internet access can check out mifis to take home.
Technology & Learning Blog: It's the Thinking Not the Thing
This blog highlights blended learning, student resources, family and community resources, and teacher resources.
Technology Use Guidelines
Technology is essential to student learning, and students are provided equitable access to technology in school. However, the use of  technology tools, should be purposeful and balanced. ACPS provides guidelines for administrators and teachers in their use of instructional technology with students.