As we begin redesigning our ACPS curriculum, our work will be guided by the big ideas of Understanding by Design. With this in mind, summer's professional book selection is "The Understanding by Design Guide to Creating High Quality Units" by Grant Wiggins and Jay McTighe (2011). The text can be downloaded in its entirety (or in pieces) from the PL Virtual Library  by clicking on the title link and entering the ACPS code (please contact your building administrator for the code).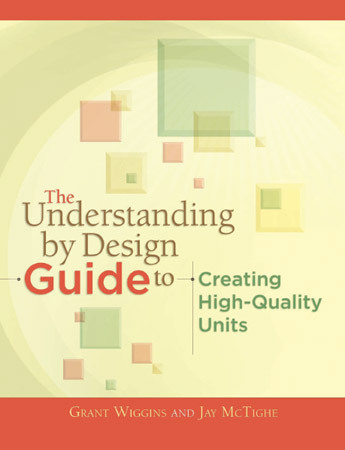 About the Publication: This book focuses on the basic concepts behind the Understanding by Design (UbD) approach used by educators to create classroom curriculum that focus on students' understanding of important ideas and working backwards from there. The text contains eight modules that are based on a typical workshop presentation, which can also be studied out of sequence, intended for K-16 educators.
Big Ideas:
Questions to Consider as You Read:
How does the UbD approach support student understanding and retention of knowledge?
How does the ACPS curriculum reinforce the UbD approach?
To what extent does the use of Essential Questions and Mastery Objectives support the UbD approach?
How can the concept of "learning deeper, not wider" be tied to the UbD concepts and how does this support more authentic student learning?
How can careful lesson planning and unit planning support the UbD framework?
Related ACPS Videos
Links to Outside Resources