en español (PDF) | አማርኛ (PDF) | بالعربية (PDF)
This Week's Headlines:
---
Dear ACPS Families and Community,
This week, we have much to celebrate with incredible achievements around our school division. Please join me in congratulating the successes of our teachers and leaders. Honors and awards are not the pinnacles of achievement for educators; instead, the entire process of developing lifelong learners and critical thinkers is what educators value the most. However, there are times when we can celebrate the depth and breadth of the lessons and care that ACPS staff provide to our students each year. I am thrilled to announce that 32 special education teachers, paraprofessionals and related service providers were nominated to receive Anne R. Lipnick Awards for Specialized Instruction. 
I am also pleased to announce that Lyles-Crouch Traditional Academy has completed the rigorous vetting process to maintain its Core Knowledge School of Distinction status. I hope you will join me in congratulating the leaders and staff for their hard work and commitment to excellence in education. 
We greatly appreciate our partnership with families. I want to thank all of you for taking the time to complete the Learning Choice Form which will help us in our planning for Summer Learning and for returning to in-person learning or virtual learning five days a week in Fall 2021. Next week, you will see an invitation to complete a very important survey, the 2021 Equity For All Climate Survey, which will be conducted June 1-20, 2021. Your feedback will inform the school division about family, student and staff experiences to help us understand and strengthen our schools' racial and cultural climate.
As a reminder, ACPS will be closed on Monday, May 31 in observance of Memorial Day. It is an opportunity for us all to remember those who have served in pursuit of our freedoms. 
Dr. Gregory C. Hutchings, Jr.
Superintendent
Reminder: No School for Students on Monday, May 31, Memorial Day Holiday
There will be no school on Monday, May 31 in observance of Memorial Day. No asynchronous work is required for students. All ACPS schools and offices will be closed.
Coming Next Week: 2021 Equity For All Climate Survey

We know you have taken many surveys, filled out numerous forms, and completed multiple polls over the course of this school year, and we greatly appreciate it. Like all organizations, our constituency is our most valuable resource. The 2021 ACPS Equity For All Climate Survey, which will be distributed via email early next week, will help us understand your lived experiences within our schools and classrooms to grow and improve. As a continuation of our five-year strategic plan, Equity for All 2025, we are asking all families, staff, and those students in grades 6-12 to participate in the first ACPS equity climate survey. Your candid feedback will inform ACPS about the racial and cultural climate in our schools and help our school division advance the goals in our strategic plan. Please Share Your Voice!
Anne R. Lipnick Awards for Specialized Instruction

Anne R. Lipnick was a social worker and parent support specialist, and advisor to families of children with disabilities in Alexandria City Public Schools. She was the first director of the ACPS Special Education Parent Resource Center. For more than 10 years, Ms. Lipnick counseled innumerable families as they navigated the emotional, social and educational hurdles accompanying a child with special needs. The challenges posed by her own child's disabilities and learning challenges sparked her desire to help others navigate the education system. She was a beloved friend, advocate and voice for underrepresented individuals and a strong supporter of people with disabilities in the general education environment and community at large.
The Anne R. Lipnick Inclusion for All Award was added in 2010 to honor Ms. Lipnick and her work. She passed away in March of that year after a struggle with cancer. In 2018, the Harry Burke Award and the Anne R. Lipnick Inclusion for All Award were merged and renamed in honor of Ms. Lipnick as the Anne R. Lipnick Awards for Specialized Instruction.
The 2020-21 nominees for the Anne R. Lipnick Awards are:
Special Education Teacher: 
Allison Barton, Heather Biery, April Bullock, Audrey Cate, Kristen Dively, Parris Elliott-Thompson, Mary Grace Guiang, Michelle Italiaander, Rebecca King, Margaret Kelly Merenda, Colleen Mitchem, Brent Morris, Cheryl Nelson, Melanie Roberts, Hannah Rockey, and Jennifer Trojan
General Education Inclusion Teacher: 
Grace Ficco, Michelle Hart, Heather Dugan Kolovos and Stephenie Waters
Paraprofessional: 
Patriece Carswell, Marvin Hyman, Saskia Jansen, Andrae Jones, and Elizabeth (Betty) Pittari
Related Services Provider: 
Kerry Corso, Maureen Dolan, Jessica Hatfield, Gregory Huebner, Shannon McLaughlin, Dr. Miley Craig Peppers, and Dr. Kathy Philyaw
The award honorees will be announced at the June 3 School Board meeting and announced in next week's ACPS Express.
Lyles-Crouch Traditional Academy: A Core Knowledge School of Distinction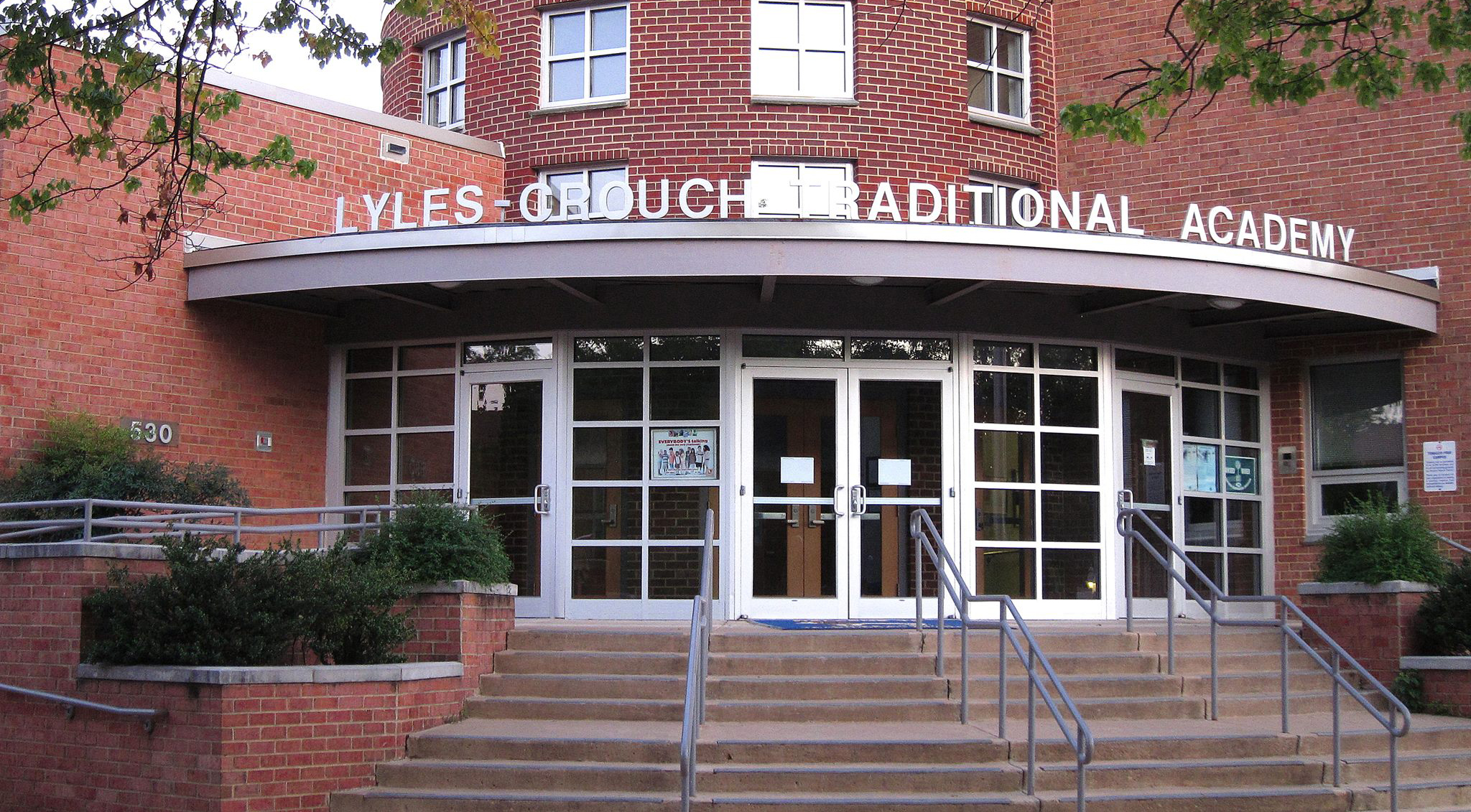 Congratulations to the staff and leadership at Lyles-Crouch Traditional Academy (LCTA) for completing the rigorous reporting and vetting process to maintain their Core Knowledge of Distinction status for another five years. Lyles-Crouch Principal Patricia Zissios, Ph.D., said, "This was a tremendous effort on behalf of staff to accomplish (and often exceed) all of the requirements for this designation during the challenges/demands of pandemic learning. I am so proud of the dedication, professionalism, and level of commitment demonstrated by the LCTA team." 
The Core Knowledge Foundation acknowledged Lyles-Crouch in a letter. "We just completed a careful review of the documentation your school submitted as part of the Core Knowledge of Distinction process. We were incredibly impressed with the attention to planning, quality of implementation, and level of support provided to students. Please thank your teachers for the time and effort they put into their individual/team portfolio submissions as well as for their dedication to the Core Knowledge approach."
Free COVID-19 Vaccine Clinic June 5 for Ages 12+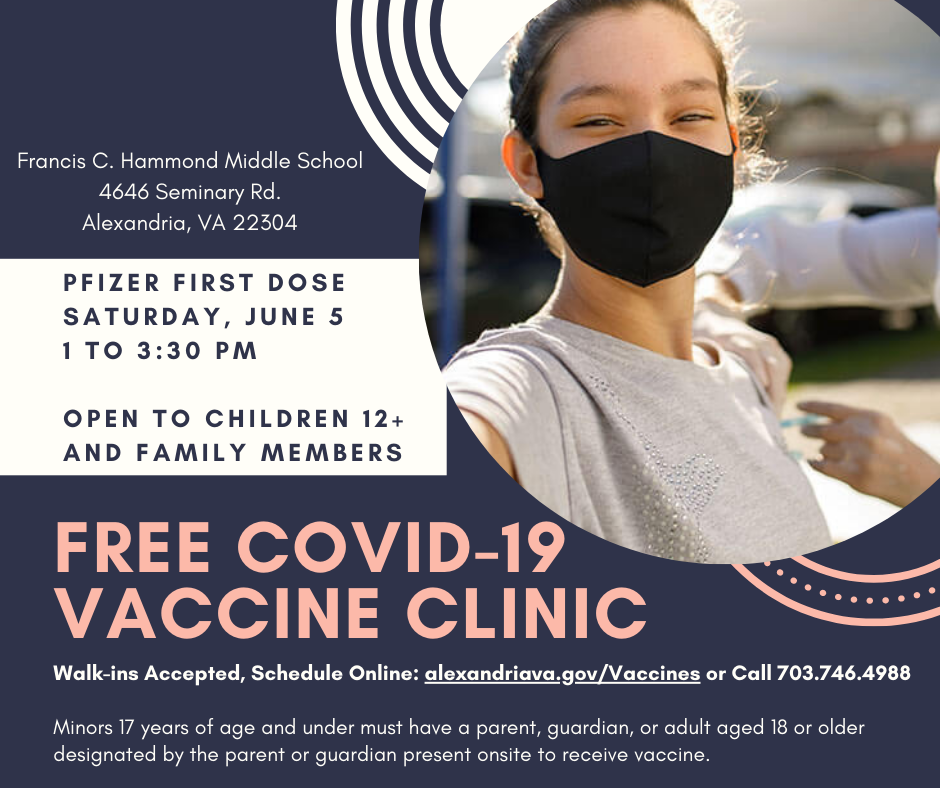 The Alexandria Health Department (AHD) and other providers in Alexandria are now offering COVID-19 vaccinations to residents ages 12 and older. The Pfizer-BioNTech vaccine was previously approved for use in those aged 16 and older. The Moderna and Johnson & Johnson vaccines are currently only available for ages 18 and older.
AHD recommends that everyone ages 12 and older receive a COVID-19 vaccine. Vaccines are safe, effective and free. Get vaccinated to protect our families, schools and the community from COVID-19. No pre-registration, ID or insurance is required.
AHD is coordinating with ACPS to host vaccine events for both public and private school families. Minors 17 years of age and younger must have a parent, guardian, or adult aged 18 or older designated by the parent or guardian present on-site to receive the vaccine. Walk-ups and appointments will be accepted at the June 5 event. To schedule, visit alexandriava.gov/Vaccines or call 703-746-4988 Monday-Friday from 9 a.m. to 6 p.m.
For information on additional AHD vaccination clinics and providers, visit The City of Alexandria website. 
Join a School Board Advisory Committee

Want to get involved in important issues impacting our schools? Join a School Board Advisory Committee to advise and support the School Board in your area of interest or expertise. The School Board Advisory Committees are:
Athletic Hall of Fame Advisory Committee (AHOF)

Budget Advisory Committee (BAC)

Career and Technical Education (CTE)

School Health Advisory Board (SHAB)

Special Education Advisory Committee (SEAC)

Talented and Gifted Advisory Committee (TAGAC)
Learn more about the individual School Board Advisory Committees and fill out an application on the ACPS website. To apply, fill out the online application and attend a committee meeting before School Board approval. For more information, call the Clerk's Office at 703-619-8316. 
Join ACPS Directors as They Discuss "Equity in Public Schools: Supporting our Communities through School Design"

June 2, 12:00-1:30 p.m. Free
The "Equity in Public Schools: Supporting our Communities through School Design" virtual event will explore equity in the education systems, communities, and school facilities of three local public school districts — Alexandria City Public Schools, Baltimore City Public Schools, and Prince George's County Public Schools — each with distinctive challenges, demographics, populations, and settings. We will hear presentations from school system leaders facing challenges of inequity and resource disparity in their communities and schools, and the unique strategies established by each for the planning, design, and procurement of school facilities, followed by a facilitated discussion.
Presenters:
Dr. Gregory C. Hutchings, Jr., Superintendent, Alexandria City Public Schools

Cyndi Smith, Director of Facilities Design and Construction, Baltimore City Public Schools

Dr. Alicia J. Hart, Executive Director of Facilities and Operations, Alexandria City Public Schools

Erika Gulick, Director of Capital Programs, Planning, and Design, Alexandria City Public Schools

Jason Washington, Director of Public-Private Partnerships Program, Prince George's County Public Schools
This free event is in partnership with AIA Baltimore, AIA DC, and AIA Northern Virginia.
Register for the event. For special accommodations to this event, please contact Olivia Miles, AIA Baltimore Communications at omiles@aiabalt.com. 
National Gun Violence Awareness Day is June 4

National Gun Violence Awareness Day is Friday, June 4 and Wear Orange Weekend is June 4-6. According to Wear Orange, 58% of American adults or someone they care for has experienced gun violence in their lifetime, and approximately three million American children witness gun violence every year.
What can we do to spread the word and increase awareness of this crucial issue? Wear the color orange! The color orange is worn in memory of those who lost their lives to gun violence, including Hadiya Pendleton, a 15 year-old girl who performed with her classmates at President Obama's 2nd inaugural parade. She was shot and killed a week later, just a mile away from the former President's house in Chicago. 
ACPS and the Alexandria City School Board continue to support the broader cause of gun violence awareness and prevention. This year, we encourage the ACPS community to learn more and stand with the nation to fight against gun violence. Bring out your orange during Wear Orange Weekend June 4-6.
FOOD ACCESS
Food Access Schedule Changes for the week of May 31
All ACPS food distribution sites and distribution by bus are CLOSED on Monday, May 31 for the Memorial Day Holiday, and instead will be OPEN on Tuesday, June 1. All food distribution sites will also be open on Wednesday and Friday next week as usual.
ACPS has multiple distribution meal site locations throughout Alexandria for all ACPS students and children over the age of two. See a map and list of food distribution locations and times.