This Week's Headlines:
---
Dear ACPS Families and Community,
As we begin the month of February, I am so pleased to share with you our revised timeline for transitioning all our students who chose hybrid learning back into school buildings between March 2 and March 16. Furthermore, our staff who are able to return will begin transitioning back into our school buildings and offices beginning on March 1.
That means for those families who chose hybrid through the Family Choice Form, which was completed in December 2020, we are looking forward to welcoming you back in person! Our community health metrics are finally going in the right direction and improving, and our successful vaccine program provides our staff with the additional reassurance that they can remain healthy and safe in our schools and offices. 
This is news I am excited to share since school buildings closed on March 13, 2020, almost one year ago. It is no overstatement to say that the last year has been a challenging period in education globally and a source of great concern for us all. Also, this past year has brought opportunities for us to rethink public education and learning environments for the next generation. Now, we have light shining brightly at the end of the tunnel. 
In the coming weeks, we will be solidifying our action steps in our plans and counting down the days until our hybrid students and staff are reunited. Our staff were contacted this week to confirm their ability to return, the Alexandria Health Department yesterday held a special ACPS staff vaccine day, and additional training and support for staff will begin on Monday, Feb. 8.
Also today, we are launching the second community poll for The Identity Project. This contains our shortlist of new names for Matthew Maury Elementary School and T.C. Williams High School. Please help us to choose names befitting these wonderful schools.
February marks two important national celebrations of recognition with National School Counselor Week and School Board Appreciation Month. I hope you will join me in celebrating and thanking these two incredible groups of professionals who are assets to our community. ACPS school counselors work tirelessly to ensure the academic and social-emotional well-being of our students. The School Board's sustained visionary leadership, valued partnership and careful decision making lead us in achieving educational excellence and equity for all.
And finally, please join me in congratulating Natnael Asegdew and Bridgette Adu-Wadier, our two QuestBridge Scholars. Both are exceptional seniors and our community is extremely proud of you both. 
Please stay safe, healthy and engaged. 
Dr. Gregory C. Hutchings, Jr.
Superintendent
Mark Your Calendar for the Reopening of School Buildings in March!
Revised Reentry Timeline Now Available
Please check out the revised transition timeline for families that chose hybrid learning. Our hybrid schedule allows for students to return to the classroom two days a week.
Tuesday, March 2:

Reentry of hybrid students in grades K-5 receiving special education services in citywide self-contained full-day class programs, students in K-5 receiving special education reading and math services in a self-contained setting, Early Childhood Special Education students, and students in grades K-5 receiving English Learner services
Tuesday, March 9:

Transition Hybrid Students in grades 6-12 receiving special education citywide and self-contained reading and math services, and Newcomer English Learner students in grades 6-12

 

Tuesday, March 16:

Reentry of

ALL

remaining hybrid students in grades PreK-12
Our staff is diligently working toward these dates, remaining cautiously optimistic that our health metrics will continue to improve. Here are the latest health metrics from Wednesday this week*: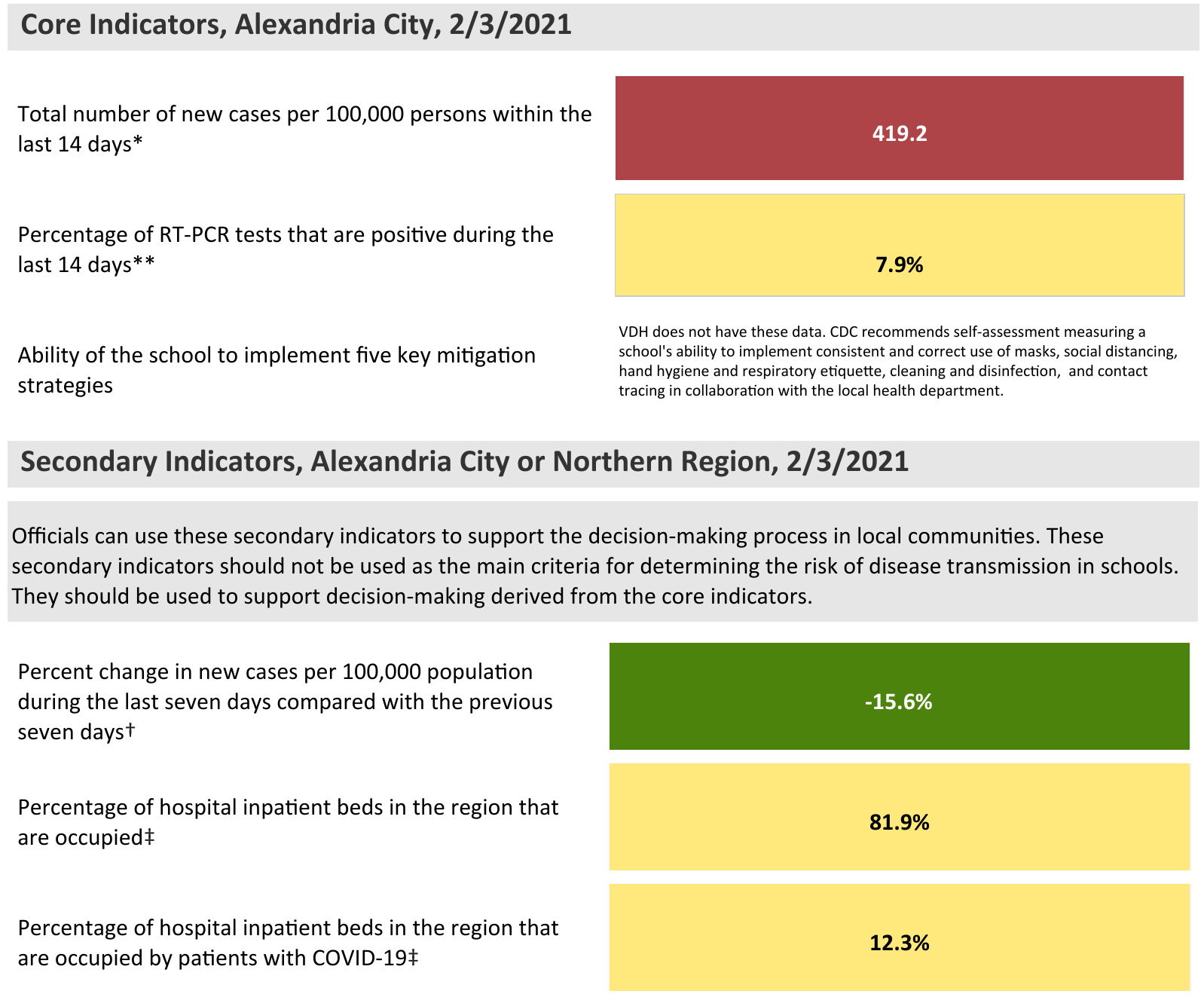 In the coming weeks we will be sharing all the details you need to prepare for your child's return, including information on your child's scheduled classroom days, their teachers' in-person availability, nutrition and transportation services, child care and after-school programs, and our plans to keep everyone safe through mitigation measures.
NOTE: While we are confident that our reopening timeline is feasible, if our community metrics rise, we may need to consider delaying. See our revised decision matrix, which aligns with the Virginia Department of Health.
See the Feb. 4 presentation to the school board (PDF) about reopening planning.
VIDEO: See a message from Dr. Hutchings about this reopening news*: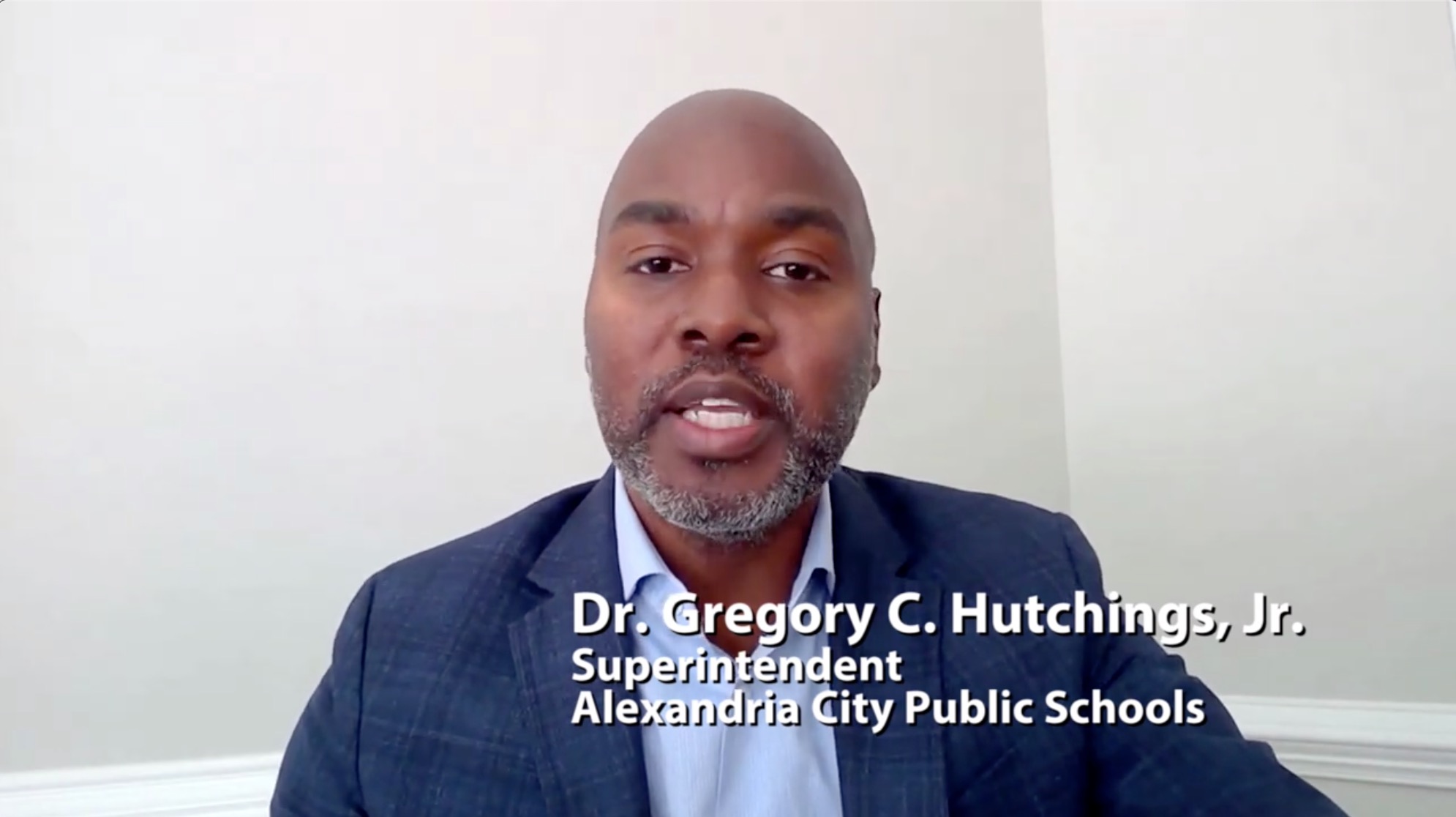 *NOTE: the positive COVID-19 test metrics have been revised by 0.1% since Wednesday, pushing us out of Higher Risk level and into the Moderate Risk level at 7.9%.
The Identity Project: Help Choose the Final Names for Maury and T.C. Williams

Through a robust community engagement process and vetted by the school board clerk and superintendent, the semifinalist names for each school have been announced. With thousands of entries from students, families, staff, and community members, we have revealed the top names from the polls that met the School Board policies (Policy FF [PDF] and Regulation FF-R [PDF]) and were deemed suitable for naming a school.
Now is the time for all community members to give their voice to the name they want to see as the final selection in this process. The second set of community polls will be open on Feb. 5 and close at 11:59 p.m. on Feb. 19. 
Take the T.C. Williams Renaming Poll #2
Take the Maury Elementary Renaming Poll #2
To learn more about the process visit The Identity Project webpage.
Congratulations to our Two QuestBridge Scholars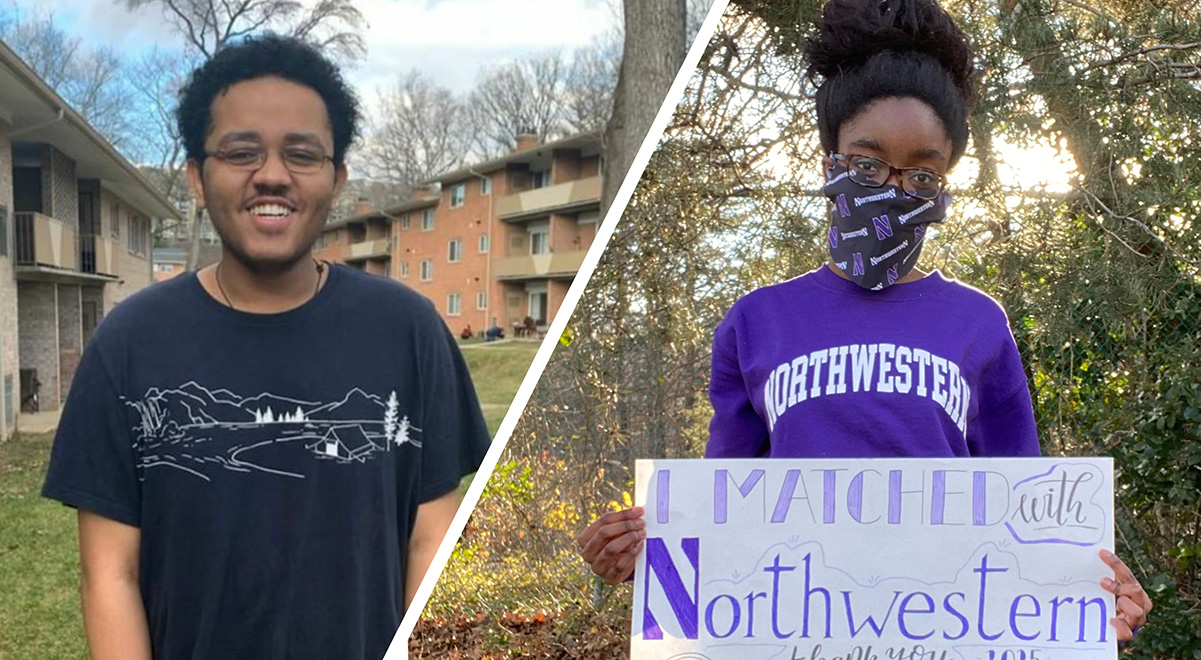 When T.C. Williams High School senior Natnael Asegdew was 6 years old, he moved to the United States from Ethiopia and his parents had one purpose in mind: to ensure their two children received a quality education. 
Life in a new country was not without challenges for the family but their son thrived academically, first at John Adams Elementary School, then at Francis C. Hammond Middle School, and finally at T.C. Williams.
Now Natnael is a proud recipient of the prized QuestBridge Scholarship and this fall he is heading to Massachusetts Institute of Technology (MIT) on a full-ride scholarship, where he will major in Computer, Economics and Data Science.
QuestBridge is an extremely competitive college scholarship application process that helps outstanding low-income high school seniors gain admission and full four-year scholarships to the nation's most selective colleges.
"I think about the sacrifices my parents made for me all the time," said the 17-year-old. "Moving to a new country, learning a new language, working long hours, all with their children's future in mind."
"They were so happy when I got the news about the scholarship. It made them realize that coming to America was the right decision."
Natnael still recalls the kindness shown to him by ACPS teachers when he began school here in Alexandria.
He says he remains ever thankful for the teachers and counselors that supported him throughout his school career.
"Life would have been very different had we stayed in Ethiopia. I doubt that I would have reached the stage I am at now," he added.
Another highly accomplished Titan, Bridgette Adu-Wadier, also learned that she was selected from the thousands of students who applied nationwide. 
Bridgette, who has been lauded with multiple accolades this academic year, will be attending Northwestern University where she will major in Journalism.
Just last week, the gifted writer and visual storyteller was also named by PBS as a one of their 20 under 20 Up-and-Coming Storytellers of the Year.
Read more about our two QuestBridge Scholars.
Recognizing Black History Month on ACPS-TV
February is Black History Month and a time for reflection and celebration at ACPS. Throughout February, ACPS-TV will be airing programs from our archives featuring prominent African Americans, including ACPS alumni.
T.C. Williams alumnus Jefferi K. Lee recently served as the General Manager of WHUT-TV on the campus of Howard University in Washington, DC. Watch him talk about his incredible career. He played an integral role on the team that took BET Holdings, Inc. public, which established the organization as the first black-owned company traded on the NYSE. In February 2019, he returned to T.C. to speak with Television Production Students.


When to watch:

Feb. 6 at 8 p.m. on

ACPS-TV

, cable channel 71, or on the

ACPS-TV YouTube channel

.

Historian Percy White's presentation on Tracing Your Roots through Ancestral Research was featured seven years ago during a Black History Month event at T.C.


When to watch:

Feb. 14 at 8 p.m. on

ACPS-TV

, cable channel 71, or on the

ACPS-TV YouTube channel

.

Alexandria Legend Melvin Miller worked to desegregate Alexandria City Public Schools. Watch a recording of him speaking to students during Black History Month in 2014 in this program from our archives.


When to watch:

Feb. 20 at 8 p.m. on

ACPS-TV

, cable channel 71, or on the

ACPS-TV YouTube channel

.
Full schedule of Black History Month specials on ACPS-TV: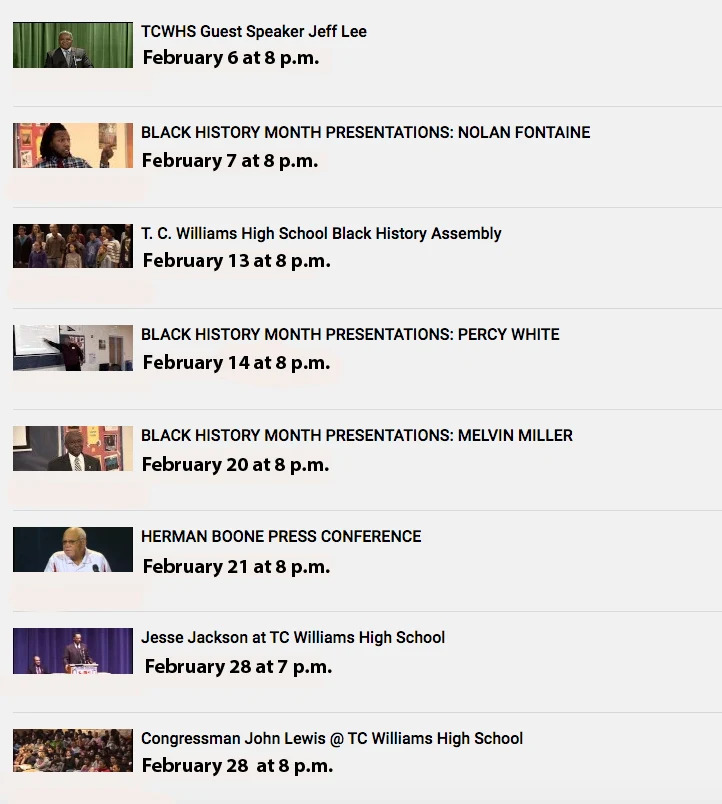 Save the Date: Noche de Ciencias/Night of Science on Feb. 23 and 25
All ACPS families and students are invited to participate in the virtual Noche de Ciencias (Night of Science) on Feb. 23 and Feb. 25 from 5:30 to 7:30 p.m. Due to COVID restrictions and social distancing requirements, the annual science, technology, engineering, and mathematics (STEM) event will be presented virtually. You will not want to miss these action packed programs. 
Noche de Ciencias is a national program of the Society of Hispanic Professional Engineers (SHPE) and was initiated in 2008 as a way to introduce students and families to science and engineering through hands-on activities and exposure to college and career information in STEM. The United States Patent and Trademark Office (USPTO), in collaboration with SHPE, is hosting these virtual events for ACPS students and families over two nights. There will be hands-on STEM activities designed to help develop problem-solving, inventive thinking and introduce intellectual property concepts — such as invention, patents, and trademarks — to K-12 students.
The USPTO has invited other STEM-focused federal agencies to exhibit and share information about careers in their respective fields. The sessions will be live video virtual presentations introducing K-12 students to possible STEM career paths in their agencies and provide hands-on activities that engage the students and promote STEM.
More information about how to attend will be provided soon.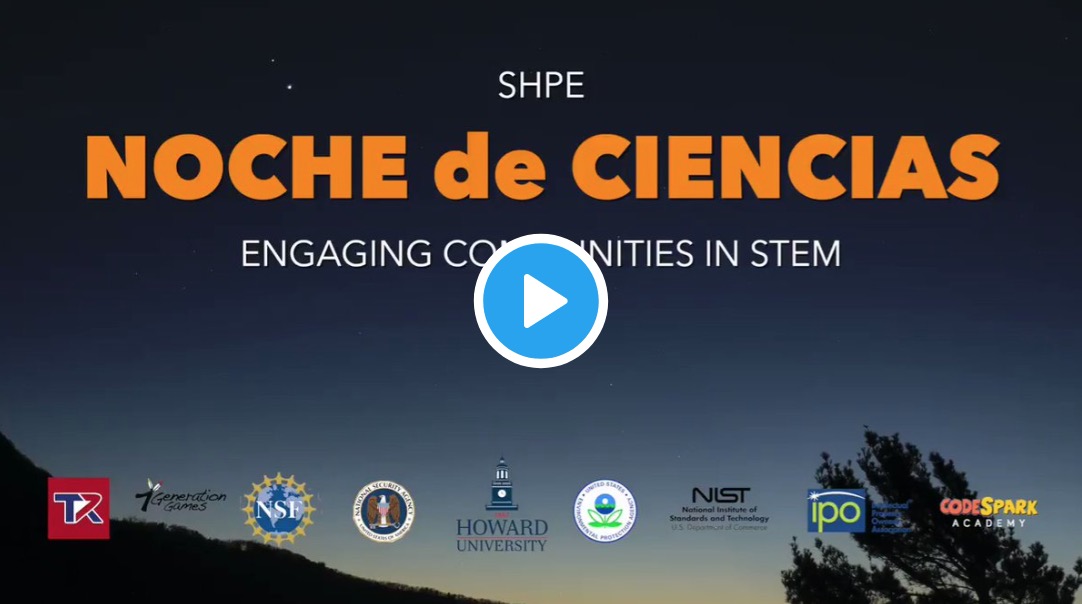 February is School Board Appreciation Month
Do not forget to thank your School Board members for all their hard work advocating for ACPS students and staff during Virginia School Board Appreciation Month.
FOOD ACCESS
ACPS has multiple distribution meal site locations throughout Alexandria for all ACPS students and children over the age of two. See a map of food distribution locations.
GRAB-AND-GO MEAL LOCATIONS:
Grab and Go breakfast and lunch meals are available Mondays, Wednesdays and Fridays between 7:30 a.m. and 12 p.m. at the following locations:
William Ramsay Elementary School
5700 Sanger Avenue, Alexandria, VA 22311
Francis C. Hammond Middle School
4646 Seminary Road, Alexandria, VA 22304
Cora Kelly School for Math, Science and Technology
3600 Commonwealth Avenue, Alexandria, VA 22305
Jefferson-Houston PreK-8 IB School
1501 Cameron Street, Alexandria, VA 22314
Mount Vernon Community School
2601 Commonwealth Avenue, Alexandria, VA 22305
Patrick Henry K-8 School
4643 Taney Avenue, Alexandria, VA 22304
T.C. Williams High School
3330 King Street, Alexandria, VA 22304
And available on Mondays, Wednesdays and Fridays at our "Pop-Up" sites located at:
Mason Apartments at 75 South Reynolds Street, Alexandria, VA 22304
10:45 to 11:15 a.m.
Brent Place Apartments at 375 South Reynolds Street, Alexandria, VA 22304
11:20 to 11:50 a.m.
Ruby Tucker Family Center at 322 Tancil Court, Alexandria, VA 22314
10:45 to 11:15 a.m.
Community Lodgings at 607 Notabene Drive, Alexandria, VA 22305
10:45 to 11:15 a.m.
Old Towne West Apartments (parking lot) at 500 South Alfred Street, Alexandria, VA 22314
11:20 to 11:50 a.m.
Corner of Florence Drive and Four Mile Road, Alexandria, VA 22305
10:45 to 11:15 a.m.
The Fields at 4309 Duke Street, Alexandria, VA 22304
10:45 to 11:15 a.m.
Bennington Crossing Apartments at 441 North Armistead Street, Alexandria, VA 22312
11:30 a.m. to noon
2727 Duke Street (behind Bank of America), Alexandria, VA 22314
10:45 to 11:15 a.m.
NO SIGN UP OR REGISTRATION IS REQUIRED TO RECEIVE MEALS.
NOTE: No food distribution will occur on Tuesdays or Thursdays. The limited days for distribution is to support the practice of social distancing and to limit social gatherings. Meals for two days will be provided on Mondays and Wednesdays, and meals for three days will be provided on Fridays.
Other Food Resources in the City of Alexandria:
For food pantry locations and schedules in Alexandria, visit www.hungerfreealexandria.com or call ‪703-662-1067.
Questions? Or Need Translation?
Send us your question in Spanish, Arabic or Amharic:
Text ACPSMEALS to 797979 (English and Spanish)
Call or text 703-927-6866 (Amharic)
Call or text 703-927-7095 (Arabic)
OR
Call the FACE Center's Bilingual Parent Information Lines, available Monday-Friday, from 9 a.m. to 1 p.m.:
For Spanish/English, call 571-775-9719
For Amharic/English, call 703-927-6866
For Arabic/English, call 703-927-7095
SAFETY REMINDER: Please remember to observe social distancing practices while at the food distribution site by maintaining six feet of personal space between you and other families or individuals.
Anyone exhibiting symptoms of a respiratory illness like fever, runny nose, sore throat, coughing or difficulty breathing on the day of food distribution or in the previous 24 hours should not visit a food distribution site but call a health care provider instead. If you do not have a primary care physician and are not enrolled in a clinic, you may CALL an urgent care center or emergency room.
UPDATES FROM THE ALEXANDRIA HEALTH DEPARTMENT
For all updates, see www.alexandriava.gov/Coronavirus.
HEALTH REMINDERS
Don't Feel Well?
Contact your primary health care physician. Don't have insurance? Contact Neighborhood Health at 703-535-5568.
---
Have questions, concerns or feedback? Contact us.