By Catherine Ford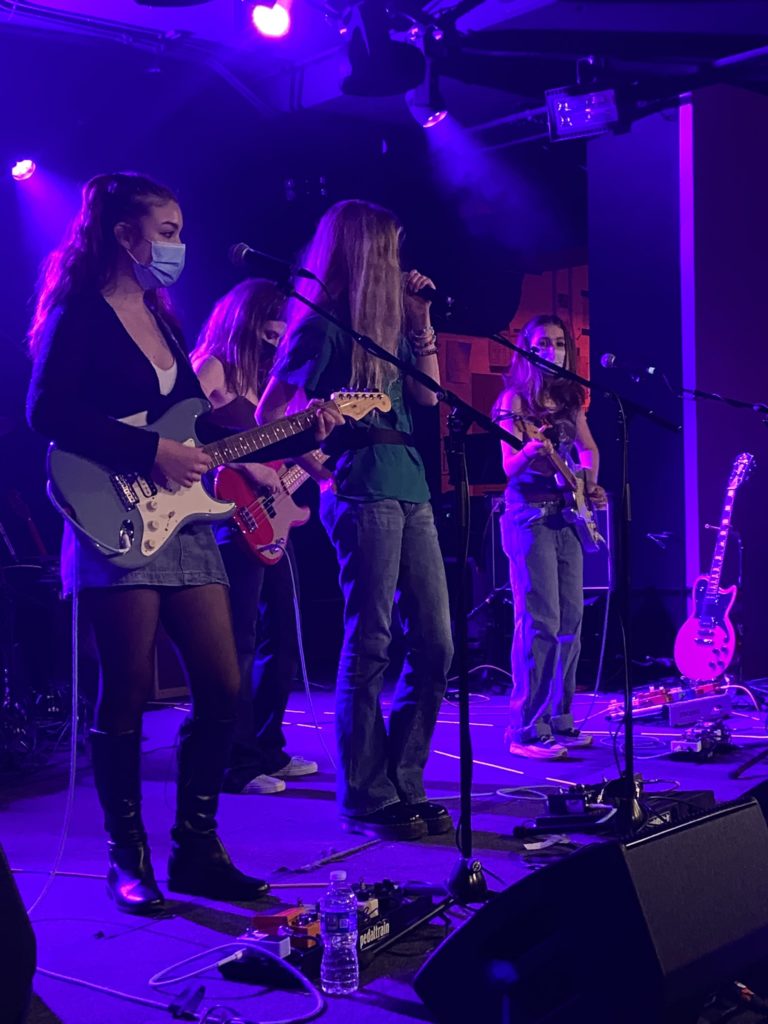 How long have you guys been playing at Rock Of Ages Music?
Maddie: For all five of us, it started when Helen joined in the fall, but Eliza and Miranda have been working together on music for a while because, as songwriters, we all like to try to work together.
Miranda: All of us have been together since October 1st, 2021.
How do you choose whose songs to perform?
Maddie: Miranda, Eliza, and I, the three of us all write songs and all bring two each to play with ROAM; usually, we choose to bring songs to work on. This semester, we are working with a riff that Helen brought to us.
Miranda: When we choose a song, at least, when I choose a song, I choose one that works well with a band. There's a difference between songs you might want to play at an open mic and songs you might want to play alone in your room that wouldn't work well with ROAM, but some might sound better, like "Oh, this could have a killer baseline on this song," and then you would bring it to ROAM.
Helen: I guess the difference is what would sound good acoustic and what would sound good live. Live music has to be entertaining.
Maddie: It's good if people can dance along and it's singable and people can catch onto it, because if we are doing an original, it's a song that people don't know, so it's good to have something that people can easily grasp onto and enjoy.
What inspired you to start making music?
Eliza: For me, it's an emotional outlet and a way to express our feelings. Miranda and I have been working with each other since, like, 8th grade, and we just were really into music and wanted to show people our stuff.
Maddie: For me, I had a guitar teacher who I started lessons with in 4th grade, and she really pushed me to write songs. Once I started, I couldn't stop, because, like Eliza said, it's a really good emotional outlet and a way to really express your feelings in a unique way.
Miranda: I have not been writing as long as they have. I started over quarantine. Honestly, it has been addictive, because if I have had a bad night, I literally immediately turn to my guitar and start writing stuff. I have always been really into poetry and I feel like that really connects.
Why did you join ROAM?
Maddie: I started the summer after 5th grade, so I've been in it for a while. Last fall, JP, the leader of ROAM, put Miranda and I together, and then Eliza joined since she and Miranda were friends.
Helen: I took lessons when I was 11. I didn't start Indigo Thursday until fall 2021.
Miranda: I called JP up and was like, "I want to join a band." They wanted to put me with Maddie and I was like, "Okay," and then Maddie and I started, and then I was like, "Eliza, you should join because you're also a songwriter." Then Sophie also joined, because when I met her, her band was already dissipating, and then she was like, "Oh, I want to join Indigo Thursday."
Helen: I don't normally do lyrics, because I can't, and I can't sing, so it's hard to make a melody when you have the vocal range of a turtle. But I have always been a musical person. About three years ago, I learned how to play guitar, completely self-taught, and I have been playing piano ever since I can remember, so it's something I can always go back to.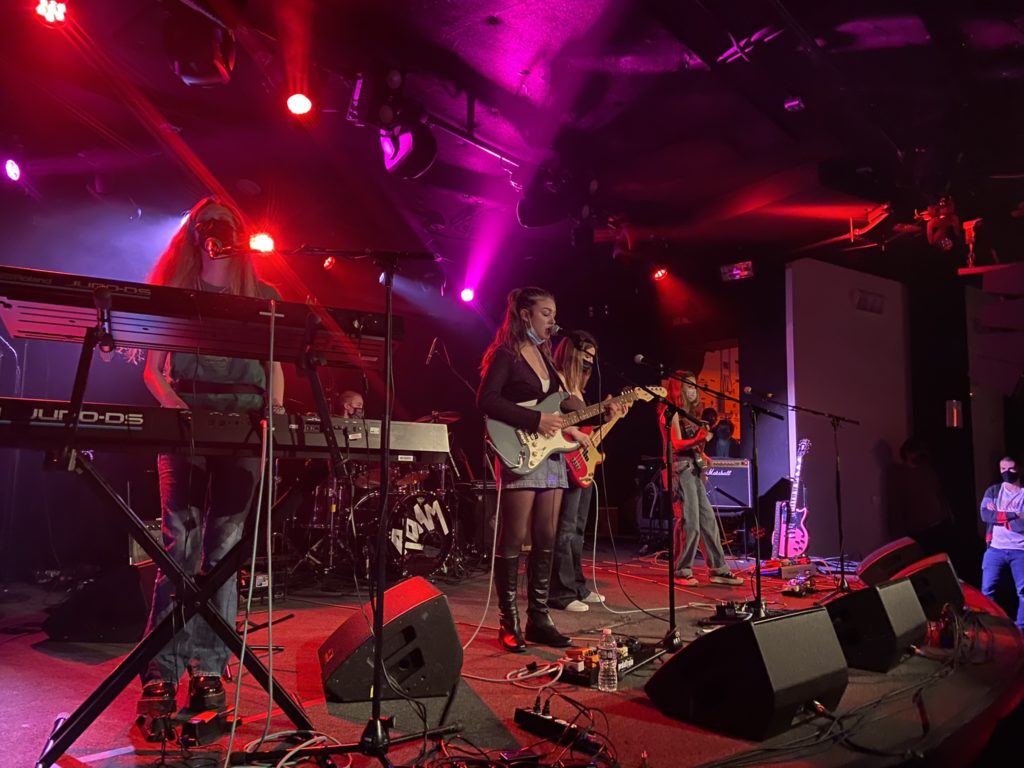 Are you working on an album?
Maddie: Yes. We have a good amount of songs that we have worked on together, that we have with the band, and that we have with each other, and we also have some that we have performed in shows that have become recognizable to our friends that come to shows, so we want to record them and make an EP. But that's kind of a hard process to get going because you have to get things from a lot of different places.
Miranda: We're planning on recording stuff this summer.
What inspired your band name?
Maddie: It's actually a song that I wrote. It's a piano ballad, so we haven't performed it yet. But I wrote a song, a really special song to me, called Indigo Thursday, and they were trying to discuss band names, and it was a cool song name, so it would be a good band name, too. And our band practice is actually on Thursdays.
Helen: I always kind of wondered if that was a coincidence.
Maddie: It was both. The song I wrote had to do with Thursday and coming home on a bad day.
Miranda: It took us a long time. ROAM tried to name us "The Writers" at one point.
Helen: Funny story: one time – I think it was the first show that you guys did – I was like, "Wow, are these originals? They're really good," and they were like, "Yeah, we're the writers."

Eliza: We did a bunch of gigs before Helen joined and went through a bunch of band names.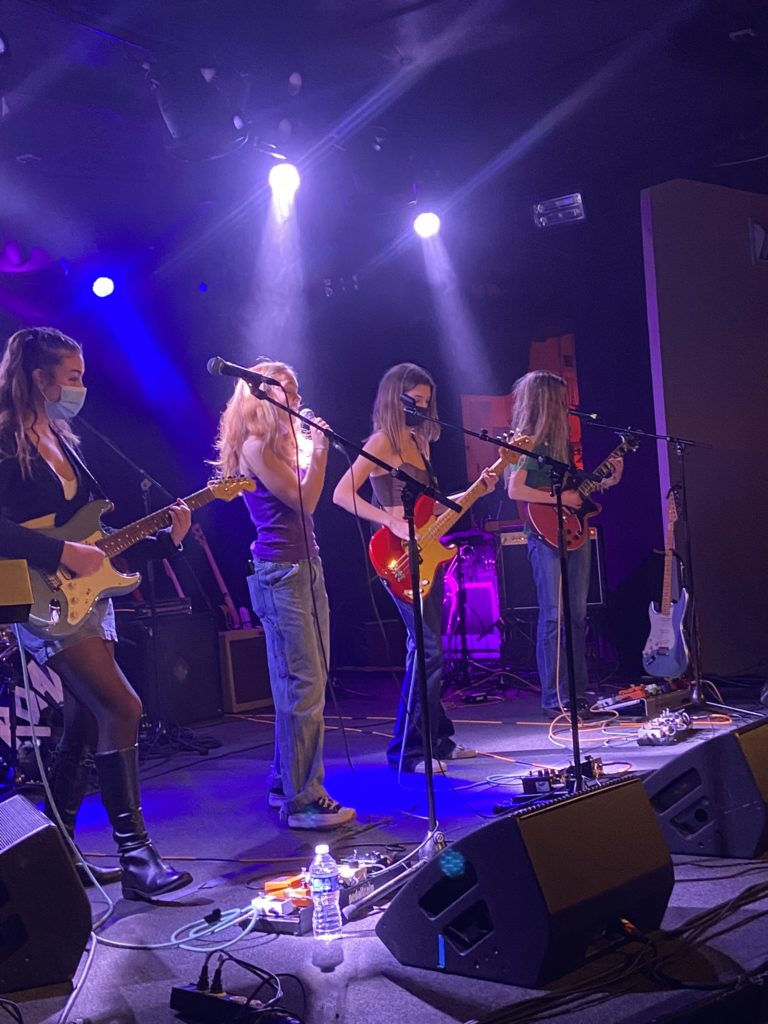 What are some other hobbies you have other than music?
Miranda: I do a lot of theater. I'm in Signature Conservatory, so I work with Signature Theatre, and I teach theater at Little Theatre of Alexandria. Music, for me, always came second. Now, as I'm getting to be a high schooler, I'm starting to choose music more – not that you have to choose one or the other. But, for me, music just gives you so much more freedom. I'm such a creative person; I need all the freedom that music gives you to do whatever you want to. That's everything I love about music and not theater. In theater, you're reading a script; you can make choices, but music is going to be the most creative outlet.
Maddie: I feel like I don't have anything else to do. If I'm bored in my room, instead of scrolling on my phone, I pick up the guitar and play music.
Helen: I'm big into TV media; that's kind of the other thing I do. I remember when I went into TV media for the first time, as a freshman. I was like, "This is what I want to do for the rest of my life." Then I was like, "I love music, though." That's why I kind of want to be an audio engineer; it's the best of both worlds because I can be in the studio all day and produce music.
Eliza: I'm really into reading. I really feel like that's good for me because it really helps inspire me; I write songs about books I've read. I feel like, as Maddie said, music is my main thing, like all of the things in my life just revolve around that. So reading is a hobby that I do because it helps inspire me.
Miranda: Tying back to that, theater has helped me with stage presence, which is something that you need. I've always been known for my stage presence – I get a little crazy – and I think that theater taught me how to command a stage and get an audience and get people to hear your song. You want them to be interested in you as a person, and I think that is one of my greatest strengths as a musician.
Do you guys have any extra notes?
Maddie: Our bassist's name is Sophie Keppler. She goes to a different school, so she couldn't be here.
Miranda: We're trying to get more shows, to play different places. And we have an Instagram, @indigo.thursday; you can be notified about what we're doing if we ever get music out, which we're hoping to, and if we will have more shows to play. And we're trying to get a music video done, which is a collaboration with the TV media people. We have a lot of new stuff coming, so look at our Instagram to, you know, keep track of that.